Summary

Saunders recently released its operational and financial performance for FY20. The Company demonstrated a swift response to the pandemic, business continuity and progress in growth strategies.
FY20 revenue grew by $ 16.4 million, NPAT improved by $ 2.9 million and EBITDA depicted an improvement of $ 4.6 million over FY19.
While Saunders is cautious of the current economic climate, the FY20 results have established a strong foundation for sustained growth in FY21 and beyond, said Chief Executive Officer Mr Mark Benson.
Positive about continued improvement in FY21, Saunders' focus remains on implementation of renewed operating model and continued strategic diversification into new sectors and services.
Saunders International Limited (ASX:SND) is a renowned industrials sector player, engaged in delivering engineered solutions of high quality. The Company provides design, fabrication, construction, and maintenance services to prominent organisations across Australia, and the Pacific Region. SND is driven by a commitment to safety, innovation, excellence, and growth.
GOOD READ: Comprehensive Services of Multi-Disciplined Engineering and Construction Firm, Saunders International
Walk Through Saunders' Solid FY20
Adding flavour to the August 2020 Reporting Season of ASX-listed companies, multi-disciplined engineering and construction company Saunders released its FY20 results last month.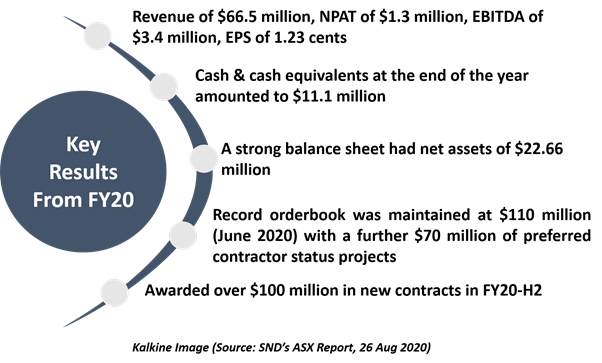 Other highlights are as follows-
Operating cash flow was $ 4.92 million
Bank guarantee and surety facility increased from $ 5 million to $ 15 million
Except for finance leases, the Group has no interest-bearing loans
Achieved milestone of more than 2.7 million manhours without a lost time injury
Secured new $ 10 million bonding facility
What Propelled Saunders' Solid FY20 Performance?
The Company has been focussed on the management of working capital. This disciplined approach has been a key catalyst to facilitate strong cash flow and increase in cash and cash equivalents for the financial year 2020.
There was a positive change in the Company's performance via the execution of its strategic priorities, which commenced in the previous financial year, FY19. This comprised of the Fix Phase, implying re-setting the operating model and the organisational structure that supported the change.
In FY20, the focus was to execute the Grow phase. The Company offered an expanded range of services, welcomed record contract awards and an increased pipeline. Interestingly, while COVID-19 disrupted the economy, clients, and the markets in which Saunders operates, the Company was resilient enough to respond to the challenges.
Preventive measures to ensure safety of employees, clients, and the communities along with development and implementation of policies and protocols across all sites ensured that business remained best placed to mitigate virus impacts. Enacting the business continuity plan and swift response to the pandemic limited the disruption to Saunders' services. The result was notable- growth and solid FY20 results.
GOOD READ: Skimming Through Saunders' Stance in Civil Infrastructure
A Bright Outlook
The outlook for Saunders is positive, says Mr Timothy Burnett, Chairman of Saunders.
The Company is experiencing strong growth in its core services and sectors. Particularly, there is increasing level of new contract business enquiries and requests for tenders in emerging services and sectors of defence and energy-
Tendering activity shows the value of live tenders at $ 303.8 million.
The pipeline (yet to be tendered) is at $ 367.6 million.
The Company has set its FY21 budget, based upon a revenue target of $ 100 million with EBIT margin of 3.75 % to 4.75 %.
Mr Burnett opines that most business sectors and clients relevant to the Company may increase their capital expenditure in the coming years. New road, rail and water infrastructure is forecast to grow. The primary driver for this could be the government spending that continues to pour to support economic activities.
Discussing the defence sector, Mr Burnett stated that this lucrative sector may expand its infrastructure for liquid fuel storage across several defence bases. For instance, in Australia, the Fed is likely to increase the capacity of strategic liquid fuel storage. Government spend is forecast at 2 % of GDP by 2022.
At this point, it should be noted that Saunders witnessed successful entry into the defence sector in FY20 with completion of one project and award of a further two contracts whilst bidding on further opportunities.
GOOD READ: Saunders International Tapping Pockets of Opportunities in Mining Industry
All of the above translate into the fact that Saunders has a number of opportunities and will continue to grow the range of services to clients.
SND traded at $ 0.630 on 21 September 2020 (AEST 02:48 PM), up 5% from its last close. The stock has delivered YTD returns of 84.62%.
ALSO READ: Take A Peek into Saunders' Lucrative Stance in Mechanical Infrastructure