Summary

Transport industry plays a critical role in modern economies. Australia is reliant on the industry, given its size and remoteness.
Like most industries, FY2021 was a difficult year for ASX-listed transport shares with COVID-19 driven border closures and social distancing measures.
Some key performers in the Australian transportation industry are Alliance Aviation Services, Qantas Airways, Air New Zealand, and Sealink Travel Group.
Transportation, a part of the industrials sector, comprises players engaged in providing services in airlines, airports, rail services, logistics services, as well as road infrastructure. With the COVID-19 pandemic continuing to restrict the movement of people and goods, ASX-listed transportation stocks continue to struggle.
FY2021 was a challenging year for the transport industry, with many players facing challenges with COVID-19-driven border closures as well as measures of social distancing.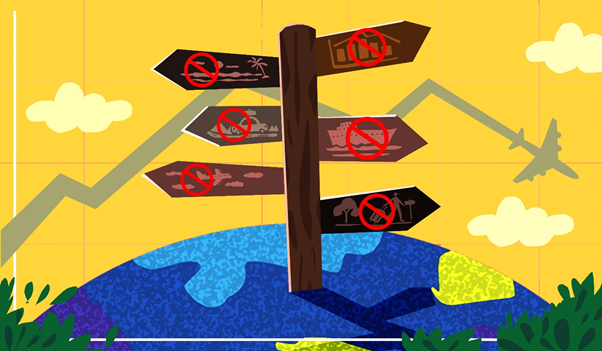 Copyright © 2021 Kalkine Media
With this backdrop, let us discuss 8 ASX-listed transport stocks-
Alliance Aviation Services Limited (ASX:AQZ)
Alliance Aviation is a leading provider of contract, charter, and allied aviation as well as maintenance services across Australasia.
On 28 June 2021, Alliance announced the acquisition of two extra E190 aircraft which took the total committed fleet to 32. Currently, Alliance has seven E190s in Australia, with the remaining 25 aircraft to go into revenue service during the upcoming 12 months. The Company anticipates releasing its FY21 financial results on 11 August 2021.
ALSO READ: Shipping industry in choppy waters: Three ASX stocks that have sailed smoothly
Air New Zealand Limited (ASX:AIZ)
Dual listed transportation group Air New Zealand operates domestic and international services.
On 18 June 2021, Air New Zealand provided a trading update with indicative earnings commentary for FY22. The sustained recovery in demand for domestic travel, alongside the contribution of the cargo business of airline has been a substantial factor in alleviating the negative impacts of COVID-19 on the airline.
Greg Foran, CEO of Air New Zealand, stated that despite the challenges due to the pandemic in the last 12 months, the airline continues to have a robust base in its Domestic and short-haul businesses.
He also added-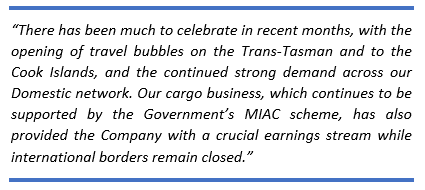 Auckland International Airport Limited (ASX:AIA)
Auckland Airport is a major airline hub in New Zealand and the largest and busiest airport. The Company continues its approach to financial management as it prepares for international passenger recovery after the vaccination program in New Zealand is rolled out in the remaining 2021. AIP will announce its annual results for the year ending 30 June 2021 on 19 August 2021.
Adrian Littlewood, Chief executive of Auckland International Airport, said-
Sealink Travel Group Ltd (ASX:SLK)
Australia's largest integrated tourism and public transport service business, SeaLink Travel Group is one of the most diverse multi-modal transport companies in Australia.
On 1 July 2021, the Group disclosed that it has completed the acquisition of Go West Tours from the Vendors. The acquisition complements as well as enhances the established Australian bus operations of SeaLink.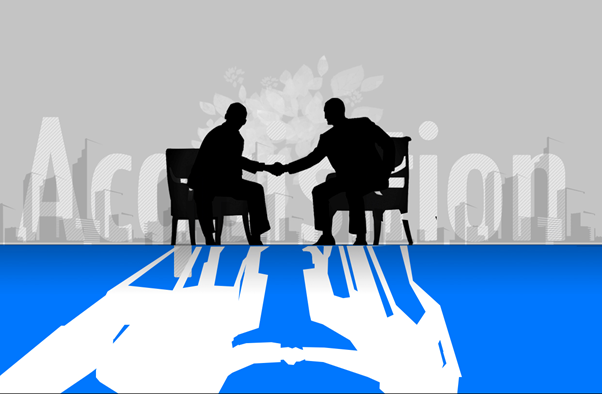 Copyright © 2021 Kalkine Media
DO READ: Five exciting travel stocks on the ASX
Sydney Airport Holdings Pty Ltd (ASX:SYD)
Sydney Airport Holdings is the largest airport in Australia and engaged in Airport Operations. The Company is the gateway to international travel in and out of the country.
On 5 July 2021, the Company announced that it has received an unsolicited, indicative, conditional and non-binding proposal from a consortium of infrastructure investors to acquire complete (100%) of the stapled securities in Sydney Airport by way of scheme of arrangement and trust scheme. The indicative price for the scheme was AU$8.25 cash per stapled security.
Wiseway Group Limited (ASX:WWG)
A prominent integrated logistics provider, Wiseway Group, is a countrywide network of well-placed facilities and a significant modern vehicle fleet.
On 25 June 2021, Wiseway announced that it will commence on the ground operations in the US starting from July 2021 with a new branch based in Los Angeles. This is a significant step in the organic growth strategy of Wiseway Group and strengthens its global integrated logistics service offering.
ALSO READ: The top five ASX-listed travel stocks of FY2021
Qube Holdings Limited (ASX:QUB)
Australia's largest integrated provider Qube Holdings is engaged in providing import and export logistics services with national operations providing a comprehensive range of services.
On 5 July 2021, Qube announced that it had entered into binding transaction documentation with the LOGOS Consortium. The Company highlighted the transaction allows Qube to achieve a substantial value for the MLP Property Assets. Besides, it also de-risks delivering the leasing and development of upcoming warehouses.
Further, with this transaction the Company is positioned strongly for focusing on growing its core logistics business.
Qantas Airways Limited (ASX:QAN)
World's third-oldest airline Qantas is still in operation and runs two complementary airline brands– Qantas and Jetstar.
Despite international travel virtually grounded in FY21, the Company anticipates sustained domestic recovery driving solid cash generation. The Group remains on track to reach 95% of its pre-COVID domestic capacity for Q4FY21. Qantas and Jetstar anticipate averaging 107 and 120% respectively of their pre-COVID domestic capacity in the financial year 2022.
ALSO READ: Another blow for tech players as China stiffens rules on overseas IPOs