Summary

ImpediMed Limited (ASX:IPD) has recently announced the publication of meta-analysis.
The meta-analysis demonstrates effectiveness of ImpediMed's BIS L-Dex® technology in reducing rates of long-term breast cancer-related lymphoedema (BCRL).
The analysis is expected to form the basis of a strong submission to the NCCN in coming months.
Medical technology firm ImpediMed Limited (ASX:IPD) has recently reported encouraging results from meta-analysis, supporting the wider use of ImpediMed's bioimpedance spectroscopy (BIS) technology in reducing rates of long-term breast cancer-related lymphoedema (BCRL).
The meta-analysis is titled, "The Impact of Monitoring Techniques on Progression to Chronic Breast Cancer Related Lymphedema: A Meta-Analysis Comparing Bioimpedance Spectroscopy versus Circumferential Measurements".
Meta-Analysis Framework
The meta-analysis was conducted to evaluate incidence rates of BCRL among patients monitored by ImpediMed's BIS L-Dex® technology against:
those monitored using circumference (tape measure) measures, or
those having no standardised monitoring (background group).
The analysis was performed on 50 eligible studies, comprising 9 randomised controlled trials and 27 prospective surveillance studies. Incorporating the studies utilised for background lymphoedema rates, over 67,000 women with breast cancer were included in the analysis with follow up varying from 8 months to 3.9 years.
Statistically & Clinically Significant Results
Interestingly, ImpediMed's BIS L-Dex attained 81% relative reduction in the rate of chronic BCRL in comparison to circumference-monitored studies (3.1% with BIS in contrast to 17% with circumference) with a p-value of <0.001.
The analysis found a statistically significant (p<0.001) reduction in the incidence of BCRL while comparing BIS with background or circumference measure, irrespective of:
the trial follow-up duration (>2 years or <2 years), and
study type (randomised controlled trial, prospective or retrospective studies).
Patients monitored with BIS L-Dex were found to have a lower incidence rate even in high-risk populations (studies with >50% axillary lymph node dissection (ALND) and >40% mastectomy rates). ImpediMed's BIS L-Dex achieved substantial reductions in the incidence of chronic lymphoedema with p-values of <0.001 in every high-risk subgroup evaluated.
Importantly, the incidence rate of BCRL was greater in the circumference-monitored studies relative to background group in all sub-groups, underlining that the tape measure does not detect subclinical lymphoedema.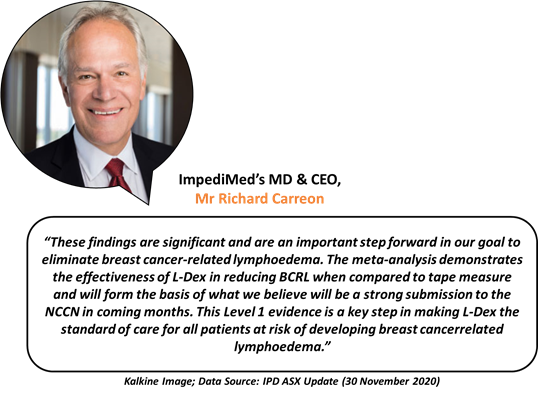 All in all, the findings from the meta-analysis are both statistically (p<0.001) and clinically significant, indicating that the patients monitored with BIS L-Dex were considerably less likely to develop chronic BCRL. The analysis further stresses the need for widespread potential BCRL surveillance with BIS.
Related Read: ImpediMed Limited (ASX:IPD) Signs Second Contract With AstraZeneca, Phase II Renal Trial Scheduled For January 2021
ImpediMed shares traded at $0.135 in the early hours of 17 December 2020.