Highlights

Personal protection safety solution provider Ansell Limited reported record sales in FY21 with 25.6% growth.
Estia Health ended FY21 with a strong balance sheet and decided to pay a final dividend of 2.3 cents per share for the year.
4DMedical has made significant progress against its commercialisation strategy with eight clinical trials and three clinical pilots are currently active.
The Australian markets gained some momentum today, with the benchmark index, ASX 200, gaining 0.39%. The markets have seen notable movement amid the earnings seasons, with companies coming up with their financial results announcements. While some missed their targets, some beat consensus estimates, bringing joy to the investors.
This article will walk you through ASX-listed healthcare players that recently announced their FY21 results.
Copyright © 2021 Kalkine Media
RELATED ARTICLE: A glance at two ASX gainers today - Nanosonics and Uniti
Let us delve dive and discuss the performance of Ansell, Estia Health and 4DMedical-
Ansell Limited (ASX:ANN)
Ansell Limited is a global leader in providing superior personal protection safety solutions for enhancing human wellbeing. On 24 August, Ansell updated the market with its full-year results for the period ending 30 June 2021. In FY21, the Company achieved record performance with sales of AU$2,027 million due to an increase in COVID-19-related demand.
The key FY21 highlights are-
Ansell reported sales of AU$2,027 million, with a growth of 25.6%.
In FY21, the EBIT was recorded at AU$338 million, up by 56.0% YoY and 51.4% on a Constant Currency growth basis.
The Company also declared a final dividend amounting to 43.6 US cents, taking the full-year dividend to 76.8 US cents.
Furthermore, in terms of sustainability, the Company remains committed to leading the PPE and Healthcare industries. In the last year, Ansell obtained 12 new glove lines and several new body protection smart lines live, which helped deliver record results in FY21 and will also support growth for FY22 and beyond.
Outlook: the way forward
ANN's diversified portfolio includes products supplying various end markets and regions. The Company anticipates continued demand for mechanical, surgical, life sciences and internally manufactured single-use gloves.
The net interest expense is expected in the range of AU$20.0 million-AU$21.0 million. Besides, software investment in FY22 is likely to go up. Considering these factors, the Company anticipates FY22 EPS to be in the range of 175 US cents to 195 US cents.
On 25 August 2021, ANN shares ended at AU$37.100, up 0.870%.
Estia Health Limited (ASX:EHE)
Estia Health Limited is one of Australia's largest aged care providers. On 24 August 2021, the Company updated the market with its performance in FY21.
Key highlights from the period include-
Estia reported a net profit after tax (NPAT) of AU$6.0 million, reflecting the impact of COVID-19 and the ongoing funding and financing challenges facing the residential aged care sector.
Net RAD inflows were reported at AU$30.6 million.
The Company has a strong balance sheet with total assets of ~AU$1.9 billion supported by AU$615.7 million of shareholders' funds.
EHE decided to pay a final dividend of 2.3 cents per share fully franked, representing 100% of NPAT.
The Company completed the sale of three surplus land sites within NSW and Victoria, which resulted in a profit before tax of AU$9.5 million.
Source: © Arne9001 | Megapixl.com
Furthermore, the EHE is well-positioned to benefit from the proposed reforms to the aged care sector.
Commenting on the financial results, CEO Ian Thorley stated-
On 25 August 2021, EHE shares last traded at AU$2.310, down 0.432%.
4DMedical Limited (ASX:4DX)
ASX-listed medical technology player 4DMedical Limited is engaged in the commercialisation of its US Food and Drug Administration (FDA), and Therapeutic Goods Administration (TGA) approved respiratory imaging platform. The Company announced its FY21 results yesterday with the key highlights as follows:
4DMedical reported a net loss after tax of AU$21.4 million, down 3% from the previous year.
The Company reported a total income of AU$5.8 million, up by 71%, comprising operating revenue of AU$0.2 million.
4DX had cash reserves of AU$80.9 million as of 30 June 2021, up 860% from 30 June 2020, due to the successful IPO (initial public offering) on 7 August 2020.
The Company obtained TGA Class 1 approval for XV LVAS (XV Lung Ventilation Analysis Software).
4DMedical made substantial progress against its commercialisation strategy with the foundation laid by establishing clinical trials and clinical pilots.
Copyright © 2021 Kalkine Media
Furthermore, 4DMedical continued to invest in R&D to drive future use cases and integration with a comprehensive range of hospital equipment, including CT (computed tomography) scanners. The Company disclosed that eight clinical trials and three clinical pilots are currently active at leading medical institutions.
Andreas Fouras, Founder and CEO of 4DMedical, commented-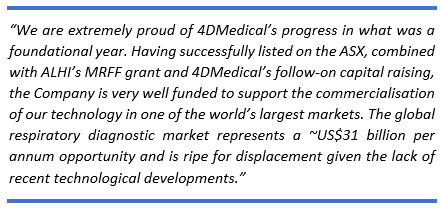 After the end of FY21, 4DMedical entered into its first pharmaceutical-focused contract with Novartis. As part of the agreement, Novartis will use XV LVAS to assess and validate pharmaceutical therapies designed to treat patients with COPD (chronic obstructive pulmonary disease).
On 25 August 2021, 4DX shares closed the day's session at AU$1.525, up 1.666%.
ALSO READ: Looking for pathology stocks? Here are five exciting ASX-listed shares