Summary

Horizon Minerals has completed Phase 1 infill, and extensional drilling on its 100% owned Binduli gold project.
New shallow, high-grade drilling results returned from Crake prospect highlight excellent width as well grade continuity the strike length of 450 metres.
Horizon witnessed further high-grade resource potential at Coote, where mineralisation is open to the north and at depth.
Results from the ongoing Step out RC drilling is expected in December Quarter 2020.
Staying ahead of the curve on the back of strategic undertakings, Horizon Minerals Limited (ASX: HRZ) continues to witness a series of robust developments. The Company has reported excellent high-grade drilling results at 100% owned Binduli project area, situated west of Kalgoorlie-Boulder in the goldfields of Western Australia.
Meanwhile, the emerging mid-tier gold producer has added another notch on its belt with successfully completing the acquisition of Kalpini gold project. The recent development appears to boost the Company's gold exploration potential as it continues to operate its strong project pipeline, leveraging off the growing potential in the gold market.
Let us explore the key developments at the Company's two gold projects that appear to offer Horizon cornerstone of success.
ALSO READ: Horizon Minerals' (ASX: HRZ) Solid Project Pipeline makes it Shine during September 2020 Quarter
Kalpini Gold Project Acquisition
Horizon agreed to acquire 100% stake in the project from NBT through existing cash reserves for a total consideration of A$2.75 million in cash.
HRZ has completed acquiring 100% stake in the Kalpini gold project. This concludes that all conditions precedent to the acquisition such as the provision of signed transfers, receiving all statutory and mining consents, and making payment to NBT Metals Pty Ltd. have been meet.
READ MORE: Horizon Minerals' (ASX: HRZ) Potential to grow production and mine life at Boorara Shine with the Acquisition of Kalpini Project
A Glimpse at the Binduli Gold Project Advancement
At Binduli Project, drilling comprised 29 holes for 2,460m to a depth of maximum 144m across the Coote and Crake prospects. Over the past two years, drilling at the Crake deposit has demonstrated the project's ability to grow and expand the resource quality.
At Crake, the gold mineralisation strikes north-west and dips shallowly to the south-west. A southern plunge which is poorly developed is tentatively interpreted.
Often tabular shapes and having the thickness of 20m, the gold lodes can blow out more than 60m width. Intersecting structures appear to generate high-grade shoot.
(Image Source: ©️ Kalkine Group 2020, Data Source: HRZ ASX Update, 4 November 2020)
Drilling at Crake is focussed on a mineralised and variably altered pink porphyry and has a small amount of magnetite and pyrite. Notably, higher grades of gold coincide with stronger mineralisation of pyrite.
Lens through the Results at Binduli Gold Project
Crake Results
Drill campaign of 2020 is designed to offer further information concerning mine planning purposes. On the eastern edge of the known mineralisation, nine shallow RC holes were drilled with the view to either:
Close off the shallow, up-dip oxide gold, or
Extend the known mineralisation further east by default
A number of holes present in the northern portion and outside the current block model returned encouraging results. The robust results suggest the potential for further high grade, shallow resources in the Northern Crake area. The north-west area at Crake which is present outside the current resource block model is also targeted by several drill holes
The Company commenced and completed a Phase 2 eight-hole follow-up program in the northern Crake. Later this month, Horizon would undertake accelerated drilling in Phase 3, which would be subject to encouraging Phase 2 program results.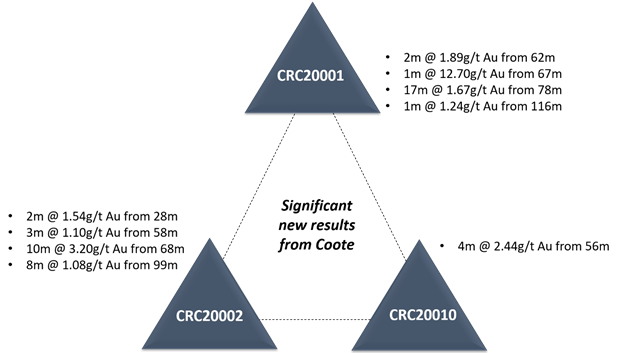 (Image Source: ©️ Kalkine Group 2020, Data Source: HRZ ASX Update, 4 November 2020)
ALSO READ: Horizon Minerals (ASX:HRZ) Leveraging off Competitive Advantage, Poised to Become Mid-Tier Gold Developer
Results at Coote Prospect
The geology at the Coote prospect is like Crake and Janet Ivy where within a mineralised pink porphyry is found.
Six step-out holes were drilled along two drill lines for 664m as the Company continues to build upon the drilling results of 2019 while testing strike extent of high-grade mineralisation.
The results include:
CRC20001- 17m @ 1.67 g/t Au
CRC20002- 10m @ 3.2 g/t Au
Drill results at CRC20001 and CRC20002 have confirmed that significant high-grade is present 40m northward of the historic drilling where there is not any previous work. The Company has kickstarted follow-up drilling north of the drill holes.
The Company eyeing a maiden Mineral Resource in the March Quarter 2021 is planning further follow up work at Coote.
ALSO READ: Horizon Minerals Advancing Well with Trial Mining and Second Toll Milling Campaign Completed at Boorara
Next Steps
Binduli Gold Project
Horizon is undertaking follow-up drilling at Coote north (CRC20001 and CRC20002) and also recently completed Phase 2 drilling at Crake.
Results of drilling at the prospects are anticipated in the current December Quarter 2020.
New discovery drilling would be completed at the Honeyeater prospect which lies in the northern Binduli area and at high priority new targets to the south.
Kalpini Project
Horizon intends to complete the resource review and has planned 4-5,000m of drilling at Kalpini in the December Quarter 2020. It would upgrade the resource to JORC 2012, infill several areas for improved JORC Classification. Also known mineralisation would be tested for further extensions to the north, south and at depth.
HRZ shares traded at $0.105 on 5 November 2020 (at 03:54 PM AEDT). The stock has exhibited a price momentum of 1.34x in the past six months.
[ All currency is in AUD unless stated otherwise]