Summary

Marketech Limited has unveiled its latest premium ASX trading platform, which offers market-leading trading tools at a fair price.
Through Marketech Focus, the Company aims at realising the untapped potential of serving active, serious traders who demand high-end functionality.
Marketech has also entered a new partnership with Sharesight, which will allow users to keep a track of their portfolios as well as tax reports.
A new option for lower frequency traders is 'FocusLite', that is available with no subscription
Marketech Limited has been keenly looking to capture the opportunities arising from the recent surge of interest in online trading.
The Perth-based company offers a modern-day cloud-based online stock trading platform, which can be accessed through an app or via a personal computer.
Lately, the Company has been engaged in enhancing its offering and utilising its years of experience in devising a more powerful tool that adds value to users and creates a smoother experience for them.
Interesting Read: Getting Acquainted with Marketech Limited and its Modern Trading Platform, Marketech Focus
Latest Premium ASX Trading Platform Launched
Marketech Focus has recently launched its newest premium ASX trading platform, developed to deliver on a single proposition to provide market-leading trading tools and fairer fees to active ASX investors, who want more from their broking platform.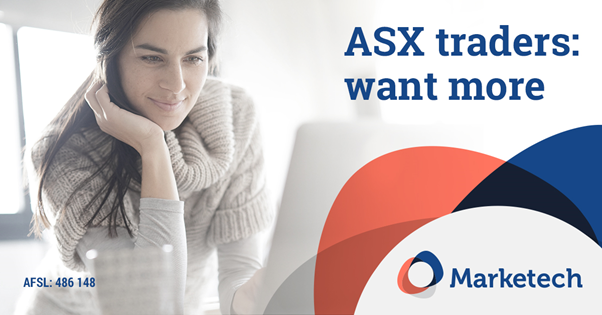 Image Source: Marketech
The Marketech Focus stemmed out of an atmosphere of strong frustration about the ongoing situation of the trading platform market, where,
at one end, legacy players charge high trading fees to large docile-customer bases, and
at the other end, a range of fresh entrants, who are entering the market with cheap and cheerful platforms that provide little beyond access to ASX.
Did you read: What Distinguishes Marketech Focus in the Highly Competitive Market for Online Trading Platforms
The talented team at Marketech has more than two decades of experience in designing and developing institutional trading technology. This team thought of finding a better way of trading online. Thus, Marketech Focus came into existence.
A key issue that Marketech Focus aims to solve is the unfair nature of traditional trading pricing, where common traders shell out tens of thousands of dollars yearly only on fees. Marketech Focus overcomes this issue as it establishes a model that rewards active traders.
Further, Marketech Focus also aims at realising the untapped potential of serving active, serious traders who demand high-end functionality through its new offering.
The powerful latest offering helps to create a strong, distinctive positioning of Marketech Focus from its competitors. This is done through offering streaming real-time pricing data, control and transparency over trading decisions, information and trading tools, which allow greater insight, even on mobile devices.
Features Defining Positioning of Marketech Focus (Data Source: Marketech Website)
Interesting Read: Staying Ahead of the Curve, Sorting A Trading Platform for Enhancing Your ASX Trading
Significantly, the feature of real-time streaming prices offers a major edge over its competitors as it often remains restricted to the institutional investors through professional platforms, and is hardly attained on mobile devices.
The fair fee, coupled with fully-loaded functionality, makes for a new, better choice for the modern-day active investors.
Partnerships Ensuring Growth for Marketech
Marketech also disclosed its new partnership with portfolio management company Sharesight, as a sign of confidence the market has in the platform.
Related: Technology Takeover and the Need for a Fast and Sound Trading Platform; A Lens Over Marketech
Sharesight's tracking products allow investors to know the performance of their portfolios on the go, track dividend payments and generate tax reports by just connecting to their Marketech account.
Travis Clark, Managing Director of Marketech Focus, believes that the latest feature-set, especially streaming real-time pricing, positions Marketech Focus at a whole new level of functionality and sophistication. This sophistication and functionality are commonly missing on most retail traders at this price point, and are rarely offered by Marketech Focus's competitors.
Mr Clark further added:
Marketech believes that the partnership with Sharesight is significant as the technology is anticipated to improve investors' access to information and maintain protections while keeping the price low.
Related: Marketech Focus, A Modern-Day ASX Trading Platform Benefitting from Increased Traffic on Trading Platforms
Marketech is actively looking for best-in-class third parties, which can enhance its platform and add value to users. Sharesight is one such partner that facilitates in offering yet another feature, not often provided by the competitors of Marketech Focus.

Marketech provides two offerings, both of which allow access to live ASX pricing and settlement through individual HIN and individual Macquarie Bank cash management accounts. Therefore, active traders who are looking for something beyond trading from their trading platform can choose between these two offerings of Marketech.

Above all, "Focus" remains on the flagship offering of the Company and has been designed for the serious and active traders. Moreover, this has a monthly subscription of $45, which allows for live ASX data streaming, a minimum of $5 or 0.02% brokerage rate and further premium features.
A notable thing about its pricing model is that, in most cases, traders can minimise their brokerage while increasing the tools at their disposal.
Interesting Read: Overcoming Challenges in Online Trading, Marketech Focus to The Rescue
All in all, it can be said that FocusLite caters to the audience which trades a little every month, while Focus was for the higher frequency or volume investors who typically would consider times of high volatility as a buying opportunity. Moreover, these types of investors want to have access to their capital, and they want to move rapidly.
Focus also aims at catering to people who are well versed with the market and well-informed. With this, Focus helps to generate a better trading experience and plays a central role in facilitating people to achieve their investing goals.