Summary

Botanix revealed encouraging findings from a small pilot study of BTX 1204A in canines with atopic dermatitis.
IHL has partnered with the UWA Centre for Sleep Science to upgrade the IHL-42X clinical trial to a multi-site study.
MGC Pharmaceuticals has submitted a patent application to the Slovenian Intellectual Property Office for CimetrATM.
Experts think that the Australian cannabis industry, including cannabidiol (CBD), industrial, medicinal, and recreational, has significantly expanded in the last few years, becoming a multi-million-dollar market. The number of available cannabis products has increased considerably in the past 12 months, which is laying pressure on the prices of products. Meanwhile, as the industry matures, the competition is also growing.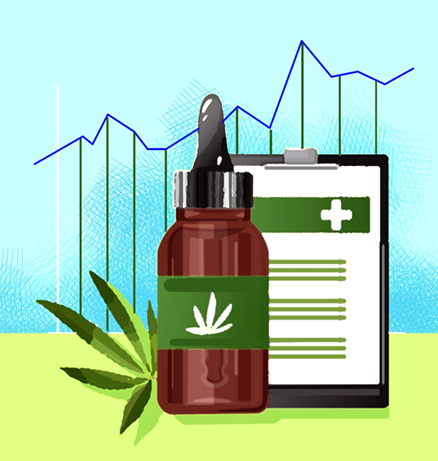 Source: Copyright © 2020 Kalkine Media
In the Australian cannabis sector, only a handful of players are well-positioned to grab the attention of market participants with their appealing product range. Some of the ASX-listed cannabis companies include ECS Botanics Holdings Ltd (ASX:ECS), Medlab Clinical Limited (ASX:MDC), and Althea Group Holdings Limited (ASX:AGH).
In this article, we will discuss 3 ASX-listed cannabis players- BOT, IHL and MXC
Botanix Pharmaceuticals Limited (ASX:BOT)
Medicinal cannabis player Botanix Pharmaceuticals Limited is engaged in developing pharmaceutical products supported by well-controlled randomised clinical trials.
On 17 May 2021, Botanix updated the market with encouraging findings from a small pilot study of BTX 1204A in canines with atopic dermatitis. The BTX 1204A Pilot Study data demonstrated that a new higher dose of synthetic cannabidiol (CBD) showed encouraging results that support further exploration and investigation of the atopic dermatitis indication.
Source: Copyright © 2020 Kalkine Media
Vince Ippolito, President and Executive Chairman of Botanix, said:
The way forward:
The BTX 1204 Pilot Study results are promising, and BOT can expand its program into a larger proof of concept canine study.
The larger BTX 1204A proof of concept (PoC) study will commence in 2Q CY2021.
Successful outcomes from this more extensive PoC canine study will support partnering opportunities for its animal health application.
The results will also support the progression of BTX 1204A into Phase 2b clinical trials in humans with atopic dermatitis, which could start as early as 2Q 2022.
On 21 May 2021, BOT shares were trading at AU$0.076, up by 2.702% (at AEST 10:54 AM).
Incannex Healthcare Limited (ASX:IHL)
Pharmaceutical development firm Incannex Healthcare develops psychedelic medicine therapies and medicinal cannabis pharmaceutical products. The Company is also conducting a trial to investigate IHL-42X in adults diagnosed with Obstructive Sleep Apnoea (OSA).
On 11 May 2021, the Company disclosed that it has entered into a partnership with the University of Western Australia (UWA) Centre for Sleep Science to upgrade the IHL-42X clinical trial to a multi-site study. Furthermore, IHL stated that the IHL-42X trial is now considered a multi-site trial with additional medical and scientific staff contributing to the conduct of the study.
Incannex stated that the partnership with UWA also positions the Company in good stead for the upcoming steps in the IHL-42X development program.
Mr Joel Latham, CEO and Managing Director of Incannex Healthcare, commented-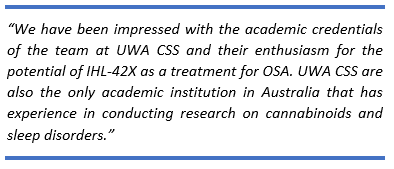 Furthermore, the Company is confident that IHL-42X could considerably improve patient treatment compliance and outcomes should it prove successful in the clinical study.
On 21 May 2021, IHL shares were trading at AU$0.265, in line with the previous close(at AEST 10:54 AM).
ALSO READ: Two Cannabis players expanding their product portfolio - AGH & BDA
MGC Pharmaceuticals Ltd (ASX:MXC)
ASX and LSE listed cannabis player MGC Pharmaceuticals is developing and providing affordable standardised phytocannabinoid derived medicines to patients globally. Besides, the Company is also engaged in developing the treatment for COVID-19.
On 18 May 2021, MGC Pharma disclosed the submission of a patent application for CimetrATM to SIPO (Slovenian Intellectual Property Office). The Company anticipates that the patent will be granted within the next 12 months. The patent application submission is a significant next step in bringing CimetrATM to market in various jurisdictions.
Source: © Iqoncept | Megapixl.com
With this initial patent application, MGC Pharma has priority to file subsequent patent applications in additional jurisdictions along with other IP organisations, including EU and WIPO.
Furthermore, MGC Pharma continues to advance towards Phase 3 clinical trial initiation of CimetrATM to demonstrate the full efficacy as well as pharmacokinetic profile in different variants of the novel coronavirus.
On 21 May 2021, MXC shares were trading at AU$0.052, up 5.00% (at AEST 10:54 AM).
ALSO READ: How did ASX healthcare shares MXC and RAC perform in March 2021 quarter?