Summary

Ora Banda Mining has achieved a major milestone that marks the company's transformation from developer to producer.
OBM has achieved its first gold pour on 7 February 2021 with the first gold bar's pouring.
The Company has significant infrastructure in place at the processing plant and is progressing well with mining at both Riverina and Golden Eagle deposits.
The Company now focuses on the continuing ramp-up of activity, making gradual progress towards its final aim of providing a long-life and sustainable gold operation.
Ora Banda Mining Limited (ASX:OBM) has transformed from a developer into a producer in its latest development as the company achieved a remarkable milestone. Lately, the Company had been engaged in developing infrastructure at the Davyhurst Gold Project for a considerable period of time.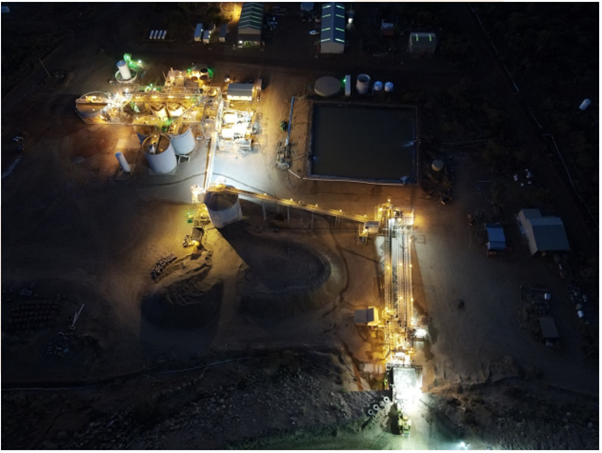 1.2Mtpa Davyhurst Processing Plant (Source: ASX Announcement 08 February 2021)
OBM Marks First Gold Pour
OBM has finally achieved success in recommissioning the Davyhurst Gold Process Plant and first gold was poured on 7 February 2021.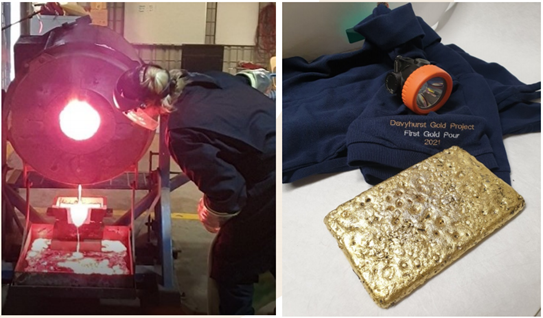 First gold bar being poured (Left) First gold bar (Right) (Source: ASX Announcement 08 February 2021)
INTERESTING READ: Ora Banda's (ASX:OBM) Production Efforts at Davyhurst Backed by Strong Cash Position
The Company has developed and established all the supporting infrastructure that is required to keep going with the activities at the Davyhurst gold processing plant, including:
New 8.25MW gas and diesel-fired power station,
Extensively upgraded and commissioned bore fields (for both potable and process water supply),
Process plant chemical storage facilities
Upgraded road infrastructure for ore supply routes and
Upgraded 172 room camp at Davyhurst
The plant has a rated capacity of 1.2 Mtpa and has been commissioned.
INTERESTING READ: How close is Ora Banda (ASX:OBM) for production at Davyhurst?
On 24 January 2021, the remaining work program executed by GRES was practically completed. Subsequent to this, the Company also introduced into the plant, besides key ore from Golden Eagle underground, a commissioning mix of low-grade oxide as well as transitional ore stock.
Currently, the processing operations being stable, are running at a through-put rate close to 1.0Mtpa with intended grind size of P80 - 106µ being attained. OBM anticipates that the through-put shall persist to ramp up in line with the schedule of the DFS.
INTERESTING READ: ASX:OBM Going Tongs and Hammer for Production at Davyhurst
Open pit Mining at Riverina Deposit
OBM had initiated mining over the Riverina Open Pit towards the end of October 2020 and mining rates had steadily increased over the 3-month period to 31 January 2021. Moreover, the Company achieved a total material movement of 830,000 bcm as on 31 January 2021, which is a little ahead of the DFS target.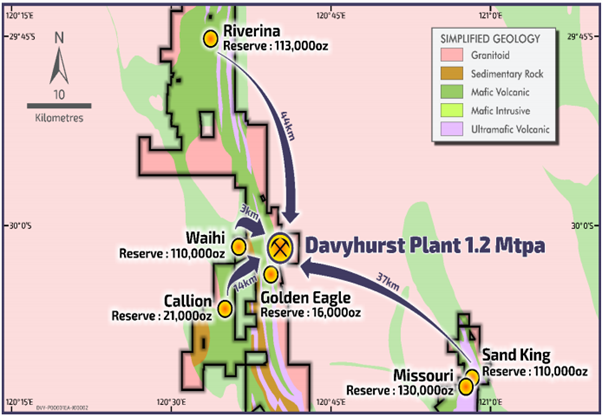 Deposit Locations (Source: ASX Announcement 08 February 2021)
RELATED: Ora Banda Reports Significant Increase in Mineral Resources at Riverina Project, A Walk-Through Yearly Developments
As of 31 January 2021, the Company also remains ahead of the DFS schedule in terms of ore mining as 154,000 ore tonnes has been mined at a grade of 1.3 grams per tonne for 6,372 ounces of contained gold.
The gradual progress of the mining in the area has taken place through the upper levels of the pit that have been mostly "free dig". Further, the Company has also commenced another round of grade control drilling, wherein results to date have validated that the Company has already achieved pre-mining ore Reserve expectation.
INTERESTING UPDATE: Ora Banda Mining (ASX:OBM) Nearing Production at Davyhurst, Reports Significant Preparations At Ground Zero
Third blast at the Riverina Open Pit (Source: ASX Announcement 08 February 2021)
All supporting infrastructure, including office and workshop facilities, extensive road network and a 64-room camp, are now in place to sustain the mining operations. Moreover, the relocation of the first of OBM's Riverina employees has started to the Riverina camp from the Davyhurst camp.
In line with shift roster changeover dates, the remaining Riverina camp rooms are now being increasingly occupied.
Further, the Company is progressing well with the maintenance of the road and bolstering the lasting water supply structure for controlling the dust.
RELATED: Ora Banda Reports 46% Increase In The Underground Mineral Resource At Riverina Project
Golden Eagle Underground Mining
At the Golden Eagle Underground Mine, OBM has concluded the dewatering of the mine and development has started on numerous levels. The Company is progressing well with arrangements for the beginning of stope production with initial stope production stope blast slated for mid of the current month.
Notably, as on 31 January 2021, OBM reported low-grade commissioning feed plus ROM ore built up stocks as well as accessible for treating surpasses 200,000 tonnes both deposits being mined.
Davyhurst Mined Ore Stocks (Source: ASX Announcement 08 February 2021)
DID YOU READ: Ora Banda Mining Announces underground Mineral Resource at Callion, Updates Total Mineral Resource to 2.13M ounces
In conclusion, OBM has been progressing with an aggressive resource development and exploration program over the recent years, and these activities are aimed at fresh discoveries coupled with additional work related to resources development.
Subsequent to this key announcement, OBM share price witnessed an uptick of 1.666% in its share price on 8 February 2021. The stock was noted at $0.305 with a market capitalisation of $252.66 million.
*All financials are in AUD, unless specified.