Highlights

Torrens Mining was the first Australian explorer to list on ASX for 2021, 07 January.
The Company is committed to the discovery and development of gold, copper and cobalt deposits in Australia and PNG.
At its joint-ventured Elizabeth Creek Copper Project in South Australia, extensive drilling was undertaken for both sediment-hosted copper-cobalt and Iron-oxide Copper Gold (IOCG) mineralisation, enjoying notable success in both mineralisation styles.
High-grade gold mineralisation was discovered at two of its Mt Piper Project prospects.
An exploration licence application over a large unexplored section of the Central Victorian Goldfields was confirmed.
Advancing the Club Terrace Au-Cu Project in Eastern Victoria, the Company commenced preliminary fieldwork investigation and was awarded an exploration licence over adjoining ground in south-eastern NSW.
Australian mineral explorer Torrens Mining Limited (ASX:TRN) has covered a remarkable journey in 2021.
The Company started the year with a landmark milestone of listing on the Australian Securities Exchange (ASX). TRN debuted on the ASX on 7 January 2021 following the successful closure of its initial public offer to raise AUD$10 million.
Since then, the Company has focused on rapidly advancing exploration across its portfolio of highly prospective gold, copper and cobalt projects in world-class locations.
Related read: Torrens Mining well placed to cash in on green transition tailwinds
Let us take a quick look at the Company's projects and key developments that shaped 2021 as a productive year for Torrens.
Elizabeth Creek Cu-Co JV Project in South Australia
To fast track the development of its Elizabeth Creek Cu-Co Project, Torrens signed a farm-in and joint venture agreement with Coda Minerals (ASX:COD) back in March 2017. By April 2021, Coda had expended $8.62M earning a 70% interest in the project, and triggering the joint venture phase of the agreement. Torrens is now participating as a 30% partner in the project, which is operated and managed by Coda.
The project, which sits within the productive Olympic Copper-Gold Province, is unique, perhaps in the world, in hosting significant Zambian-style copper mineralisation and iron oxide copper gold (IOCG) deposits with considerable upside exploration potential.
During the year, the joint venture partners focused on exploration activities of the Emmie Bluff prospect where both IOCG and copper-cobalt mineralisation in relatively close proximity to each other. Previous exploration defined JORC-compliant Mineral Resources at the Windabout and MG14 deposits in the south of the Project area. The partners are now expecting to release a maiden Mineral Resource Estimate (MRE) for the Emmie Bluff Copper-Cobalt deposit by the end of 2021, which is expected to considerably increase the copper-cobalt inventory of this fertile project.
Geophysical exploration over the Elizabeth Creek Project highlighted the massive IOCG potential. To unlock this value, the partners have embarked on a drilling campaign over the Emmie Bluff Deeps IOCG target, delivering encouraging initial outcomes.
Related read: Torrens Mining (ASX:TRN) advancing Elizabeth Creek Copper JV Project at brisk pace
Scheduled exploration and associated feasibility study work at Elizabeth Creek is expected to continue throughout 2022.
Mt Piper Gold Project in Central Victoria
The Mt Piper Gold Project has shown high-grade gold mineralisation potential. The Northwood and Goldie prospects have intersected high-grade gold and established the presence of a gold system in the project area.
Related read: New gold and copper anomalies boost Torrens Mining's (ASX:TRN) hopes for Mt Piper
The project, which remains highly underexplored, comprises five granted exploration licences and one exploration licence application. The exploration activities undertaken so far have resulted in very encouraging outcomes.
During a drilling campaign at the Northwood Hill prospect, the Company reported important gold intercepts, while recent rock chip sampling over the Goldie prospect delivered high-grade gold values.
A major airborne magnetic survey was completed over the north-eastern sector of the project area. The high-resolution data acquired by this survey materially assisted a detailed regional assessment which defined 11 priority target areas, including the emerging Goldie Prospect, where high-grade gold assays have been reported from surface sampling.
Location map of Mt Piper Project (Image source: Company update, 29 October 2021)
Detailed discussion at: Torrens Mining (ASX:TRN) hits high-grade gold at Goldie Prospect
Club Terrace Project in Victoria and NSW
At the Club Terrace Au-Cu Project, Torrens is targeting gold and copper mineralisation associated with regional fault structures. Historical gold mining dates back to 1930s in the project area.
Torrens' geological team undertook preliminary fieldwork over the project area, and identified a number of priority targets for follow up exploration in 2022 following the expected grant of the two key exploration licences.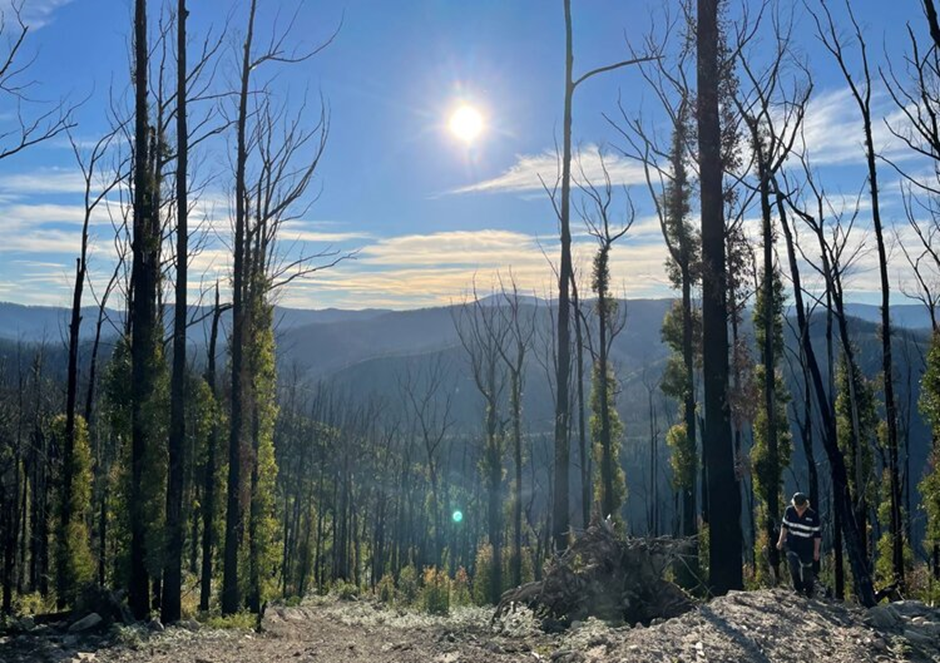 Club Terrace Project (Image source: Company website)
Read more: Inside Torrens Mining's (ASX:TRN) quest to unlock potential at Club Terrace Copper-Gold Project
Torrens' exploration interests in Papua New Guinea
Torrens has applied for two ELAs in PNG- Laloki (ELA2557) and Rigo (ELA2690). Laloki is a formerly producing copper-gold mining centre, which is considered to hold potential for discovery of high-grade copper-gold volcanogenic massive sulphide mineralisation. Rigo, which covers extensions of the Laloki host geology, also hosts historical copper sulphide prospects, and manganese oxide mines, which have been subject to very limited modern exploration.
Early in 2021, Torrens learned that PNG Mining Minister had refused to grant ELA2557. Torrens strongly disputed the Minister's decision and is vigorously challenging it in the PNG Supreme Court.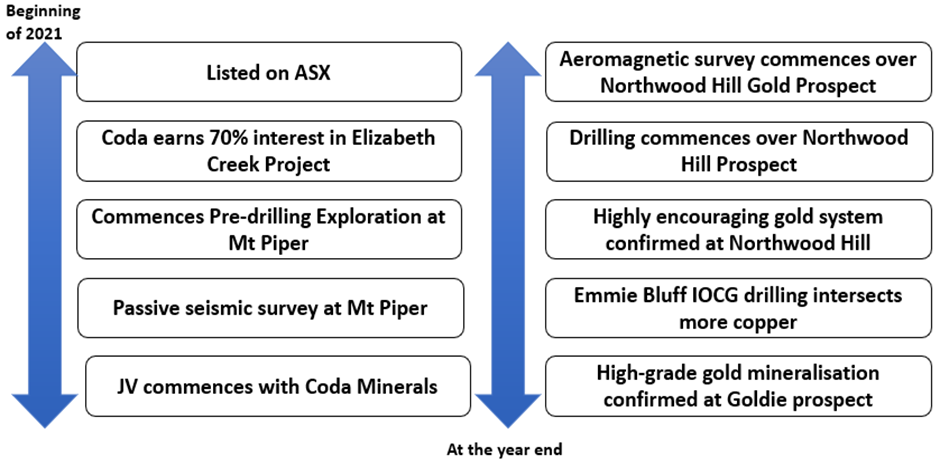 Year at a Glance (Data source: Company website)
Related read: Torrens Mining (ASX:TRN) reports busy September quarter with major gold and copper breakthroughs
TRN shares traded at AU$0.140 on 3 December 2021.