Summary

QXR has recovered and analysed the historical drilling data and modelling at Lucky Break to generate fresh drill targets.
The face samples collected during the site visit at Lucky Break pit returned 2.6m at 4.70 g/t.
QX plans to kick off a 2,000-metre RC drilling campaign next month.
The campaign will test the anomaly, structural trends, depth extension, priority infill and twin studies at the mine.
Gold explorer QX Resources Limited (ASX: QXR) plans to set the ball rolling on a 2,000-metre RC drilling campaign at the Lucky Break gold mine in March, subject to weather conditions. Lucky Break is located adjacent to the Gregory Highway on the EPM 14790 (Mazeppa) in the Clermont Goldfield of central Queensland.
The gold explorer's decision to commence drilling comes after it conducted a thorough analysis and recovery of historical drilling data on a strike length of 560 metres at the Lucky Break gold mine.
Lucky Break was historically mined by East-West Minerals NL (1987-1988) to extract 90 kt of oxide ore at a head grade of 2.4 g/t gold up to a depth of 15 to 20 vertical metres.
Subsequent drill data-based wireframe modelling of gold lodes has confirmed the perspectivity of the Lucky Break deposit at depth, which in correlation to the potassium radiometric data has provided high-quality exploration targets on a potential 285-metre-strike extension.
The wireframe solid modelling is an initial step for the resource modelling and statistical estimation, which has churned out spatial and volumetric data that bolsters the company's decision to carry out the 2,000-metre RC drilling campaign next month. The campaign will test the anomaly, structural trends, depth extension, priority infill and twin studies at the Lucky Break mine.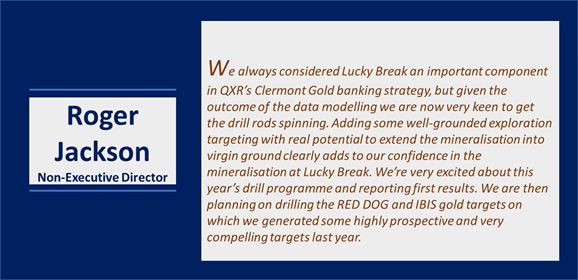 More than 8,700m of drilling in 177 holes with over 4,100 primary gold assays have been recovered and made useable in computer aided design. The historical drilling data and validation has provided the data for initial solid modelling of the Lucky Break gold deposit at the tenement EPM 14790. The drilling contractor will be mobilised early next month to site for the drilling program.
The Mazeppa tenement (EPM 14790) is dominated by slates, phyllites and schists of the Anakie Metamorphics. Lucky Break is among the few locations where the Anakie Metamorphics extends to Quaternary colluvium and Drummond Basin Sequence sediments.
The gold mineralisation is largely associated with intrusives into the Drummond basin and structural margins with the Anakie Metamorphics.
The project tenement is prospective for –
Mesothermal vein gold such as at Lucky Break and Byjingo, 100 kms from Clermont.
Porphyry-related vein and stockwork at Dead Horse Bore, 90 kms from Clermont.
Epithermal lode gold silver like at Twin Hills and Lone Sister, 125 kms from Clermont.
Sediment-hosted gold such as at Miclere, 25 kms from Clermont.
Volcanogenic base metals ± gold such as at Covah, Sally Ann 65 kms from Clermont.
Hydrothermal-related gold and base metals such as at Retro Prospect, 30 kms from Clermont.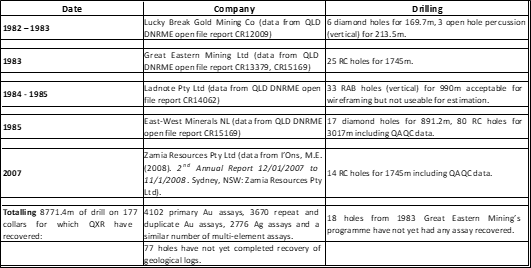 Source: QXR
The historical drilling data was used for the cross-sectional interpretation of the sectional lode interpretations at Lucky Break, developed at a cut-off grade of 0.3 g/t gold, except where required for continuity. The sections did not include the internal waste intervals with length greater than 1 metre and all sections were snapped to drill holes.
The wireframe solids based on the historical drilling assays enclose a volume of 193,500 cubic metres and linear 724.5 metres of drilling assay, with a length weighted average grade of 2.12 g/t Au and 1.05 g/t Ag. The historical drill results to the south of Lucky Break include 2 metres at 8.36 g/t gold (LB020) and 2 metres at 6.00 g/t gold (LB021).
QXR's geologists have collected face samples from the Lucky Break pit which returned 2.6 metres with a gold grade of 4.70 g/t while also independently verifying the drill-based solid model spatial location at the surface projection.
A radiometric Potassium 40 (K-40) anomaly indicating hydrothermal fluid activity and resultant wall rock alteration corresponds to the solid-modelled geochemical gold anomaly, striking 285 metres beyond the Lucky Break gold deposit. The Belyando and Lucky gold mines within the project have produced over 93,000 ounces of gold from the near surface open cut operations from the late 1980s to early 1990s.
QXR traded at $ 0.018 on 10 February 2021 (AEDT 11:23 AM) up by 5.882% from its last close.