Summary

Ora Banda Mining is ramping up activities at its Davyhurst Gold Project in Western Australia.
The Company commenced gold production at Davyhurst with the first gold poured in February.
Besides concluding a non-underwritten SPP offer, the Company has successfully raised AU$21 million under a placement in June 2021.
The Company is positioned well to be a long-term regional producer in a leading jurisdiction.
Australian gold producer Ora Banda Mining Limited (ASX:OBM) has been reflecting significant progress with the ramp-up of activities at its Davyhurst Gold Project in Western Australia.
The Company has turned the corner on a challenging time with notable developments, including leadership changes, successful exploration activities as well as arranging funds for uninterrupted operational progress.
The Company is focused on progressing resource and reserve definition while advancing high priority exploration targets ahead of schedule. These developments are expected to further underpin the long-term future of OBM.
LEADERSHIP UPDATE: Ora Banda Mining (ASX:OBM) leadership change bolsters its stance for growth
In early June 2021, OBM successfully raised AU$21 million in a placement which received strong support from new and existing investors. Under the placement, the Company issued approximately 124 million new ordinary shares.
Now, the Company has announced the results of its non-underwritten Share Purchase Plan (SPP).
LATEST UPDATE: Ora Banda's (ASX:OBM) development plans on track for Iguana after Infill drilling results
OBM concludes SPP
OBM has concluded the SPP offer, raising AU$745,000 before costs. The offer would include the issue of 4,382,393 new shares at an issue price same as that of the shares issued under the placement (AU$0.17 per share).
The SPP allows eligible shareholders to apply for purchasing up to AU$30,000 worth of new fully paid ordinary shares of OBM, ranking equal with current ordinary shares of the Company.
The new shares, scheduled to be allotted on 9 July 2021, are expected to begin trading on the ASX on 12 July 2021.
INTERESTING READ: 3 things underpinning Ora Banda's (ASX:OBM) long-term future and development
Use of Funds
OBM has been expediting activities across its 100%-owned Davyhurst Gold Project. Moreover, the Company has a significant number of activities planned to be undertaken at the project in the near term.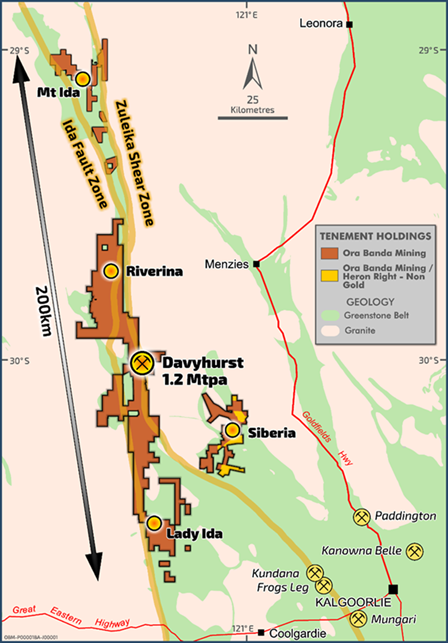 OBM Tenure & Simplified Geology (Source: OBM Website)
DID YOU READ: Ora Banda (ASX:OBM) strengthens its financial stance with million-dollar capital raising
OBM intends to use the proceeds from the placement and the SPP as well as its cash balance to finance planned activities, such as
resource definition and reserve replacement, maiden reserves work
regional exploration
ramp-up costs as well as working capital requirements for the project
GROUND REPORT: Ora Banda Mining (ASX:OBM) concludes capital work program; prepares for further work
OBM stock was trading at AU$0.165 on 06 July 2021 (AEST 02:30 PM).