Source: Jirik V, Shutterstock
Summary

Extensional regional drilling has defined a continuous regolith gold anomaly, named the Big Sky prospect.
Big Sky has a strike extent of more than 1.2 kilometres.
Extensive nature and gold continuity at Big Sky favour the prospect's ability to add to the Musgrave's existing resource base.
Musgrave Minerals Limited (ASX: MGV) continues to make a mark with its gold exploration endevaours. The company's recent aircore drilling has defined strong continuous regolith gold mineralisation along the new gold corridor to Lena's southwest. Notably, the regional drilling on the 100 per cent owned Cue Gold Project's ground has consistently returned robust assay results.
Following the significant announcement, MGV stock marked an uptick of over 9 per cent from the previous close, traded at AUD 0.36 on 8 April 2021.
ALSO READ: Musgrave Minerals (ASX:MGV) maps out new gold corridor at Cue
Big Sky Prospect Exhibits Extensive Nature and Gold Continuity
Further aircore drilling at the new gold corridor to Lena's southwest has returned significant gold mineralisation, present below thin transported cover of 1-5 metres depth in areas not previously drilled.
Drilling linked Target 5 and Target 20 to define the Big Sky prospect, located ~3.5 kilometres south of Break of Day. The gold mineralisation remains open to the north, south as well as down dip.
The southern end of a well mineralised gold corridor defines regolith intercepts. It has a potential strike extent of more than seven kilometres and is predominantly not drilled in basement bedrock.
Aircore drilling is advancing well with the aim to define the extent of the regolith gold mineralisation. The new intersections from six metres composite samples at Big Sky include:
21MUAC049- 30 metres @ 5.8g/t Au from 30 metres including;

6 metres @ 27.7g/t Au from 30 metres

21MUAC041- 12 metres @ 4.1g/t Au from 42 metres
Aircore drill holes have a spacing of 40-80 metres and are drilled along spaced traverse lines of 40 metres to 160 metres. The potential of Big Sky Prospect to increase Musgrave's existing resource base is supported by its extensive nature and gold mineralisation continuity. Musgrave has scheduled follow-up RC drilling next week, which would define gold mineralisation extent in the basement rock. The subsequent resource definition drilling would be contingent upon the accomplishment of the RC drilling program.
ALSO READ: How Musgrave Minerals went from strength to strength in H1 FY21
Significant RC drilling Results at Big Sky and Numbers Prospect
Significant outcomes from RC holes were returned from individual one-metre resamples of six-metre composite samples, with several holes terminating in mineralisation. Below are the results:
Big Sky Prospect
21MORC025- 75 metres @ 0.5g/t Au from 15 metres to EOH
21MORC029- 24 metres @ 1.0g/t Au from 31 metres to EOH
21MORC030- 26 metres @ 1.0g/t Au from 47 metres to EOH
Numbers Prospect
21MORC024- 78 metres @ 0.63g/t Au from 2 metres including;
9 metres @ 3.9g/t Au from 27 metres
Further aircore drilling is presently in progress, and a further RC drill rig is slated to kickstart next week to follow up on the results.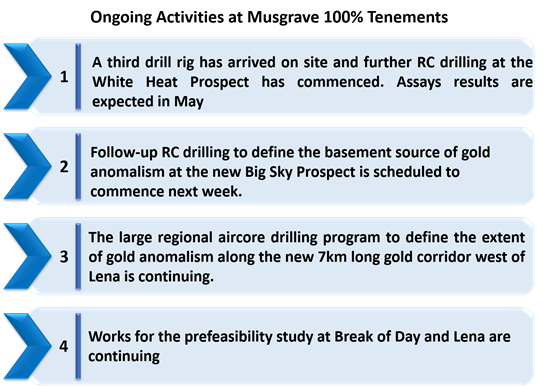 Source: Copyright © 2021 Kalkine Media Pty Ltd, Data Source: MGVASX update, dated 8 April 2021