Summary

Krakatoa Resources Limited has discovered highly anomalous rare earth elements within extensive catchments across E09/2357.
High-value rare earth magnet elements comprise up to 33% of TREO, with stream sediment assays highlighting the REE potential of the Project.
KTA has identified several areas of interest that indicate the prospectivity for various metal deposits.
KTA has an aggressive six-month exploration program lined up for the Mt Clere Project and includes various surveys and testing activities.
Krakatoa Resources Limited (ASX:KTA) has received another set of impressive results from the reconnaissance stream sediment geochemical sampling survey. As part of the systematic and extensive tenement wide exploration program, the survey was undertaken on tenement E09/2357 in April over KTA's highly prospective Mt Clere Project.
With 1,080km2 presently under granted licences and being systematically explored, KTA controls around 2,310km2 of highly prospective geology at the Mt Clere Project, which is host to substantial Rare Earth Element (REE) geochemical anomalies. An area of around 1,230km2 is under application.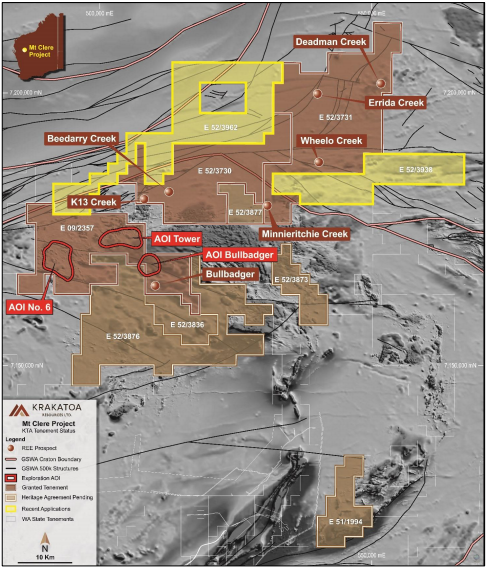 KTA's ELs and applications within the Narryer Terrane (Source: KTA Announcement 05/07/2021)
LATEST NEWS: Latest results reinforce Krakatoa Resources' (ASX:KTA) Rand Project potential
KTA's low impact exploration and reconnaissance mapping over the current granted exploration licences (ELs) involved the collection of 266 stream sediment geochemical samples and more than 40 rock and regolith samples.
The first phase of the two-phase exploration program was undertaken over EL E09/2537, while the second phase was conducted over ELs E52/3730 and E52/3731. The current results are from the preliminary phase over E09/2537, where 75 stream sediment geochemical samples were collected.
At present, the laboratory results from stream sediment programs over E52/3730 and E52/3731 are pending, along with rock samples comprising a small number of samples from the E09/2357.
DID YOU READ: Krakatoa Resources (ASX:KTA) kicks off AC drilling at Sugarloaf
KTA's areas of interest
The Company has identified three big priority areas of interest (AOI), indicating highly anomalous stream sample analysis included within a specific catchment position.
Various elemental distribution over E09/2357 (Source: KTA Announcement 05/07/2021)
Besides these, several discrete sample locations with anomalous geochemical assays on third-order tributaries have not been assigned to an AOI yet because of their position in the catchment.
GOOD READ: Krakatoa Resources discovers extensive gold anomalies at Rand
A summary of the key features of the AOI, as well as significant results, are presented in the images below.
Copyright © 2021 Kalkine Media| Data Source: KTA Announcement 05/07/21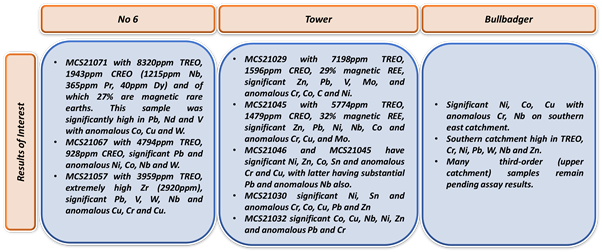 Copyright © 2021 Kalkine Media| Data Source: KTA Announcement 05/07/21
Secondary areas of interest
KTA has also identified various secondary areas of interest, which are positioned upstream of discrete stream sediment geochemical anomalous points discovered within the exploration licence. Two of these lie on the boundaries of the exploration tenement and have recorded substantial levels of TREO (Total Rare Earth Oxide) and Ni-PGE pathfinders at the sample location.
KTA believes that the sources of the anomalisms may lie within the upper catchments, which fall outside the granted licence of the Company. These are, however, included in KTA's pending applications.
IMPORTANT UPDATE: Krakatoa Resources cranks up exploration at Rand and Mt Clere in May
KTA looks forward to undertaking additional investigation over these areas upon obtaining the exploration licence and completion of access rights.
Further isolated anomalous sample points have been identified within the assay results, and their associated catchments will be explored further in the upcoming field campaign.
Way ahead
KTA is presently planning for an aggressive exploration program over Mt Clere, which is set to begin immediately and continue for around six months. This program will include the following:
Field mapping and intensive soil and rock survey over AOI
Airborne EM surveys
Electron paramagnetic resonance surveys
Mineral petrology
Ionic geochemical sampling over prospective areas
Target selection for drill testing
The Company will review the program and include the E52/3730 and E52/3731 licence areas upon receipt and interpretation of all stream and rock samples from the preliminary exploration phase.
RAND PROJECT UPDATE: Krakatoa Resources (ASX:KTA) announces high-grade gold results at Rand Project

Source: KTA Announcement 05/07/21
KTA believes that the occurrence of highly anomalous REE within the licence area brings positive news for the stakeholders. At the present stage, the source of anomalisms remains unidentified. However, a source of mineralisation within the catchments is believed to be suggested by the interpretation of the existing stream sediment sampling results at E09/2357.
GOOD READ: Krakatoa Resources (ASX:KTA) wraps up maiden drill program at Rand
KTA stock was noted at AU$0.055, up by 1.851% at 12:25 PM AEST.