Summary

Invictus Energy Limited (ASX:IVZ) is developing its 80% owned and operated Cabora Bassa Project in Zimbabwe.
The Company is likely to accelerate its exploration campaign throughout the remainder of CY21.
Mangwana Opportunities Fund is a local institutional investor, assisting Invictus in achieving its strategic goals in country.
Mangwana's role is integral to Invictus Energy's growth as it commences the ramp-up of its exploration program and operations in Zimbabwe.
Independent oil and gas exploration company Invictus Energy Limited (ASX:IVZ) is about to "embark on a very exciting journey", says newly appointed Non-Executive Director and Deputy Chairman Joe Mutizwa.
Leveraging its first-mover advantage in the underexplored Cabora Bassa Basin of Zimbabwe, Invictus operates its 80%-owned SG 4571 Cabora Bassa asset where it holds a clear pathway to continue towards development. Notably, the Mzarabani Prospect has 8.2Tcf + 247 million barrels of conventional gas-condensate1 (~1.6 billion boe) independently verified.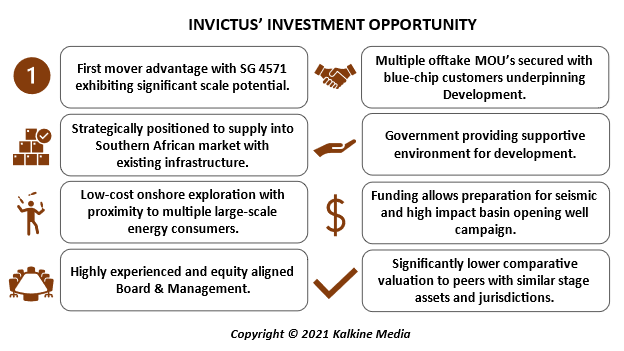 NEW ON BOARD: Do you know Invictus Energy's (ASX:IVZ) new Non-Executive Director & Deputy Chairman?
The quarter ending March 2021 was an excellent one for Invictus as it achieved a slew of milestones, building on its strong foundations. The completion of a strongly supported capital raise and the execution of The Petroleum Exploration Development and Production Agreement (PEDPA) with the Republic of Zimbabwe suggest that Invictus is set to accelerate its exploration campaign throughout the remainder of CY21.
READ MARCH QUARTER HIGHLIGHTS HERE: Invictus Energy riding high on capital raising, PEDPA; what next?
As Invictus gears up for an exploration program in the months to come, let us look at a major catalyst of the company's recent developments – the continuous support of Mangwana Opportunities Fund.
Mangwana Opportunities Fund
Mangwana Opportunities Fund is an investor-owned, closed-end investment company managed by Mangwana Capital. The Fund invests in companies with access to unlimited global markets with products where there is a competitive advantage. It makes investments in companies operating in Zimbabwe and the SADC region.
It is funded by more than 20 Zimbabwean institutional investors, seeking to protect value in a hyper inflationary environment. The Fund regards itself as a hands-on partner that assists its portfolio companies to grow.
ALSO READ: What's in store for Invictus Energy?
Invictus Energy's relationship with Mangwana
Last year, Invictus successfully brought in the Mangwana Opportunities Fund (including pension funds with an investment horizon of 10 years) as an in-country cornerstone investor.
Copyright © 2021 Kalkine Media
Shortly after that, the Company finalised its Second Tranche Placement under the share subscription agreement – raising the equivalent of A$222,148. The agreement makes provision for an extra equity investment by the Fund for the Cabora Bassa Project over the next few months. There is also a provision to assist Invictus in achieving its strategic goals in country.
RELATED READ: Invictus Energy Limited (ASX:IVZ): Completes Tranche 2 Placement With Mangwana, Field Operations To Begin In Cabora Bassa Basin
Recently, Joe Mutizwa, the current chairman of Mangwana Capital and a respected Zimbabwean businessperson, was appointed Invictus's Non-Executive Director and Deputy Chairman.
As evidenced, the relationship between both parties has been evolving with time and this pattern is likely to continue. Having said so, Mangwana Opportunities Fund can go a long way in supporting Invictus to attain its strategic goals in the country.
On 21 June 2021, IVZ quoted A$0.155, with a market capitalisation of A$91.35 million.
INTERESTING READ: Invictus Energy's (ASX:IVZ) 2020 Progress Well Supported by Prominent Parties