Summary

Horizon Minerals concluded Trial mining at the Boorara Gold mine while the results of two toll milling campaigns have been announced.
Horizon received remarkable results from drilling undertaken at Binduli and Rose Hill.
During the December 2020 quarter, HRZ acquired Kalpini gold project and Penny's Find underground gold project (50% interest).
Gold focussed explorer, developer, and producer, Horizon Minerals Limited (ASX: HRZ) achieved great deal of developments during the Quarter ended 31 December 2020. The Company remained under the spotlight for demonstrating amazing competence to steer exploration initiatives while building a solid rock foundation for further exploration endeavours.
Horizon is ready to embark upon 2021 strategic gold-centric initiatives against the backdrop of successful developments. Alongside, Horizon also progressed developments at its non-core assets incorporating the release of Pre-Feasibility Study for the Richmond-Julia Creek Vanadium Joint Venture.
In the light of significant developments, let us look at some recent key undertakings aiding the Company to cut the mustard.
Mine Development and Operations at Boorara
During the quarter, Horizon undertook trial mining and toll milling at Boorara gold mine lying only few kilometres from Kalgoorlie-Boulder. The company mined a total volume of over 51,000 BCM, with three trial pits completed.
Significantly, 267,000 tonnes of ore mined 10,560 gold ounces at 1.23g/t (mine claimed grade). While the second toll milling campaign produced 1,845 gold ounces, 2,491 ounces was produced from the third toll milling campaign.
ALSO READ: Horizon Minerals (ASX:HRZ) wraps up third Boorara milling campaign with $3.6 million in net cash flow
During the December 2020 Quarter, Horizon achieved a total sale of 3,374 gold ounces at an average sale price of $2,512 per ounce, thereby generating revenue of $8.47 million and $4.36 million in net cash flow.
The final milling campaign is slated to kickstart in January this year. In the conclusive campaign, while the remaining high-grade would be treated, parcel of low-grade material would be tested. Mine to mill reconciliation will be carried out subsequently.
It would lead to release of an updated Mineral Resource estimate in the current March Quarter.
Continued Accomplishment of Extensive drilling Program
During the Quarter, the Company initiated its largest-ever exploration program while the commencement of the foremost rig was achieved in September 2020.
At Boorara gold project area, the geological model was fed with data from the trial pits mapping and mine to mill reconciliation.
Furthermore, at Binduli Project area, a total of 30 RC (Reverse Circulation) holes for 2,967 metres to 140 metres depth were finalised at Crake alongside the completion of five diamond holes for 522 metres.
Rose Hill gold project's upgraded Mineral Resource estimate indicate high grade open cut as well as underground potential.
ALSO READ: Horizon Minerals makes crucial appointment to galvanise growth

Source: HRZ ASX Update, 12 January 2020
The Company intends to steadily wrap up drilling (including up to four aircore, RC and diamond rigs cycling) with the outcomes from each round assembled and evaluated to provide significant information to the next round of drilling.
Significantly, HRZ has finished the reserve drilling, and now this year's exploration program would encapsulate new discovery as well as new resource drilling across its project pipeline.
Bolstering Growth through focused Acquisition
Horizon completed Kalpini gold project acquisition for the total cash consideration of $2.75 million. Geological review has been completed while additional programs consisting of validation, infill and extensional drill would be undertaken in the March 2021 quarter.
Furthermore, it has also made a deal with Orminex Ltd (ASX:ONX) to acquire half of the Penny's Find underground gold project for cash worth $1.5 million.
Road Ahead for March Quarter
The Company is looking forward to advancing activities with many activities for March 2020 Quarter.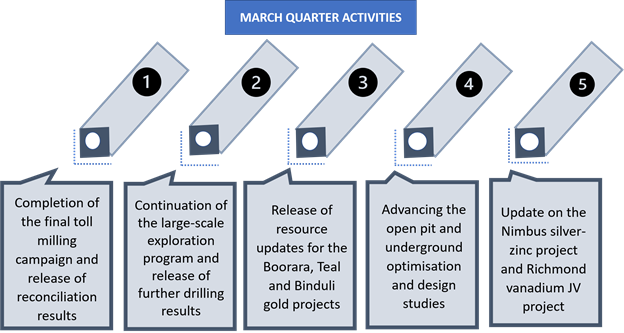 Kalkine Group Image (Data Source: HRZ ASX Update, 12 January 2020)