Highlights

Creso Pharma achieved record revenue growth for the second consecutive quarter. The Company also highlighted key milestones it had achieved in the period.
Creso and Red Light Holland have signed an agreement to combine their businesses and launch The HighBrid Lab Inc, a leading cannabis and psychedelics firm.
In mid-July, the Company completed the acquisition of Halucenex Life Sciences after shareholder approval at its annual general meeting.
The June quarter also saw Creso completing a dual listing in the US OTC market.
Halucenex entered into several agreements and partnerships to progress the development and commencement of its Phase 2 clinical studies.
Significant US regulatory shifts further strengthened Creso's commitment to expanding its presence in the US.
Creso Pharma Limited (ASX:CPH) has updated the market with its June 2021 quarterly report. The eventful quarter was marked by significant achievements and a second consecutive quarter of record revenue growth.
The Company achieved several key milestones and ended the quarter with AU$13.56 million in cash reserves. Besides, the US legislative tailwinds created further opportunities for the Company on various fronts.
Below are the key highlights from the quarter-
Creso's proposed merger with Red Light Holland to create a leading cannabis firm
Creso Pharma and Red Light Holland Corporation (CSE:TRIP) signed a definitive scheme implementation deed to merge businesses and create The HighBrid Lab Inc., a prominent cannabis and psychedelics firm. The HighBrid Lab will likely comprise four business units - recreational cannabis (THC), cannabidiol (CBD), recreational psychedelics, and psychedelic research.
TO KNOW MORE, DO READ: Creso Pharma (ASX:CPH) set to merge with Red Light Holland to create a mega cannabis firm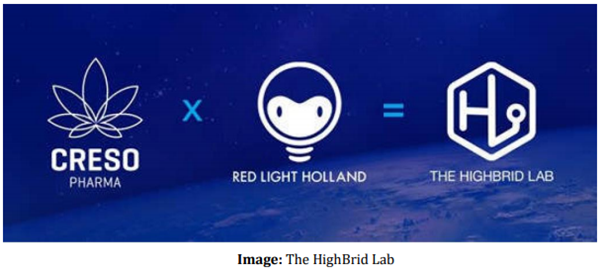 Source: CPH Update, 2 August 2021
Acquisition of Halucenex Life Sciences Inc
After the June quarter, Creso Pharma completed the acquisition of Halucenex following the shareholder approval at Creso's annual general meeting on 24 June 2021. The acquisition is a crucial achievement, offering direct access to the fast-developing psychedelic-assisted psychotherapy industry. In addition, the acquisition unlocks several opportunities for Creso in the near term and after the potential merger of CPH and Red Light Holland.
In the near term, both companies will concentrate on continuing clinical trials to evaluate the efficacy and safety of psychedelic-assisted psychotherapy using psilocybin for the treatment of mental illness.
RELATED ARTICLE: Creso Pharma inches closer to completing Halucenex acquisition following shareholders' approval
Source: CPH Update, 2 August 2021
Successful US OTC listing
Creso Pharma also completed its dual listing on the US OTC market and started trading under the code 'COPHF' on 11 June 2021. In addition, Creso aims to obtain Depository Trust Company (DTC) approval, allowing real-time electronic clearing and settlement of Creso's ordinary shares in the US via DTC. Once authorised, the approval will streamline trading as well as boost liquidity for a substantial pool of North American investors.
Further, following the potential merger with Red Light Holland, Creso Pharma will take advantage of the established relationships of incoming directors and senior management to unlock shareholder value.
RELATED ARTICLE: Creso Pharma (ASX:CPH) shares fly high on US OTC dual listing completion
Divisional highlights
Mernova Medicinal Inc
During the quarter, Mernova secured multiple purchase orders from province partners as well as returning customers, underlining the continuing shift to a recurring revenue model. The Company recently obtained first orders for the Ritual Green one-ounce bag offering with continuing demand for other products.
Creso Pharma Switzerland (Nutraceutical division)
In April, the Company entered into a commercial agreement with South Africa-based Cannabis Queen to sell topical and Hemp CBD tea products in Africa. CPH also agreed to market Anti-Aging Serum and Hair Treatment products of Cannabis Queen in Europe and Switzerland.
ALSO READ: Creso Pharma (ASX:CPH) bolsters its presence in Africa with Cannabis Queen agreement
The Company developed three new hemp CBD teas based on a new second-generation pioneering technology.
Source: CPH Update, 2 August 2021
Furthermore, the Company confirmed the development of anibidiol® swine to support the well-being and stress reduction in pigs. The Company will commence marketing the product via its established distributors in the animal health industry. The first sales are anticipated in 2H CY21.
Creso also expanded its distribution agreement with Route2 Pharm Pvt Ltd to its products into Ecuador.
RELATED ARTICLE: Creso Pharma extends deal with Route2 Pharm to foray into Ecuador market
Halucenex secures multiple agreements
Halucenex secured several agreements and partnerships as it looked to progress the development and commencement of its Phase 2 clinical studies. The agreements signed during the period include:
Copyright © 2021 Kalkine Media (Data Source: CPH Update, 2 August 2021)
Additionally, Halucenex made operational progress in initiating its proposed Phase 2 clinical trial and almost doubled its synthetic psilocybin supply. The decision was made to expand the trial participants and include those who suffer from Treatment-resistant PTSD (Post Traumatic Stress Disorder) and have not served in the military.
RELATED ARTICLE: Creso Pharma delighted as Halucenex nearly doubles its synthetic psilocybin inventory
Financial highlights
Creso reported another quarter with record revenue growth. The key financial highlights from the quarter are:
Creso Pharma generated revenue of AU$1,633,000, up 18% versus the previous period.
The June quarter revenue marked a significant increase of 451% on the previous corresponding period (Q2 CY20).
Unaudited revenue generated from Mernova stood at AU$966,459, up 21% versus the previous quarter.
Unaudited revenue generated from the sales of human and animal health products stood at AU$607,344. The revenue comprised sales of cannaQIX® and anibidiol®.
RELATED ARTICLE: Creso Pharma on a high as it achieves record revenue growth in consecutive quarters
Regulatory tailwinds
The significant regulatory changes during the quarter further strengthened Creso's commitment to improving its presence in the US. The Company is well-placed to become a first mover in medicinal and recreational cannabis industry in the US, subject to federal legalisation.
These regulatory changes include: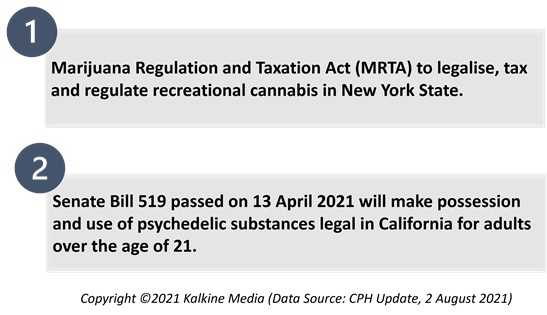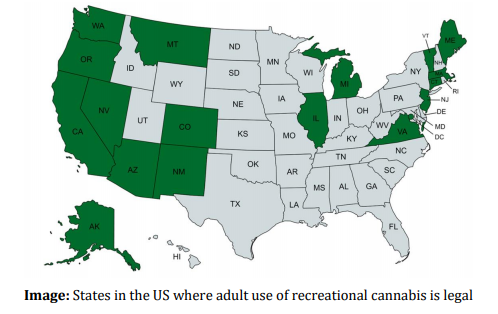 Source: CPH Update, 2 August 2021
RELATED ARTICLE: Legislative tailwinds to bolster Creso and Halucenex's entry into US psychedelics market
Commenting on the quarterly highlights, Mr Adam Blumenthal, Creso's Non-Executive Chairman, said:
On 24 August 2021, CPH shares closed at AU$0.125.