Source: Bukhta Yurii, Shutterstock
Summary

Creso Pharma's wholly owned subsidiary, Mernova, has won new purchase orders for Ritual Green products.
The flourishing pre-roll market division offers Mernova a significant opportunity for the Company to capitalise on to the fullest.
The latest orders are encouraging and underscore Creso's strong brand recognition in an extremely competitive Canadian market.
Mernova has also introduced a new product segment, the one-ounce bag, so that customers can get a larger supply of its leading cannabis strains.
Creso Pharma Limited (ASX:CPH, FRA:1X8) has announced that its wholly owned Canadian subsidiary, Mernova Medicinal Inc, has won new purchase orders (POs) from Ontario Cannabis Store (OCS) and Yukon Liquor Corporation worth C$145,192.
The Company stated that the new orders comprised a repeat order from the OCS and a second order for Yukon's pre-roll joint range. The new orders also include a maiden PO for Mernova's new one-ounce product offering.
The repeat orders from the two parties emphasise the ongoing shift for Mernova towards a recurring revenue model.
Repeat order from the OCS
The repeat order from the OCS for Mernova's leading Ritual Green product range is valued at C$102,084. Notably, the Province of Ontario solely owns the OCS. It is the only retailer and wholesaler of legal recreational cannabis in Ontario and directly reports to the Ministry of Finance.
The OCS provides legal cannabis products to several consumers through suppliers approved by Health Canada. Ontario is one of the largest recreational cannabis markets in the North American country and represents a significant opportunity for the Company.
DID YOU KNOW: Creso Pharma rolls out new hemp tea products using revolutionary technology
Second order for pre-roll joint range
The Canadian subsidiary has also secured a PO from Yukon for the Company's Ritual Sticks pre-roll joint, valued at C$43,108. This marks the second order for the pre-roll joint range, which Mernova obtained in a short period.
Mernova's Ritual Sticks product range (Source: CPH Announcement, 19 March 2021)
The order also marks the first time Mernova's Mimosa and HPG13 strains are being sold in the form of a pre-roll joint.
Under the Ritual Sticks brand, the Company offers its pre-roll joint range. These pre-roll products use superior-quality artisanal, cured, craft, hand-trimmed, hang-dried, indoor-grown cannabis sold under the Ritual Green segment.
ALSO READ: Creso Pharma's (ASX:CPH) subsidiary Mernova bags three new purchase orders
Ritual Sticks range in a nutshell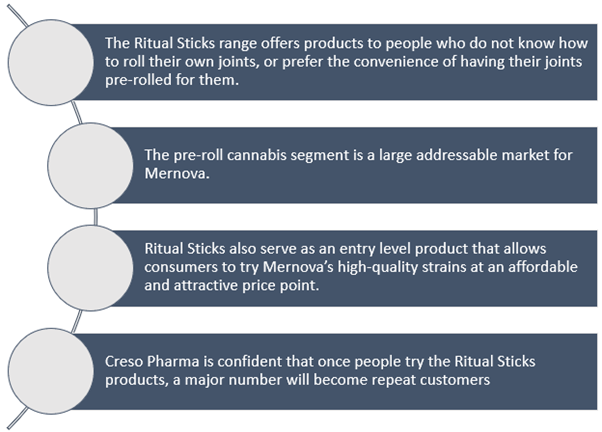 Source: Copyright © 2021 Kalkine Media Pty Ltd, Data Source: CPH Announcement, 8 April 2021
Mernova's new product offering
In addition to the new POs, Mernova has also introduced a new one-ounce bag offering so that consumers can secure a larger supply of its leading cannabis strains at a volume discount. Further, the Company specified that the initial order is for its Mimosa strain with additional strains likely to follow.
The new product segment builds the Company's offerings further and will help restructure Mernova's inventory and distribution.
Notably, the new one-ounce bag product segment allows consumers to secure more high-quality product at competitive prices. Besides, this also streamlines the inventory and supply chain of the Company.
Management Commentary
Jack Yu, Managing Director of Mernova, stated that securing new purchase orders is a major achievement for the Company. Mr Jack Yu highlighted that the repeat order from OCS is very satisfying. The second order for Ritual Sticks in another new province underscores the substantial potential the product has among consumers.
Moreover, the flourishing pre-roll market segment offers a massive opportunity for Mernova that the Company plan to capitalise on to the fullest.
He further added-
Mernova continues to witness robust product uptake across Canada as well as shorter intervals between POs. This is promising for the Company and underlines its strong brand recognition in a competitive Canadian market.
Mernova expects the trend to continue, anticipating additional orders in the future, thus strengthening its growth prospects.
MUST READ: Creso Pharma aims to make inroads in US cannabis space with latest appointment
On 9 April 2021, CPH shares were trading 3.658% higher at A$0.212 (at AEST 12:42 PM).