Highlights

BlackEarth advanced exploration at its Maniry graphite project and Donnelly River Ni-Cu-PGM project during FY21.
The Company's strategic deals with world-class graphite players are expected to improve the commercial potential of graphite concentrate from its Maniry graphite project .
Madagascar, a country with a proven history of graphite mining, is expected to be one of the leading exporters of graphite concentrate in the world.
BlackEarth has identified a number of significant conductors during the AEM survey at the Donnelly River project.
The fiscal year 2021 turned out to be a significant one for BlackEarth Minerals NL (ASX:BEM), as the critical commodity developer ticked off several critical milestones during the period. The Company made headways across various fronts, ranging from exploration in southern Madagascar to exciting initiatives and agreements.
These developments bode well for BlackEarth, which envisions to become a material, vertically integrated global graphite business. The Company's flagship Maniry graphite project is located in Madagascar, which is a significant global supplier of this critical mineral.
RELATED ARTICLE: BlackEarth Minerals (ASX:BEM) transforms Maniry strengths into value propositions
Strategic initiatives bolstering commercial potential
MOU with Urbix Resource Inc - The Memorandum of Understanding (MOU) is a significant opportunity for BlackEarth to deliver graphite concentrate to Urbix Resource Inc (USA). This in turn, would help BEM widen its footprint in the growing battery anode market in the US.
BlackEarth and Urbix may form a joint venture in the future to produce downstream-processed graphite suitable for the electric vehicle industry.
Sales and marketing agreement with LuxCarbon - BlackEarth entered into an agreement with Germany-based LuxCarbon to improve the sale prospects for its graphite concentrate in the growing and lucrative European market.
In addition, the collaboration would provide a springboard for enhancing opportunities to supply products for LuxCarbon's tier one market.
KNOW MORE: BlackEarth Minerals' shares rally on offtake agreement with European downstream graphite company
MOU and proposed joint venture with Metachem – The Company has an MOU with Metachem (India) to jointly produce expandable graphite, principally catering to the fire retardant related sectors in Europe and the US.
Notably, Metachem has a history of significant production as well as supply in the European and the US markets.
ALSO READ: BlackEarth Minerals (ASX:BEM) partners Metachem to develop expandable graphite plant
Binding offtake agreement with Grafitbergbau - The agreement with Austria's Grafitbergbau allows BEM to significantly de-risk its investment in the proposed JV with Metachem. According to the binding offtake agreement, BEM can sell all products from the JV.
Source: BEM update, dated 13 September 2021
MOU with RHIM - BlackEarth has also inked an MOU with RHI Magnesita (RHIM), which is the world's largest refractory group and a consumer of natural flake graphite for refractory materials and products. The agreement would allow BEM to provide small- to medium-flake size concentrates to RHIM.
Stage 2 large-scale pilot program delivers encouraging outcomes
BlackEarth had engaged China-based Beijing General Research Institute of Mining and Metallurgy and ALS Perth to conduct a series of production tests as part of the Stage 2 large-scale pilot program.
The Company achieved better-than-expected results from the program, designed to help ascertain the optimum process design for graphite ore mined from the Maniry site as well as provide a significant contribution to the final Environmental and Social Impact Assessment (ESIA) of the project.
The outcome of the Stage 2 program has validated the exceptionally high-standard quality of BlackEarth's graphite concentrate suited to a range of technical attributes.
DETAILED DISCUSSION: Pilot program results confirm high yields for BlackEarth Minerals' (ASX:BEM) Maniry graphite project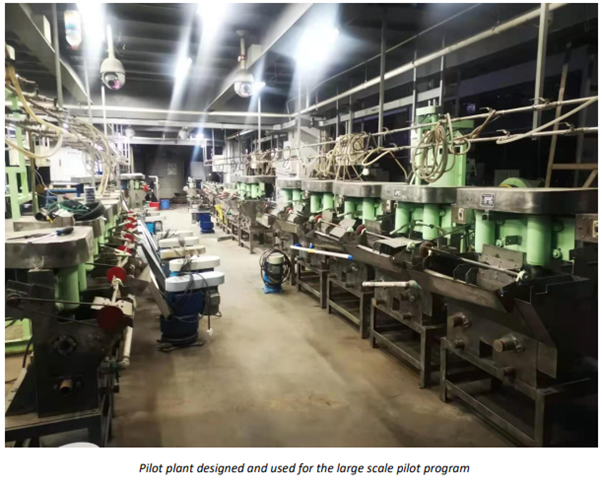 Source: BEM Update, dated 13 September 2021
ALSO READ: Inside BlackEarth Minerals' quest to unlock graphite potential at Maniry
High-grade graphite zones identified
In May 2021, the Company commenced an initial 1,000m diamond drill program, targeting shallow high-grade graphite in the high-priority Razafy Northwest area.
The program was aimed at attaining a better understanding of graphite geology in the region while materially adding to the Company's stated total JORC Resource in the short term.
After FY21 end, BlackEarth reported the discovery of new high-grade graphite zones at Razafy Northwest.
RELATED ARTICLE: BlackEarth Minerals' (ASX:BEM) shares soar on crucial Maniry DFS update
Donnelly River Ni-Cu-PGM Exploration and Development
During FY21, BlackEarth also advanced exploration at its 100%-owned Donnelly River nickel-copper-platinum group metals (Ni-Cu-PGM) project, located in Western Australia.
Several significant conductors have been identified from the AEM survey that warrant more detailed assessment and testing.
RELATED ARTICLE: BlackEarth Minerals' AEM survey outlines major targets at Donnelly River
The survey results have highlighted areas of key focus within the broader Donnelly River Project. Moreover, the Company plans to undertake detailed target assessment for which it will design and implement follow-up programs of ground-based exploration, subject to standard ground access protocols.
Bottom Line
Graphite projects have been gaining traction of late as the critical mineral is expected to be a major contributor to alternative energy and applications in the future.
Amid the ongoing world demand for large and jumbo flake graphite, BlackEarth remains committed to fast-track the development of its potentially world-class graphite project.
BEM stock traded at AU$0.14 on 22 September 2021.