Clinical trials are being shuttered in increasing numbers in Australia because of the challenges posed by COVID-19; however, one clinical-stage oncology company Prescient Therapeutics Limited (ASX:PTX) continues to march ahead.
The Company has a strong clinical development profile with its two drug candidates PTX 100 and PTX 200, under clinical investigation.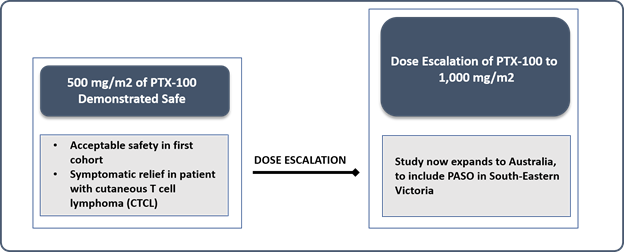 About PTX-100
PTX-100, which is licensed by Prescient from Yale University, is a first-in-class drug candidate that works by disrupting the oncogenic Ras pathway by impeding the activation of Rho, Rac and Ral proteins, that leads to the death of cancer cells.
In a previous study conducted in the United States at Pennsylvania State University and Indiana State University PTX-100 demonstrated that it was well tolerated and accomplished stable disease status in patients with advanced solid tumors.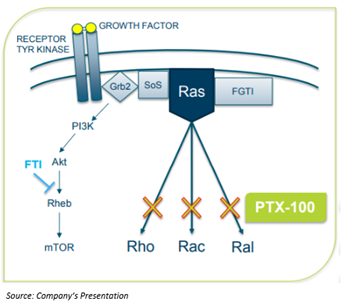 PTX100 Trial Progressed to Dose Escalation To 1000mg/m2 After Half That Amount Was Proved Safe
Prescient revealed that its phase 1b study of PTX-100 for cancer will proceed to the next increased dose level of 1,000 mg/m2 after safe demonstration of its 500mg/m2 dose in the first cohort of patients.
The Phase 1b basket study for PTX100 seeks to determine the safety, dose regimen and treatment schedule of the drug, in a variety of cancers where the two mutations (Ras and RhoA) are predominant. Ras and RhoA mutations are present in several tumors, but so far, there is no approved treatment/therapy for these mutations.
Prescient unveiled that in the first cohort there were three patients with challenging cancers like the advanced multiple myeloma, peripheral T-cell lymphoma (PTCL) and, cutaneous T cell lymphoma (CTCL), respectively and they were strongly pre-treated. The cohort patients received 500mg/m2 doses of PTX100 and no drug-related safety issues were observed during the study.
Moreover, the Company highlighted that based on safety observations for the previous dose, the safety monitoring committee of the study had authorised the trial to proceed to the next increased dose of 1,000 mg/m2 of PTX-100.
It is noteworthy that, at the Epworth Hospital, the clinical team reported that patient with cutaneous T cell lymphoma (CTCL) has experienced symptomatic relief with an unconfirmed response and will continue on therapy with PTX-100.
Expansion of Study To Include PASO in South-Eastern Victoria
Addition to the dose escalation, Prescient also revealed the study expansion to Australia under the leadership of Professor Vinod Ganju to incorporate PASO medical located in South-Eastern Victoria. Professor Vinod Ganju is a globally trained oncologist having an in-depth knowledge of clinical research.
The Company foresees that focus of PASO on solid tumors for the basket study will add the haematological cancer proficiency of Epworth and boost the diversity of cancer types recruited to this study.
The principal investigator of basket study Professor H. Miles Prince AM is a globally renowned oncologist who has contributed to the successful development of numerous new groundbreaking cancer therapies, stated on this-

Encouraging Clinical Development
Prescient's CEO and managing director Steven Yatomi-Clarke stated that the PTX-100 dose escalation was a promising development.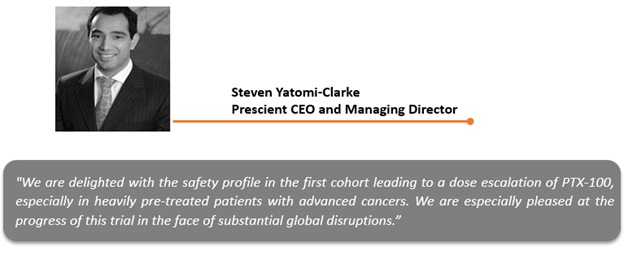 He also added the Ras pathway has been in focus over the last 12 months, getting much consideration from the medical and pharmaceutical communities, and the Company has confidence that the outcomes of this PTX-100 study especially as a unique, first-in-class inhibitor of this pathway will definitely warrant attention.
PTX-100 Basket Study Details
Prescient also provided a few additional details for the basket study. It stated that it is an open-label, non-randomized trial and will enrol up to 24 participants. The pharmacokinetics and pharmacodynamics of PTX-100 will be evaluated in this study, including the determination of safety and efficacy of up to three different doses in patients with advanced malignancies.
PTX-100 does not target tumour origin but it targets two specific genetic mutations (Ras and RhoA) and is under investigation against several tumours.
In this approach patients will be administered by intravenous (IV) infusion of PTX-100 around 60 minutes on days one to five of a 14-day cycle and it would continue for four cycles unless there is any sign of toxicity.
The basket study progressing under the leadership of Professor H. Miles Prince AM is intended to recognise the optimum time as well as the dose-dependent effect of PTX-100 at various doses.
Prescient is looking for identification of the mutational status of cancers in each patient and pursue to correlate this status with any other clinical activity within the constraints of a minor sample size.
Notably, during the study, numerous biomarkers of cancer will be examined with the objective of identifying patients which might be extremely probable to respond to PTX-100 therapy.
TO KNOW MORE, DO READ: Prescient's "BASKET" Approach Transforming Future Clinical Trials
Prescient appears to be at the cusp of establishing a decent growth profile, with on-track clinical development in precision oncology, supported by the strong board and management team. The Company is making considerable progress in developing treatments for challenging cancers with unmet clinical needs.
On 23 April 2020, PTX shares rose by 10.526% to AUD 0.042 (at AEST 12:18 PM) with a market capitilisation of AUD 14.98 million.
To know more about Prescient Therapeutics Limited, click here
To stay updated with PTX company activities and announcements, please update your details on their investor centre.