Summary

Nyrada is developing novel treatment solutions aimed at addressing the unmet and underserved needs of patients. Strong patent protection will add substantial potential commercial value to the drug assets.
The growing market for cholesterol-lowering drugs, along with the presence of either expensive or suboptimal efficiency drugs, offers a significant market opportunity for the Company's PCSK9 inhibitor solution.
Nyrada is seeking a competitive advantage in the neuroprotection program with two series of compounds that effectively block toxic calcium ion build-up in brain cells. A recent study showed that they readily cross the blood-brain-barrier in an uninjured animal.
Nyrada is well-funded and backed by an experienced board of directors. Nyrada has a strong commercial focus with a strategy to realise shareholder value early in the development cycle.
Australian listed pre-clinical stage drug discoverer and developer Nyrada Inc. (ASX: NYR) is initially focussing on the developing new treatments for cardiovascular and neurodegenerative diseases, specialising in novel small molecule drugs. Additionally, the company's product pipeline also includes an anti-inflammatory and autoimmune disease program.
Since its IPO in January 2020, Nyrada has made substantial progress in its drug development efforts, backed by its diverse product portfolio with significant therapeutic and commercial potential.
Notably, COVID-19 continues to have minimal impact on Nyrada's operations with its drug synthesis vendor in India and main CRO vendors in the US and China operating as usual. Besides, the company continues to diversify its reliance across different vendors and regions, safeguarding against any potential future COVID-19 related setbacks.
Nyrada's innovative treatments are based around new chemical entities so the patents, if granted, will provide strong intellectual property protection. The aim is to develop first in class solutions to meet unmet or underserved clinical needs of the patients in its program areas. Meanwhile, the commercial model of the company is oriented towards incremental value maximisation of early product candidates.
Nyrada, having raised $8.5 million at IPO, remains well-funded with $6.1 million cash at bank. In addition, the company is actively pursuing several collaboration opportunities and non-dilutive funding for the development of its product candidates.
The Nyrada Board of Directors is high calibre with broad experience in establishing and growing the value of biotech companies. The Board also includes individuals with proven business development and commercial experience.
Cardiovascular Disease Program (Cholesterol-lowering drug)
Market Prospects and Challenges around currently available Solutions: The global cholesterol-lowering drugs market was estimated at US$19 billion in 2017 (by Visiongain Market Research) and is expected to grow at 4.9% CAGR (Compound Annual Growth Rate) between 2017 to 2027.
As per heart disease and stroke statistics-2019 from the American Heart Association, one-fourth of total deaths are caused due to cardiovascular disease, with high LDL cholesterol a leading risk factor.
While a significant proportion of US adults with elevated LDL-C takes a statin therapy, a large percentage is unable to achieve LDL-C target despite taking a this medication and remain at risk of developing cardiovascular disease. It is also known that statins can increase PCSK9 levels, limiting their effectiveness.
The current treatment options are either low cost with have suboptimal efficacy, with side effects (oral statin drugs), or statin- combined effective solutions which are expensive and inconvenient (Pen Injector Repatha) requiring regular injections.
Nyrada's Innovative Solution: Nyrada's unique solution provides cost-effective treatment for high LDL-C, which can be conveniently taken by patients. The company's treatment targeted at the cardiovascular diseases consists of a small molecule PCSK9 inhibitor, which blocks the action of PCSK9 on cholesterol receptor, combined with a statin in a single pill. The small molecule PCSK9 inhibitor developed by Nyrada, that enables this approach, overcomes a longstanding challenge of oral PCSK9 treatment.
Nyrada's cholesterol-lowering drug program has moved forward, with analogues delivering compounds with higher potency and improved drug-like properties. the selection of the clinical candidate is on track and initiation of manufacturing scale-up activities for safety and toxicological testing is underway, ahead of a first in human study in late 2021.
Nyrada's Neuroprotection Program
Market Potential: Demand Vs Available Drugs: Nyrada notes that each year in the US, 2.8 million people sustain a traumatic brain injury (TBI) and 0.8 million suffer a stroke. According to Energias Market Research, the global severe TBI treatment market is estimated to grow at a CAGR of 5% to US$20 billion by 2024.
Annually, hospital admissions in the US records approximately 0.7 million patients with brain injury combined. While the traumatic brain injury (moderate or severe) constitutes 30% of the total cases, around 70% of the brain injury patients have suffered a stroke.
Although there exists one drug class for stroke which is only suitable for less than 15% of patients, there is no existing TBI treatment. At this point, neurology or physical rehabilitation remains the only existing therapies. The implications of insufficiency of the right treatment lead to high mortality, severe life-long disability and high ongoing healthcare cost
Nyrada's Brain Injury Solution: Nyrada's neuroprotection program is aimed at reducing secondary brain injury after a stroke or head trauma. The treatment is targeted at preventing cell death, attenuating damaged brain volume, improving survivability, limiting disability, and improving quality of life.
Notably, Nyrada has made significant progress with the important development of two novel compounds - NYX-242 and NYX-1010, that act on different targets to effectively block toxic calcium ion build-up in brain cells, which causes the cells to die and is a key driver of secondary brain injury.
Nyrada's newly developed NYX-242 is a more potent version of NYX-104, and it blocks calcium ion build-up in cells at three-times greater potency. At the same time, the new generation of compounds with the lead compound NYX-1010 has a different molecular target but considerably greater potency in blocking calcium. Both compounds were shown to be able to readily cross the blood-brain-barrier in an uninjured animal brain, with no observed adverse effects.
Further analogues have been synthesised, focusing on key structural features to improve the potency and half-life of the existing compounds.
The two compounds reach levels which Nyrada believes to be therapeutic and will be compared in a head-to-head animal model of brain injury, while the best will be selected to take forward to the clinic to be evaluated in patients.
Ongoing Efforts and Road Ahead
Notably, proof-of-concept has been established and lead optimisations are well advanced for Nyrada's leading Cardiovascular and Neuroprotection programs.
The first-in-human-studies for the cholesterol-lowering program are planned for late 2021 and neuroprotection in mid-2022.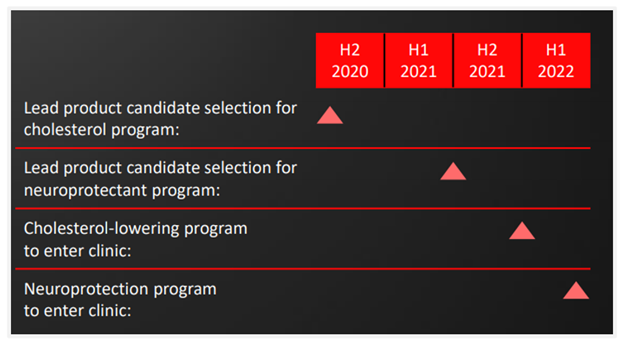 NYR traded at $0.160 on 26 June 2020 (2:30 PM AEST).