Shares of AMA Group Limited (ASX: AMA) were placed on a trading halt on 30 September 2019. According to media speculations, the automotive repair company is set to provide an update on its proposal to acquire business segments from the insurance major, Suncorp Group Limited (ASX: SUN).
Acquisition
As notified to the market, on 1 October 2019, Suncorp Group & AMA Group had entered into binding agreement for the sale of Suncorp's Capital S.M.A.R.T and ACM Parts business. According to a release on ASX, SUN would be selling Capital S.M.A.R.T business for $420 million and retaining 10% interest in the business. Under the agreement, the customers of Suncorp would have access to Capital S.M.A.R.T. service for 15-year via Motor Repair Services Agreement with two options to extend for additional 5 years. Suncorp has also announced to sell ACM Parts to AMA group as well for a cash consideration of $20 million.
Equity Raising
As per the ASX releases by both the companies under discussion, the sale would be funded by a fully underwritten around $216 million equity raising and new debt facilities. The equity raising would consist of a 1 for 4.5 pro-rata fast-tracked non-renounceable entitlement offer to raise around $319 million along with a placement of ~67 million shares for raising approximately $77 million. Around 188 million new ordinary shares would be issued as per the Equity raising.
AMA is aiming towards pro froma net debt/synergy adjusted EBITDA of around 2.5x at FY20 period, aiming towards medium-term leverage of around 2.0x.
As per the Entitlement Offer, eligible shareholders are invited to subscribe for one new AMA share for every 4.5 old AMA shares (Entitlement) to be held on 3 October this year (Record Date).
Suncorp Group
Suncorp Group completed the divestment of its Australian Life Business during February 2019, in the previous financial year, which ended on 30 June 2019. Subsequently, the group had declared a fully franked special dividend of 8 cents per share from the proceeds of the sale.
It also proposed to distribute the remaining surplus capital from the proceeds through a 39 cents per share return of capital and share consolidation. In the Annual General Meeting, the resolution related to the capital return and share consolidation was passed by the shareholders.
Consequently, the shareholders on the record, as on 1 October 2019 would be receiving 39 cents per share of return of capital on 24 October 2019. The company would also use the same record date for the reverse share split (share consolidation) at 0.971, as the consolidation ratio. As a result, if a shareholder has 1000 shares as on 1 October 2019, the holding would be 971 shares following the share consolidation.
In its Annual report for FY 2019, the insurer has intended to enhance the performance of its core business that includes Insurance and Banking business. It has targeted initiatives and investments to deliver long- and near-term benefits to the customers.
Priority (Source: SUN's FY2019 Presentation)
Suncorp has prioritised to strengthen trust among customers, and it would tap the opportunities arising after the regulatory change to deliver the best possible customer outcomes. It would use digital investments and data to improve operational efficiency while meeting customer needs.
Suncorp intended to improve operational efficiency, focusing on embedded process improvement, operational excellence, digital artificial intelligence, and offshore partnering. In order to realise these priorities, the group expected to incur a cost of $260 million in 2019-2020. Under this, the group is expecting to incur costs of $155 million in addressing the recommendations by the Royal Commission, APRA related project costs, including IFRS 17 and the changes in Insurance and Banking Code of Practice.
Further, the group has estimated an investment of $70 million in growth projects directed to product innovation, improvement of existing products, delivering new solutions through applying the group's digital foundations. It would increase spending on systems maintenance and upgrade to $35 million in 2019- 2020 period, which would improve its customer service levels and underpin the company in fulfilling its regulatory obligations.
The group had asserted that some factors that might potentially impact the 2019-20 results includes - an increase in the natural hazard allowances to $820 million from $720 million, and it also purchased an additional $200 million aggregate stop loss for $45 million. It is expected that such an increase in allowance and cost of stop loss cover would impact the group's target of 12% underlying insurance trading ratio (ITR) in 2019-20.
Its banking division's target of achieving 50% cost to income in 2019-20 might be impacted by the escalated regulatory spending, outlook for funding costs, and moderating credit market. Low yields and absence of mark to market gains might impact the insurance results. Additionally, the Business Improvement Program (BIP) is expecting to deliver $380 million of net benefits in 2019-20.
Consequently, these factors are impacting the achievement of underlying ITR and CTI targets, together with historically low interest rate environment; this would impact the group to achieve a return on equity of 10% in the year 2019-20.
On 1 October 2019, SUN was trading at $13.775 (at AEST 2:02 PM), up by 0.916 percent. The six months return of the stock is +2.27%, and YTD return is +14.17.
AMA Group
AMA Group is an established player in the automotive aftercare market, focusing on vehicle aftercare and accessories sector. As per its update on 26 August 2019, in its full year ended 30 June 2019 (FY 2019), the repair company reported the strongest set of result in the history. Its revenue was up by 21% to $616 million for the period compared to $510 million in the previous year.
AMA Group has been actively pursuing its long-term plan that was defined in the previous year. According to the plan, it intends to consolidate vehicle panel repair industry, pursue strategic acquisitions in Automotive Components and Accessories divisions. Further, it would expand its partnership agreements and complete greenfield opportunities.
The repair company has an ambitious target of reaching $1 billion in revenue by FY2021 through potential acquisition and greenfield development of the sites. In doing so, its Vehicle Panel Repair division completed 21 acquisitions and opened four greenfields, and the acquisitions included six acquisitions in the Heavy Vehicle Repair industry.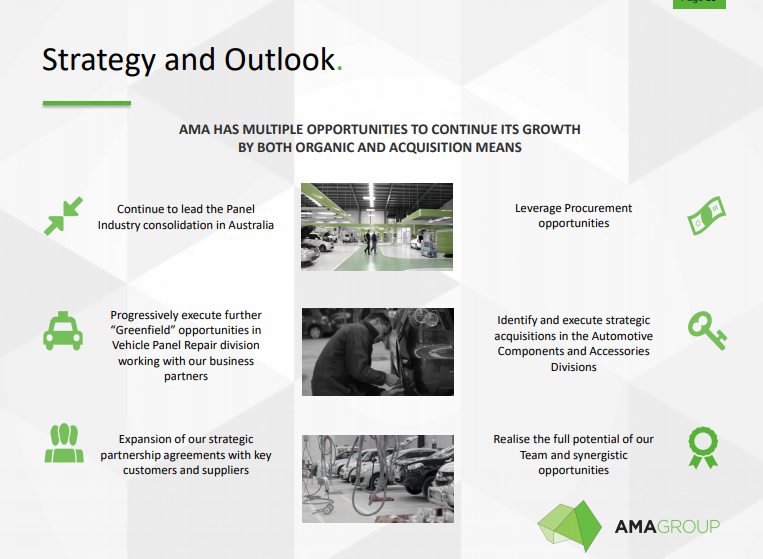 Strategy (Source: AMA FY2019 Presentation)
On 26 August 2019, in its released Annual Report for FY 2019 period, AMA asserted that the group intends to actively capitalise on growth opportunities presented for its Vehicle Panel Repairs and Automotive Components & Accessories Divisions. It intends to tap growth opportunities with market-leading brands, a strong relationship with customers and suppliers across multiple channels.
It would also prioritise growth opportunities that present an industry experienced management committed to operational excellence and a strong financial position. The consolidation of vehicle panel repair industry might provide significant opportunities for strategic and accretive acquisitions in the segment.
The directors of the group were of the view that the financial performance of the group was underpinned by the ongoing outcomes of the strategic plan. Investments by the group have caused an increase in the scale and scope of the operations, resulting in an increase in the operating revenue and EBITDA over the past three years.
The Board of the group believes that there are ample growth opportunities in its key business divisions, and the management of the group has been actively involved in negotiating the acquisition of existing businesses along with the development of greenfield sites.
Since the year-end in June, in July, the group had acquired the remaining 40% interest in the Woods Auto Shops (Dandenong) Pty Ltd. In August, $4 million was refunded for an acquisition that did not proceed.
AMA shares last traded on 27 September 2019, at a price of $1.215. Meanwhile, AMA has delivered a return of 9.46% in the last one-year period. It has delivered a return of +39.66% over the year-to-date period.
---
Disclaimer
This website is a service of Kalkine Media Pty. Ltd. A.C.N. 629 651 672. The website has been prepared for informational purposes only and is not intended to be used as a complete source of information on any particular company. Kalkine Media does not in any way endorse or recommend individuals, products or services that may be discussed on this site. Our publications are NOT a solicitation or recommendation to buy, sell or hold. We are neither licensed nor qualified to provide investment advice.