Summary

The ASX 200 traded lower by 27.30 points or 0.37% at 7,314.90 by afternoon, led by energy and banking stocks.
Nine out of 11 sectoral indices were trading in the red, barring tech and materials.
CBA expects the Reserve Bank of Australia to begin normalising monetary policy in late 2022.
The Australian share market continued to witness bearish trade on Wednesday afternoon, undermining firm cues from Wall Street which closed higher in overnight trade. The market sentiments were dented after Australia's largest bank, Commonwealth Bank of Australia, warned that interest rates could rise before the end of next year. Two of the big four banks, ANZ and Westpac, have already forecasted that the Reserve Bank would be forced to hikes rates sooner-than-expected.
The ASX 200 is currently trading 27.30 points or 0.37% lower at 7,314.90. Earlier today, the index belled the day on a flat note, opening marginally higher by 0.50 points at 7,342.70. The market saw range-bound trade, moving between 7,303 to 7,344.
The Mid Market Pulse || Why ASX Is Retreating Despite Strong Global Cues?
On the sectoral front, nine out of 11 sectoral indices were flashing in red. The energy sector was the worst performer with 1.4% loss, followed by utilities, which dropped 1.13%. Consumer staples, financials, health care, industrials, A-REIT and consumer discretionary were also reeling under selling pressure.
Bucking the trend, information technology was top performer with 1.4% gain, tracking overnight gains in its US counterpart. Materials sector also traded higher by 0.6%.
In the banking space, all big four lenders - Westpac Banking Corporation (ASX:WBC), Commonwealth Bank of Australia (ASX:CBA), Australia and New Zealand Banking Group Limited (ASX:ANZ) and National Australia Bank Limited (ASX:NAB) – were trading lower amid rate hike concerns. The concerns over interest rate hike have triggered uncertainty in the market.
CBA expects the Reserve Bank of Australia (RBA) to begin normalising monetary policy in late 2022. The lender estimated the cash rate target at 0.5% by end-2022 and then climbing to 1.25% by 2023. In the policy meeting this month, the RBA had kept its monetary policy unchanged with interest rate near zero. The central bank has reaffirmed that it does not expect to start lifting official rates - currently at 0.1% - until 2024 "at the earliest".
ASX-listed energy stocks were among top laggards, with index heavyweights Woodside Petroleum Limited (ASX:WPL) and Santos Limited (ASX:STO) trading lower. Brent Crude oil prices hit US$75 per barrel on Tuesday for the first time in the last two years on positive sentiments as OPEC discussed raising oil output. August delivery Brent crude oil futures traded 0.15% down at US$74.92 per barrel, and WTI crude oil futures for August delivery traded at US$72.95 per barrel, up 0.14%, as of 23 June 2021.
Top Gainers and Losers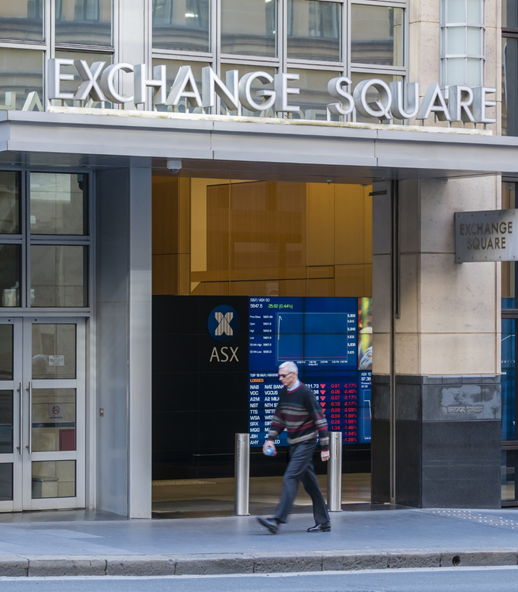 Source: ©Ymgerman | Megapixl.com
Redbubble Ltd. (ASX:RBL), a global online marketing firm, was the top percentage loser on the ASX, falling 6.3% to AU$3.26. Some other top laggards were Santos Limited (ASX:STO), Flight Centre Travel Group Ltd (ASX:FLT), Bank of Queensland Ltd (ASX:BOQ) and CSL Ltd. (ASX:CSL).
On the other hand, Pilbara Minerals Limited (ASX:PLS) was the top gainer on the ASX, rising 5.9% to AU$1.53. ZIP Co Limited (ASX:Z1P), Washington H. Soul Pattinson and Company (ASX:SOL), Chalice Mining Ltd (ASX:CHN) and Uniti Group (ASX: UWL) were among other top performers.
Shares in News
The share price of Helix Resources (ASX:HLX) gained 5.8% to 3.6 Australian cents after the company shared an exploration update regarding high-grade copper assays from its Canbelego Copper Joint Venture project. The company has found a thick zone of high-grade copper.
Strickland Metals Limited (ASX:STK) shares climbed 6.8% to 4.7 Australian cents on plans to raise AU$12 million to support the purchase of Millrose gold project. The company, in an exchange filing, said that it has received firm commitments for a conditional placement of 200 million fully paid ordinary shares in the company at an issue price of 4 Australian cents per share to raise around AU$8 million.
Shares of Decmil Group (ASX:DCG) rose as much as 4.4% to 47.5 Australian cents, marking their best session since 18 March 2021. The construction firm stated that it has secured contracts in energy and infrastructure sectors with combined revenue of about AU$47 million.
Shares of West Wits Mining Limited (ASX:WWI) gained as much as 8.86% to 8.6 Australian cents. The gold explorer has received an update from the Department of Mineral Resources (DMRE) and Energy concerning the mining right application for its Witwatersrand Basin Project in South Africa.
Magnetic Resources (ASX:MAU) has reported that its Lady Julie project has delivered the best and most consistent, shallow, gold intersection to date. The company is going to drill a further 13 holes to follow up this promising intersection and extend mineralisation.
MMA Offshore Limited (ASX:MRM) has informed the ASX that the Singapore International Arbitration Centre (SIAC) has handed down its final award in Jebsen & Jessen Offshore Pte Ltd (J&J) arbitration claim. Reacting to the news, shares of MMA Offshore dropped 6.03% to 39 Australian cents.
Winchester Energy Limited (ASX: WEL) shared that the Blue Line Rig in Mc Leod 1705, had reached a total depth of 7,835 feet. The rig recorded multiple strong oil and gas shows within a 50-foot interval, potentially expanding the oil field.
NeuroScientific Biopharmaceuticals Ltd (ASX:NSB) has announced its partnership with Linear Clinical Research for Phase I trials of EmtinB. Linear Research is a Perth-based organisation and a market leader in this space.
Metallica Minerals Limited (ASX:MLM) has announced that metallurgical testing of the 2 tonne bulk sample acquired from the December 2020 drilling program has produced a high-quality silica sand product from its 100%-owned Cape Flattery Silica Sand project (CFS). As per the Company statement, the metallurgical testing was completed by IHC Robbins at their Brisbane laboratory.
NEXION Group Limited (ASX:NNG) shared that it is all set for its global expansion starting with New Zealand. The information technology service provider has announced the launch of NEXION's hybrid cloud solutions with IBM Global Technology Services IBM (NYSE:IBM) from mid July 2021.
Asian Markets Opens Higher
Asian markets are trading higher in the opening trade, tracking overnight gains from Wall Street. Taiwan's Weighted Index is the top performer in the region, surging as much as 0.95%. It was followed by Hong Kong's Hang Seng with 0.7% gain.
Japan's Nikkei is up 0.1%, Seoul's KOSPI is trading higher by 0.3%, and Taiwan's Weighted Index has climbed 0.2%.
China's Shanghai Composite is trading flat with positive bias, while New Zealand's benchmark S&P/NZX 50 is up 0.4%.
In the overnight trade on Tuesday, Wall Street closed higher as investors shrugged off inflation worries. The Dow Jones rose 0.2%, the S&P 500 gained 0.51%, and the NASDAQ Composite added 0.79%. Amazon shot up 1.49%, boosting the S&P 500 and NASDAQ, as it entered the second day of its multibillion-dollar online sales event, Prime Day.