Summary

Radiopharmaceutical company Cyclopharm completed A$30 million placement with overwhelming support from its institutional and sophisticated investors.
The Company is well-positioned for the rapid commercialisation in the US, after FDA approval.
The placement will support the expansion of the use of TechnegasTM beyond the pulmonary embolism market.
ASX-listed radiopharmaceutical player Cyclopharm Limited (ASX:CYC) has completed a share placement of almost 11.5 million new fully paid ordinary shares to institutional and sophisticated investors. The shares will be issued at a per-share price of A$2.60, raising A$30.0 million before costs. The Company notified that the Placement Shares are anticipated to be issued and commence trading on the ASX on 1 February 2021.
The placement obtained overwhelming support from institutional as well as sophisticated investors of Cyclopharm. The indicative plan for the SPP offer is represented below; however, CYC has rights to change the timetable without any prior notice.
Source: CYC ASX Update (25 January 2021)
Use of funds
Funds raised under the placement and associated Share Purchase Plan (SPP) will be used to finance activities related to the Company's accelerated US market expansion. The market expansion will follow the expected FDA approval to market TechnegasTM.
In particular, the Company will utilise funds to build-up its TechnegasTM Generators assets. These assets would be used as part of the US rollout strategy using CYC's new Service Model.
CYC notified that the capital raising would support rapid US commercialisation following the FDA approval. The FDA is anticipated to approve TechnegasTM in the second quarter of 2021.
Besides, these funds will support other strategic priorities, including:
Expansion of the use of TechnegasTM beyond the pulmonary embolism market such as COPD and Asthma.
Ongoing R&D activities.
Enhancement of product and systems.
Working capital
Some of the funds will be utilised to pay the costs of the offer.
Cyclopharm also notified that the US sales strategy would involve the generators' placement without any capital cost to customers. Further, this will support rapid penetration in the US market, focusing on obtaining high margin recurring consumable revenue.
Source: CYC presentation (25 January 2021)
Commenting on the Placement, Mr James McBrayer Managing Director Cyclopharm, said,

Outlook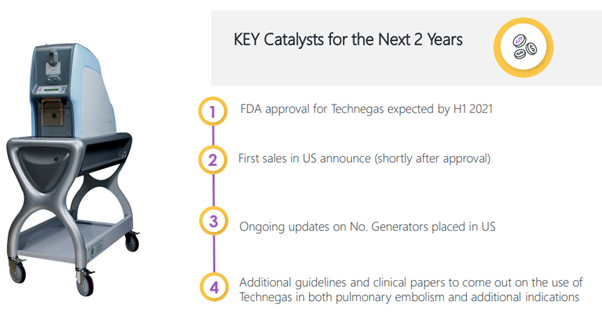 Source: CYC presentation (25 January 2021)
Stock Information: On 25 January 2021, CYC shares were trading at A$2.940 at AEDT 2:01 PM, in line with the previous close. Cyclopharm's market capitalisation stands at A$236 million.