Source: Shutterstock
Summary

Carawine Resources (ASX:CWX) has intersected new high-grade gold lodes at the Hercules prospect.
The exceptional maiden results from the drilling program at Tropicana North Project highlight the potential of Hercules as a major new gold deposit.
The company plans a follow-up drilling program.
Australia-based gold and base metals explorer, Carawine Resources Limited (ASX:CWX) has made a significant discovery at the Hercules prospect at the Tropicana North Project in Western Australia.
In a market update on 24 February 2021, the company unveiled multiple record high-grade intersections confirmed from the results of RC drilling at the prospect. The exciting results have indicated that Hercules could be developed into a major gold deposit at the project.
(Data Source: CWX ASX Update, dated 24 February 2021)
The results are for 11 of the total 12 RC holes drilled at the prospect. The campaign was aimed to test the orientation and extension of historically reported gold mineralisation along the strike and at depth at the Hercules prospect.
Two New Gold Lodes Discovered
Parallel to the main zone in drill hole TNRC008, the results highlighted two new high-grade gold lodes. Hole TNRC008 encountered parallel lodes, which define a much wider mineralisation zone at just a 70-metre depth.
Hole TNRC008 intersected a combined interval of 37m at 5.58g/t gold from 84m depth. The details of three individually intersected loads from hole TNRC008 are as follows:

(Data Source: CWX ASX Update, dated 24 February 2021)
Apart from the above lode results, other holes, including TNRC001, TNRC006, TNRC009 and TNRC010, also encountered significant results.
(Data Source: CWX ASX Update, dated 24 February 2021)
Assays for the last RC hole drilled at Hercules are expected in the coming weeks. Also, the results for 8 RC holes and 80 AC holes drilled at the Atlantis prospect and within the Neale and Don King tenements, respectively, are awaited.
A preliminary interpretation of the mineralisation suggests multiple plunging zones with higher gold grades defining a shallow south-westerly plunge. Mineralisation is associated with quartz-sulphide veins in strongly chlorite-biotite altered felsic and mafic granulite along the Hercules Shear Zone.
Good Read: A look at six ASX Gold penny stocks that have doubled in 1 year
Way Forward
After receiving the assay results for the last hole, additional work is required to further understand the grade distribution, geological setting, mineralogy, and orientation. The company also plans a follow-up drilling program to extend mineralisation towards northeast and southwest.
Neale tenement with prospect locations and drill hole locations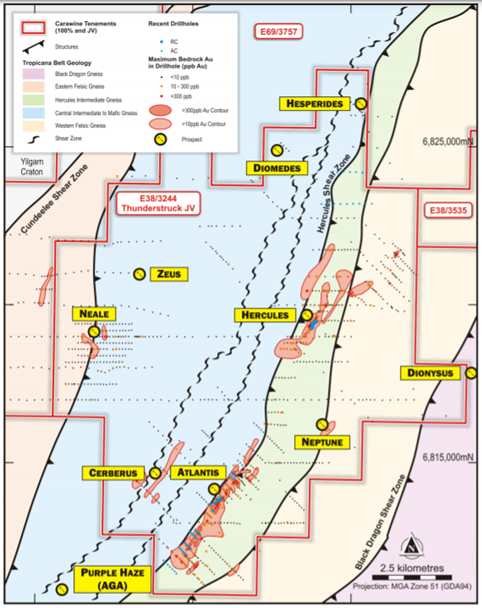 (Source: CWX ASX Update, dated 24 February 2021)
About Tropicana North Project
The project covers an 80km strike of the Tropicana Belt that has a history of various initial and advance stage gold prospects. Tropicana North Project covers two exploration licence areas - Neale and Don King, jointly operated by Carawine (90%) and Thunderstruck Investments Pty Ltd (10%).