Summary

Commonwealth Bank has evolved from being a savings & general banking business to one that helps all Australians build and manage their finances through a range of services.
One of the Big 4 banks in the country, Commonwealth Bank, invests in reimagining products & services and developing the best digital banking experiences.
The bank had a solid third quarter of FY2021, delivering an impressive operational performance.
CBA shares have been on the rise in the last couple of months, with market participants considering the stock could reach the AU$150 mark.
Commonwealth Bank of Australia (ASX:CBA) is a leading provider of integrated financial services comprising retail, premium, business and institutional banking, funds management, superannuation, insurance, investment, and share broking products and services. The bank was founded in 1911 under the Commonwealth Bank Act and started its operation in 1912, empowered to conduct savings as well as general banking business. The bank offers several financial services to its customers to help all Australians build and manage their finances.
Listed on the ASX on 12 September 1991, CBA started trading at AU$5.74. With time, the shares have surged up and settled at AU$105.640 on 17 June 2021. Commonwealth Bank one of the top 4 banks in Australia, with the other three being Westpac Banking Corporation (ASX:WBC), Australia and New Zealand Bank (ASX:ANZ) and National Australia Bank (ASX:NAB).
ALSO READ: How much were CBA shares worth when floated?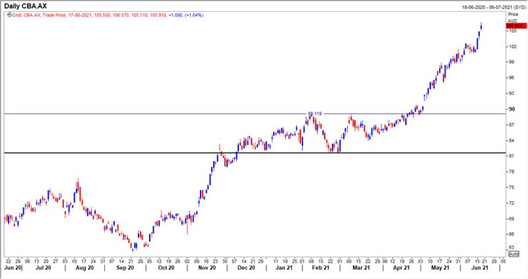 Source: Refinitiv Eikon
The chart above depicts the share price movement of CBA and shows that the shares moved within a specific range during the period December 2020 - April 2021. However, the shares broke the resistance level from May onwards and have followed a bullish trend.
On 17 June 2021, CBA shares settled at AU$105.640, up 0.782% from the previous level.
ALSO READ: Why the Commonwealth Bank shares trading at record high?
How did the major Australian banks fare in 2020?
In 2020, the major Australian banks experienced a drop in financial performance with a 36%+ drop in the combined cash profit after tax from continuing operations compared to FY2019. The COVID-19 outbreak drove the impact on the financial performance of these banks. However, the banks continued to focus on supporting their staff and customers as they exhibited strong operations and continued lending. Last year, the banks also experienced a drop in interest margins.
Australian Financial System in 2021
In a Reserve Bank of Australia report released in April 2021, it was highlighted that after the significant drop in 1H 2020, the banks' profitability recovered in 2H 2020 and is expected to improve further in 2021. This helped the banks raise their capital position from the existing strong levels. At present, banks have substantial liquidity and funding.
Further, banks' asset quality measures have weakened slightly in recent months as loan repayment deferrals have come to an end and support for households and businesses has decreased. Banks have also increased their provision balances to absorb the shock of the upcoming defaults.
Potential challenges that can impact the Australian banking industry
Scale-Down of operations
The major banks have experienced a tough period in 2021 due to scaled-down operations following the back-to-back cases of misconduct that have put them in a situation where there is less cushion against high compliance cost, record low interest rates, and increased loan loss provision.
In its report, S&P Global highlighted that that the Big 4 banks in Australia sold or are in the process of off-loading their wealth business and insurance business after the Royal Commission uncovered their misconduct and consumer rights violations in February 2019.
Because of these, the primary sources of revenue are corporate and mortgage lending in Australia and New Zealand. As a result, banks will not enjoy risk diversification and fee growth benefits, which they experienced post-2019.
IT malfunctions and cyberattacks
A major threat to the banking system is the rise in cyberattacks that could impact financial stability. Leaders from the banking sectors are working overtime to protect their systems from malicious hackers amid rising cases on institutions, staff, and customers.
Risk of climate change
RBA also highlighted the possible risk that could arise from climate change. At present, these might not pose a considerable threat to financial stability. However, if the climate change risks associated with Australian financial institutions mature and remain unaddressed, it could become a major threat to the country's financial system.
Recent developments from CBA
On 27 May 2021, Commonwealth Bank updated its strategy and investments to reimagine products & services and develop the best digital banking experiences.
According to the CEO Matt Comyn:

CBA also updated about its strategic alliances with disruptive businesses to distinguish its banking proposition. It launched a pilot under the new Consumer Data Right. Through this, CBA became the first major Australian bank to allow its customers to see account balances from other eligible financial institutions via the CommBank app.
Q3 Trading Update
CBA reported a stronger NPAT of ~AU$2.4 billion in Q3 FY2021, driven by improvement in the economic conditions and outlook along with consistent solid operational performance centred on meeting the clients' needs.
Unaudited Cash NPAT from continuing operations was ~AU$2.4 billion, up 24% from 1H FY2021 quarterly average driven by smaller loan impairment expenditures.
CBA maintained a strong balance sheet with a customer deposit funding ratio of 75%, Net Stable Funding Ratio of 124% and Liquidity Coverage Ratio of 125%.
Source: © Tashatuvango | Megapixl.com
INTERESTING READ: Commonwealth Bank of Australia (ASX:CBA) to merge Aussie Home Loans with Lendi
While CBA shares have been on the rise for the last couple of months, whether the share price hits the AU$150 mark or not would depend on multiple factors, including the GDP, the progress in the banking industry, and the initiatives taken by the bank in the upcoming period.