Highlights

The ASX pared half of early gains and traded 0.34% higher by afternoon.
Nine of 11 sectors traded in the green, barring consumer staples and utilities.
ARB Corp, HUB24, Wisetech were among top gainers on the ASX.
Global investment business Pendal Group emerged as the top laggard.
NSW reported 399 COVID-19 cases in the past 24 hours, while Victoria registered 2,179 infections. 
Australian shares continued to trade higher by afternoon, albeit paring half of early gains, led by gains in technology and mining stocks. The market witnessed broad-based buying following positive cues from Wall Street. The rebound in growth-driven tech stocks and spurt in commodity prices supported the market gain.
The benchmark ASX 200 index opened higher today and rose as much as 0.84%, tracking overnight gains in Wall Street. By lunch, the index was up 24.60 points or 0.34% at 7,336.30.
Meanwhile, US stocks ended higher on Thursday amid strong earnings report by the likes of Bank of America and UnitedHealth. Investors were cautiously optimistic after President Joe Biden signed into law a bill raising the United States' debt limit until early December. The House approved a US$480 billion increase in the country's borrowing ceiling on Tuesday, after the Senate approved it on a party-line vote last week. On Wall Street, the Dow Jones rose 1.4%, the S&P 500 gained 1.6%, and the NASDAQ Composite ended 1.65% higher.
ASX trims opening gains; ARB Corp, HUB24, Wisetech lead rally
Back home, on the sectoral front, nine of 11 sectoral indices were trading higher.  The information technology sector emerged as the biggest gainer for the second day, rising 1.5% following overnight gains in US counterpart, NASDAQ. The tech sector was followed by materials, which traded 1.3% higher. Mining stocks extended their rally for the second day, owing to a rise in commodity prices. Among others, health care, consumer discretionary, energy, telecom, A-REIT and industrials also traded higher with modest gains.
Bucking the bullish trend, the consumer staples sector emerged as the worst performer with a 0.75% loss. The utilities sector also traded lower with marginal losses.
 NSW reports 399 cases, Victoria's tally stands at 2,179
Image source: © Scaliger | Megapixl.com
New South Wales (NSW) has reported 399 local COVID-19 cases and four deaths in the past 24 hours. In a major policy change, the state has decided to scrap quarantine for fully vaccinated international travellers from November 1. The unvaccinated travellers will still have to enter hotel quarantine. NSW is the first state to remove quarantine for international travellers, which had been in place since March 2020.
Meanwhile, Victoria continues to see a spike in locally acquired cases as it registered 2,179 infections and six deaths on Friday. Despite the rise in cases, the state government remains on track to remove COVID-19 curbs next week as it is expected to achieve its vaccination targets. 
Top gainers and losers
The top gainer on the ASX was automobiles and components manufacturer ARB Corporation (ASX:ARB), which rose 6.7%. Some of the other notable gainers were investment platform HUB24 (ASX: HUB), software firm Wisetech Global (ASX:WTC), miner OZ Minerals (ASX: OZL), and gambling company Star Entertainment Group (ASX:SGR).
On the flip side, diversified financial group Pendal (ASX:PDL) emerged as the top laggard with a 10.9% loss. Some of the other worst performers were food, beverage and tobacco business Elders (ASX:ELD), asset management business Platinum (ASX:PTM), Aussie winemaker Treasury Wine Estates (ASX:TWE) and retailer Harvey Norman Holdings (ASX:HVN).
Shares in news
Here's a list of shares that were in news by mid-session trade: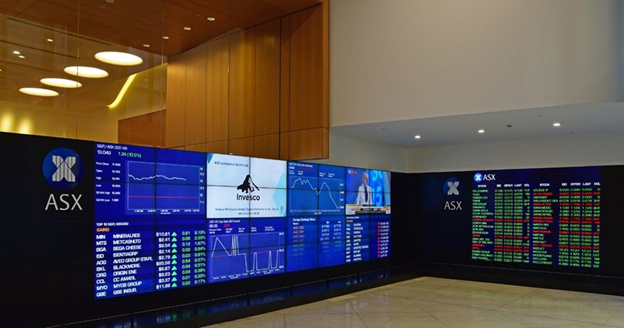 Image source: © Stbernardstudio | Megapixl.com
First on the list is investment banking giant Macquarie Group (ASX: MQG). The share price of the company gained 2.5% to hit a fresh high of AU$187.4 by mid-session after Morgan Stanley hiked its price target by 37% to AU$240.
Next is global investment business Pendal Group (ASX: PDL), which dropped nearly 11%. The share price dropped despite recording a rise in funds under management (FUM) for the September quarter. The firm's FUM jumped 30.5% to AU$139.2 billion, from AU$106.7 billion in the June quarter.
Shares of Qantas Airways (ASX: QAN) climbed nearly 4% on deal to sell surplus land in south Sydney's Mascot for AU$802 million. The airline has inked a pact with a consortium led by LOGOS Property Group for the sale of 13.8 hectares of land in Mascot.
Shares of blue-chip miner Rio Tinto (ASX: RIO) dropped over 1% after it lowered its full-year target for shipments of the steel-making raw material from Western Australia.
Shares of BHP Group (ASX: BHP) rose 2.5% after its shareholders endorsed the company's climate transition strategy. Details from BHP's Annual General Meeting (AGM) in London revealed that 83% shareholders supported the climate change plan.