Summary

With COVID-19 giving the opportunity to develop products, enhance services and conduct R&D, healthcare sector will be vigilantly gauged.
Early spotting of a winning penny stock can offer considerable rewards to patient and risk-liberal investors.
The ASX has a hoard of smaller healthcare companies that capture a niche and grow much faster than large caps.
Investors are watching the healthcare sector closely. Few healthcare companies have either obtained regulatory approval for drugs to cure COVID-19, are performing testing, research & development and offer services to help the world tackle a pandemic.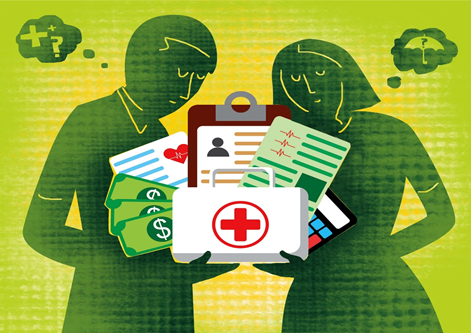 Copyright © 2020 Kalkine Media Pty Ltd
Healthcare stocks can deliver the best value, the fastest growth, and the most momentum- if carefully selected for one's investing portfolio.
Notably, as investors open to risk, reshuffling portfolios and hunting for new choices, ASX-listed penny stocks deserve close attention. Low priced, these stocks may trade infrequently, are considered risky and lack liquidity- but they can weather the ongoing recouping yet sinusoidal environment.
GOOD READ: Are these 3 Healthcare Stocks Geared up for a Strong 2021?
In this backdrop, let us look at 5 ASX penny stocks in healthcare space that deserve closer market attention-
AusCann Group Holdings Limited (ASX:AC8)
Focused on the development, manufacturing, and supply of cannabinoid-based medicines.
Traded at $0.17 and has a market cap of $55.48 million (19 February 2021).
AusCann is developing proprietary, differentiated cannabinoid-based pharma products.
For the three months until 31 December 2020-
The Company had a cash balance of $15.2 million (on 31 December 2020).
AusCann completed its restructuring programme.
Announced an agreement with GrowForChile and Telor International to sell its 50% owned Chilean JV, DayaCann.
Entered a scheme implementation deed with CannPal Animal Therapeutics, likely to complete in March 2021.
AusCann has multiple initiatives underway, such as a 60-patient Investigator-led Phase II study of the Neuvisâ THC/CBD product expected to begin in March 2021. Besides, the likely acquisition of CannPal may add considerable breadth and depth to the Company's product pipeline.
Vita Life Sciences Limited (ASX:VLS)
Produces premium minerals, herbs, supplements, vitamins and superfoods for every age category and health condition.
Traded at $0.99 and has a market cap of $53.54 million (19 February 2021).
The Board believes that the pandemic had a neutral impact on the Company, with revenue increasing by around 8% over that achieved in FY2019.
In FY20-
The company expects sales to range between $45.5 million and $46 million (FY 2019: $42.4 million).
EBIT might be in the range of $7.5 million and 8 million (FY 2019: $4.4 million).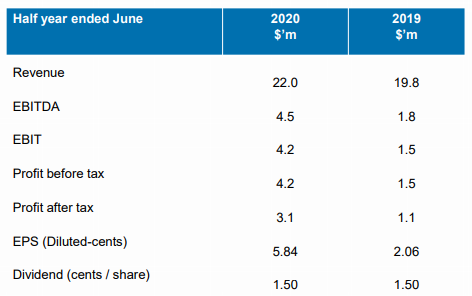 1H20 results, Source: Company Presentation, Aug 2020
Cryosite Limited (ASX:CTE)
A specialist in offering outsourced clinical trials logistic services.
Traded at $0.26 and has a market cap of $11.24 million (19 February 2021).
The Company's unaudited financial numbers for the quarter ended 30 September 2020 showed sales revenue growth of 22%. Revenue from the Biological Services Logistics and Clinical Trials segment soared 33% on the previous corresponding period. Operating cash inflow was $248k relative to the previous corresponding period of a cash outflow ($281k).
Cash on hand as of 30 September was $4.1 million. The Company is confident that its outlook for the remainder of the year is positive.
HeraMED Limited (ASX:HMD)
A medical data and technology company aims for digital transformation in maternity care with its in-home maternity care platform.
Traded at $0.10 and has a market cap of $18.47 million (19 February 2021).
On 4 February 2021, the Company successfully raised $2,332,275 via a placement with an attaching option. Funds raised will be used to hasten the commercial roll-out of the HeraCare platform and the HeraBEAT device.

HeraMED's business model, Source: Investor Presentation, Oct 2020
For the three months ending 31 December 2020 (Q4 FY20), HeraMED continued its positive momentum. The period saw an expanded study at JHC, the announcement of two new partnerships in the US, and a Mayo Clinical Study approval.
The cash balance as of 31 December 2020 was USD 1.9 million. HeraMED continues to invest in business development, sales, and marketing initiatives.
Total Brain Limited (ASX:TTB)
A mental health and brain performance self-examining and self-care platform.
Traded at $0.36 and has a market cap of $37.9 million (19 February 2021).
2020 was a year of significant growth and transformation for Total Brain. The Company has commenced 2021 with a strong pipeline of opportunities across corporate, affinity, and clinical, representing A$8.9M in additional ARR.
During the December 2020 quarter, the Company collected $0.8 million in cash receipts. Based on the receipts collected in January 2021 and additional collections scheduled for the next 3 months, the business' cash runway is June 2021.
The Company is also eligible for $1.4 million stimulus funding from the U.S. government Paycheck Protection Program. In January 2021, Total Brain received a research and development tax refund of $1.1 million as part of the Australian government's R&D tax incentive.