Rural Funds Group (ASX: RFF) is engaged in leasing of agricultural properties and equipment. The group derives its revenue from leasing almond orchards, macadamia orchards, poultry property and infrastructure, vineyards etc. The company recently announced that Sumitomo Mitsui Financial Group, Inc became a substantial shareholder with 5.02% of voting power.
The company's shares sunk by around 12% today, due to another attack by Bucephalus Research Partnership Limited alleging that the group's financial position is inflated. A month ago, the company's shares went down by about 40% post release of the document containing similar allegations regarding the company's financial position by Bonitas Research LLC. The price, however, recovered from the day's lows after the company released the financial result for FY19, depicting a sound financial position.
Recent Update: The company released an announcement wherein it notified about release of a document by Hong Kong based Bucephalus Research Partnership Limited. Rural Funds Management Limited (RFM) advised that the criticism in the document were similar to the ones mentioned the recent documents released by short seller Bonitas and suggested that investors should rely on 3 announcements made by RFF on 27 August 2019, two out of which pertain to the financial results of FY19 with the third one containing Ernst & Young's response to the Bonitas Document.
Bonitas Litigation
Background: Bonitas Research LLC released a report about the financial health of the Rural Funds Group on 6 August 2019. As per the document, the firm stated that RFF profitability included over A$28 million of fabricated rental income paid to RFF by two of its third-party lessees. The document stated that Rural Funds Group inflated its financial performance, with net assets overstated by 100%.
Rural Funds Management Limited responded to the document, negating all the allegations of financial impropriety and irregularity and engaged Ernst & Young to independently investigate the matter.
Report by Ernst & Young: As per the independent investigation conducted by EY, the allegations in the document released by Bonitas Research LLC were not substantiated. The firm supported RFM's response to the document.
Legal Proceedings against Bonitas: Rural Funds Management Limited has issued legal proceedings against Bonitas Research LLC and its principal, Matthew Wiechert, stating that it has suffered a loss and damages due to the allegations made. The company stated that Bonitas and its principal are liable for compensating RFM, including by way of an account of profits. Any damages received in excess of the cost of the action will be paid to Rural Funds Group.
FY19 Financial Results:
Earnings
During the 12 months ended 30 June 2019, the company generated property revenue amounting to $66.39 million, up 30% on prior corresponding period revenue of $51.09 million.
Increase in property revenue was supported by JBS transactions, acquisitions, development capital expenditure and lease indexation.
Total comprehensive income and earnings per unit were lower during the period due to non-cash revaluation decrements of $18 million on interest rate swaps.
Adjusted funds from operations were reported at $43.25 million, up 4.7% on prior corresponding period value of $32.32 million.
Distributions per unit stood at 10.43 cents, as compared to 10.03 cents in prior corresponding period.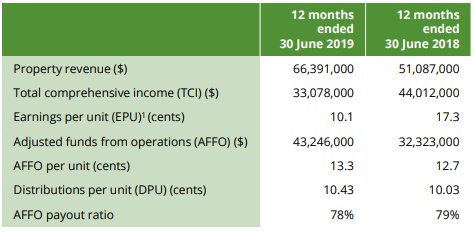 Income & Earnings Metrics (Source: Company Presentation)
Balance Sheet Position
Adjusted total assets for the year increased by $222.2 million due to acquisitions, capex and revaluations of almond orchards, vineyards and water entitlement.
Gearing for the period stood at 31.2%, which was within the target range of 30-35%.
Adjusted net asset value per unit witnessed a growth of 7.1%, from $1.68 in FY18 to $1.80 in FY19.
Balance Sheet Summary (Source: Company Presentation)
Capital Management: During the year, the company increased its debt facility in line with the growing equity base. In November 2018, the company refinanced its debt facility with limit increased and split into two tranches of three and five years. The period saw an increase of $60.0 million in the current facility to $335.0 million along with approval for further amount of $50.0 million for future acquisitions.
Capital Expenditure: Total capital expenditure in FY19 amounted to $20.1 million, with maximum expenditure of $17.6 million for almonds, $1.1 million for cattle and $1.4 million for poultry. Capital expenditure for FY20 is forecasted at $17.5 million, comprising $9.9 million for almonds. FY20 capex of $9.9 million for almonds will be primarily in relation to remaining infrastructure of Kerarbury, which was acquired in FY19. $2.7 million of capex will be in relation to productivity developments and infrastructure of cattle. The remaining amount will be allocated amongst cotton, vineyards and macadamias. Total capital expenditure for FY20 and FY21 has been forecasted at $25.0 million.
Capital Expenditure (Source: Company Presentation)
Key activities during the year
In July 2018, the company completed the acquisition of JBS Australia Pty Limited's five Australian feedlots and associated cropping land for $52.7 million.
In the same month, the company also purchased a 7,600 hectares cattle property named Comanche, for $16.7 million.
August 2018 saw an equity raise of $149.5 million to fund the JBS transaction and the acquisition of Comanche.
The group purchased another cattle property named Cerberus in September 2018 and a cotton property names Mayneland for $10.9 million and $17.9 million, respectively. Both the properties are located in Central Queensland.
In October 2018, the group settled three feedlots, Mungindi, Caroona and Prime City, as part of the JBS transaction for an amount of $28.7 million. The remaining two feedlots were to be settled in the second half of CY19.
A cattle property named Dyamberin located in New England was also purchased in October, for $14.2 million including transaction costs.
The group purchased Woodburn, a cattle property in New England region of New South Wales for $7.5 million.
Another cattle property named Cobungra was acquired in March 2019 for $36.9 million.
Cash Flows: During the year, receipts from customers amounted to $66.20 million, as compared to $55.01 million in prior corresponding period. Net cash inflows from operating activities amounted to $43.73 million, as compared to $30.97 million in prior corresponding year.
Forecast: The company has forecasted adjusted funds from operations (AFFO) yield of 7.0% for FY20 and a payout ratio of 78%. Distributions per unit for FY20 has been forecasted at 10.85 cents, consistent with annual growth target of 4%.
Stock performance: The stock of the company generated negative returns of 3.94% and 17.37% over a period of 1 month and 3 months, respectively. Currently, the stock is trading at a market price of $1.715, down 12.051% on 19 September 2019 (AEST – 3:00 PM) and the stock has a market capitalisation of $653.11 million.
---
Disclaimer
This website is a service of Kalkine Media Pty. Ltd. A.C.N. 629 651 672. The website has been prepared for informational purposes only and is not intended to be used as a complete source of information on any particular company. Kalkine Media does not in any way endorse or recommend individuals, products or services that may be discussed on this site. Our publications are NOT a solicitation or recommendation to buy, sell or hold. We are neither licensed nor qualified to provide investment advice.