Mining continues to remain a vital industry and adds value to every economy of the world. Countries like Australia and South Africa fall under the lucky category, as they have both the resources and infrastructure, to take mining at an advanced and profitable level. Emerging base metals explorer, Mount Burgess Mining NL (ASX: MTB) has its interest in both these regions and has been quite a hot topic of discussion of late amongst market players.
About Mount Burgess Mining NL
Incorporated in 1985 and based in Australia, Mount Burgess Mining NL (ASX: MTB) concentrates on mineral exploration, with its geographical presence across Botswana and Namibia. The company is focussed on the exploration of metals including gold, zinc, lead, silver, germanium and vanadium. It had discovered the Red October Gold Deposit in Western Australia and three kimberlites in Namibia. Currently, MTB aims at the development of Kihabe-Nxuu deposits in Botswana, a region tagged as one of the most profitable vanadium mines across the world.
Source: Company Presentation
Kihabe-Nxuu Base Metals Project
Located in Western Ngamiland, Botswana, on the border with Namibia, the Kihabe-Nxuu Base Metals Project is a substantial abode to profitable vanadium mines. The company has developed resources at two deposits in the projects- The Kihabe and Nxuu deposits which are precisely 7 kms apart. These are believed to contain minerals resources of 25 million tonnes @ 3% Zn/Pb together with 3.3 million ounces of Silver at Kihabe, along with credits of Germanium and Vanadium mineralisation, which are likely to add further value to the resource base.
As per the company's recent update, license PL 43/2016 has been renewed for a further 2 years to 31 December 2020 with a right to further renew the same for 2 years to 31 December 2022.
Preliminary Sensor Sorter test work at the Nxuu Deposit
The preliminary Sensor Sorter test work, undertaken by STEINERT on ten samples at the Nxuu Deposit, had delivered promising results. It was conducted on the + 10mm size fraction separated post crushing and used an x-ray transmission sensor to gauge the atomic density, while a 3D laser sensor helped in studying the size of mineral particles targeting densely mineralised domains.

Additional Sensor Sorter test work
After the promising results of the preliminary test, further Sensor Sorter test work was conducted by MTB on a composite of the + 4mm to - 10mm size fraction separated post crushing from the +10mm size fraction test work. Following are the updates laid down by the company, as on 20 August 2019: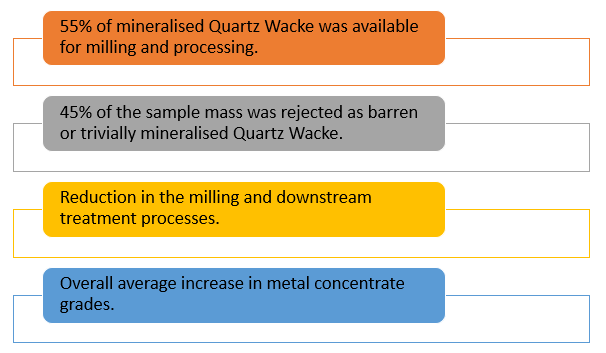 The metal concentration grade increase was as follows:
Way Forward
As per the company, the sighter test work program, using STEINERT Ore Sorter, is an extraordinary early beneficiation step that would have a significant positive impact on project economics. Considering the vast scope of the same, as a way forward, MTB strongly aspires to test higher grades of Zinc, Lead and Silver (average and more typical), the domains of which are likely to provide a stronger signal for the Ore Sorter to deliver further improvement in pre-concentrate grades and recoveries.
A significant feather in MTB's cap was the depiction that the test results, specifically the successful and significant reduction of the milling and downstream treatment processes, is expected to yield following advantages: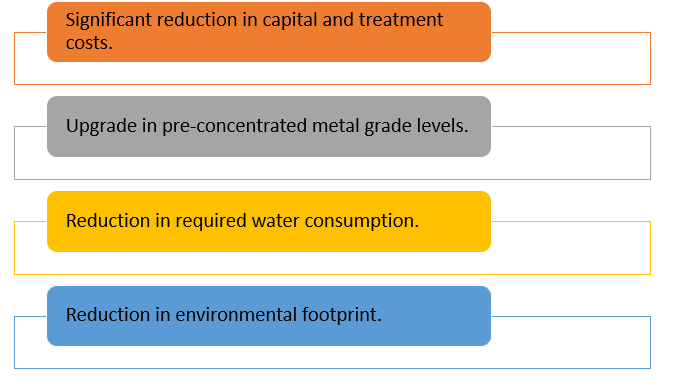 Simple production process of Vanadium Pentoxide from the Nxuu Deposit
The mineralogical test work was conducted by ALS Laboratories at the Nxuu Deposit. It had confirmed that DESCLOIZITE [(PbZn)2VO4] was the host oxide vanadate of Vanadium Pentoxide (V2O5) at the deposit, and the latter could be collected in a flotation concentrate together with Smithsonite (ZnCO3) and Cerussite (PbCO3).
The significance of the simple hydrometallurgical recovery production process of Vanadium Pentoxide from MTB's project highlights the fact that there is no requirement of the arduous and expensive process for extracting Vanadium Pentoxide from magnetite deposits.
Most of the world's Vanadium Pentoxide is extracted from magnetite deposits after smelting and extracting the iron from the magnetite. This requires the slag to be heated in large furnaces to anything between 850 to + 1,000 degree Celsius, which then requires salt roasting to extract the Vanadium Pentoxide.
As MTB's Vanadium Pentoxide is in the OXIDE mineral DESCLOIZITE, it can be collected in a flotation concentrate, then extracted through the much simpler hydrometallurgical process, which includes dissolving the flotation concentrate in sulphuric acid, followed by solvent extraction using a suitable extractant such as TEHPA, Alamine336, TBP or Cyanex 923. The extracted Vanadium in the organic phase can then be readily stripped with either acid or soda ash solution and precipitated, and further filtered, dried and calcined to a saleable V2O5 product.
Likewise, the solubilised Zn can be extracted through a separate solvent extraction step, with the Pb precipitating as insoluble lead sulphate.
Share Price Information
On 5 September 2019, MTB settled the day's trading at A$0.002, with a market capitalisation of A$1.04 million and approximately 520.13 million outstanding shares.
With the significant progresses made at the NXUU deposit, the company is on the right path of expansion and development. With a great way forward and a well-defined objective, it has been upping its game amid investors and mining enthusiasts across the globe.
Stay tuned for more updates on MTB's front in this space and for an inclusive understanding of the company's recently quarterly results and the test works, we encourage you to READ HERE.
---
Disclaimer
This website is a service of Kalkine Media Pty. Ltd. A.C.N. 629 651 672. The website has been prepared for informational purposes only and is not intended to be used as a complete source of information on any particular company. The above article is sponsored but NOT a solicitation or recommendation to buy, sell or hold the stock of the company (or companies) under discussion. We are neither licensed nor qualified to provide investment advice through this platform.