On 3rd November 2020, equity market of Australia ended in green as the benchmark index S&P/ASX200 witnessed an intraday gain of 1.93% to 6066.40. This was supported by rise of 5.04% and 2.72% in energy and consumer cyclicals sectors, respectively.
Sector Summary (Source: Refinitiv (Thomson Reuters))
Movements on the Wall Street:
On November 2, 2020, Dow Jones Industrial Average increased by 1.60% to 26,925.05. Also, NASDAQ Composite increased 0.42% to 10,957.61.
Top Gainers and Losers: Webjet Limited (ASX: WEB) and Pendal Group Limited (ASX: PDL) soared by 8.65% and 7.66%, respectively. On the other hand, Sandfire Resources Limited (ASX: SFR) tumbled by 6.98%.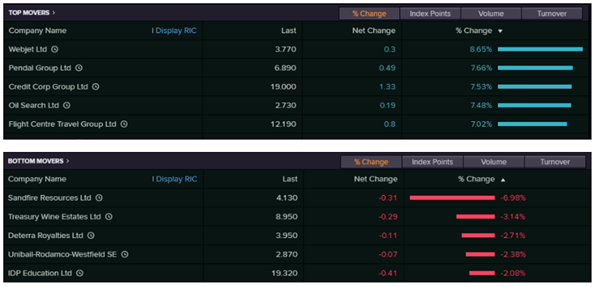 Top Movers (Source: Refinitiv (Thomson Reuters))