On 9th December 2021, the Australian equity market closed the session in red after significant selling was witnessed in the energy stocks. On the same day, ASX 20 declined by 0.27% and ASX 300 fell by 0.23%. Also, ASX 200 has encountered a decline of 0.28% to 7,384.50.
Data Source: ASX, Table Source: Copyright © 2021 Kalkine Media
Performance of Indices:
ASX Midcap 50 Index closed at 9,525.50 points. This implies ~15.96% rise in the previous 1 year.
S&P/ASX 200 vs S&P/ASX Midcap 50 Index vs ASX Small Ordinaries Index – One Year Return
Source: REFINITIV
Gainers and Losers:
Recently, it was announced that Redbubble Limited (ASX: RBL) would be removed from S&P/ASX 200 Index. This was as per the changes in the S&P/ASX Indices and would become effective prior to the open on 20th December 2021.
AGL Energy Limited (ASX: AGL) has witnessed a rise of 4.659% to A$5.840 per share.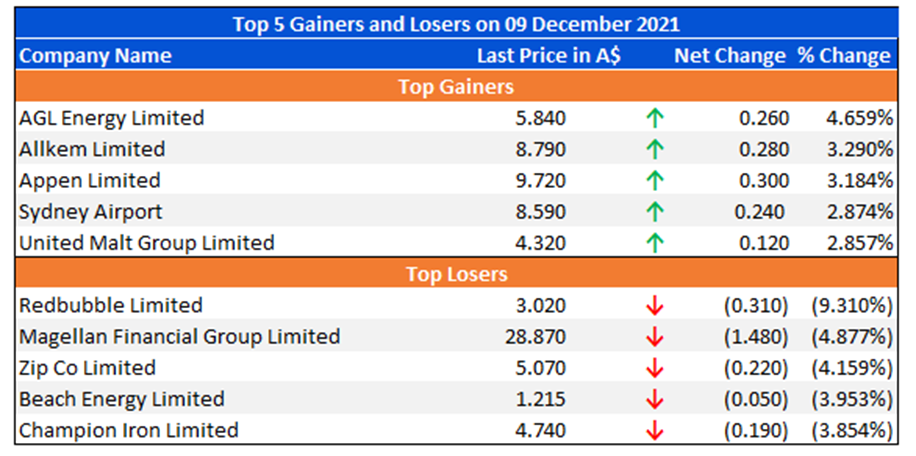 Source: REFINITIV
Movement on Wall Street:
On 8th December 2021, NASDAQ Composite rose 0.64% to 15,786.99. Notably, Dow Jones Industrials Average increased 0.10% to 35,754.75.
Note: The reference data in this article has been partly sourced from REFINITIV