Highlights

The ASX 200 index was trading 0.78% higher at 7,130.3 in the first 10 minutes of trading.
Global equity markets ended higher on Friday with frontline indices on Wall Street rallying to end a volatile week.
The industrial sector gained the most at the open, rising 1.34%.
The Australian share market surged higher at the open on Monday, taking cues from a strong lead from Wall Street. A rebound in crude oil and iron ore prices has helped local commodity stocks, with rate hikes still dominating investor sentiments. The benchmark ASX 200 index was trading 0.78% or 55.2 points higher at 7,130.3 in the first 10 minutes of trading, while the ASX All Ordinaries index was up 0.97% or 70.9 points to 7,378.6. The A-VIX jumped slightly by 0.08% to 18.5.
Global equity markets ended higher on Friday as frontline indices on Wall Street rallied to end a volatile week as signs of peaking inflation brough some relief.
On Friday, the Dow Jones Industrial Average rose 1.47% to 32,196.66, while the S&P 500 jumped 2.39% to 4,023.89. The NASDAQ Composite ended the session 3.82% higher at 11,805.00.
Market action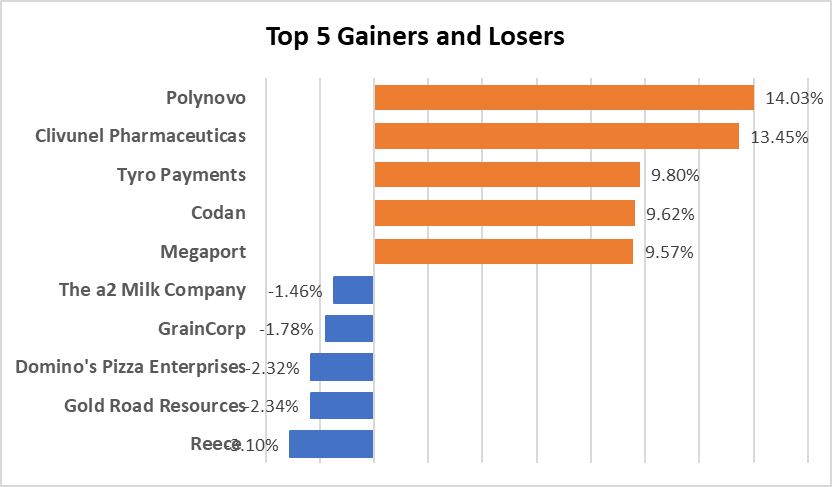 Data Source: ASX (as of 16 May 2022, 10:30 AM AEST)
Image Description: Top 5 ASX gainers and losers
Image Source: © 2022 Kalkine Media®
Coming to the top ASX 200 gainers, Polynovo Limited (ASX:PNV) and Clinuvel Pharmaceuticals Limited (ASX:CUV) were leading the pack with 14.03% and 13.45% gains, respectively. On the flip side, Reece Limited (ASX:REH) and Gold Road Resources Limited (ASX:GOR) were the top losers, falling 3.1% and 2.34%, respectively.
On the sectoral front, the market seems to be in bulls' control as all of the 11 sectors were trading higher in the opening session. The industrial sector was the top gainer, rising 1.34%, followed by a 0.29% uptick in the materials sector.
Read More: Coming to the ASX 200 gainers, GMG, SCG & DXS: Three top ASX REITs on investors' watchlist
Newsmakers
Integrated Research Limited (ASX:IRI)
The company has indicated that its FY22 net profit would likely fall below FY21 profits of AU$7.9 million.
The company's guidance projected this year's profit to be above the FY21 figure.
IRI blames its lacklustre performance on weak sales in the US.
Cooper Energy Limited (ASX:COE)
The company upgraded its FY22 guidance of underlying EBITDAX – a result of higher gas prices and higher sustained Orbost Gas Processing Plant processing levels.
The revised guidance stands at AU$57 million-AU$68 million, compared to the previous guidance of AU$53 million-AU$63 million.
Oil production numbers have also been revised slightly up from 3-3.4 MMboe to 3.2-3.4MMboe.
Goodman Group Limited (ASX:GMG)
The company reported 7% occupancy across the partnerships as at the end of 31 March 2022.
A total of AU$68.7 billion total assets under management (AUM) was reported at the end of Q3 FY22.
The company forecasts an EPS growth of 23% for FY22.
Brambles Limited (ASX:BXB)
The company gave a clarification on a media article relating to a potential bid by CVC Capital Partners for Brambles.
It confirmed that it has had preliminary engagement with CVC regarding an unsolicited proposal to acquire all of the shares in Brambles.
However, it also said that there is no certainty that the engagement will lead to a proposal being received from CVC.
DigitalX Limited (ASX:DCC)
The performance of both of its funds has reflected the volatility in wider digital and traditional markets in the lead up to the May Fed meeting.
The DigitalX Bitcoin Fund returned -12.17% for April 2022 and the DigitalX Fund returned -12.58% in the same period.
Despite this, redemptions have remained minimal, and the total fund management stands at AU$31.7 million.
Read More: Waiting for Macquarie's next dividend? Here's what you should know