A biotech company headquartered in Australia, Imugene Limited (ASX: IMU) develops new and novel immunotherapies that seek to harness the cancer patients' immune system against tumors. The company's unique platform technologies seeks to potentially achieve an identical or better effect than synthetic monoclonal antibodies and other immunotherapies.
Acquisition of Oncolytic Virus CF33
Imugene has announced today its intention to expand its portfolio by adding an oncolytic virotherapy (CF33) to its product pipeline that so far included multiple immunotherapy B-cell vaccine candidates. Imugene informed through an ASX announcement that it would acquire the worldwide exclusive license to CF33, a promising oncolytic virus technology developed at the City of Hope Cancer Centre in Los Angeles.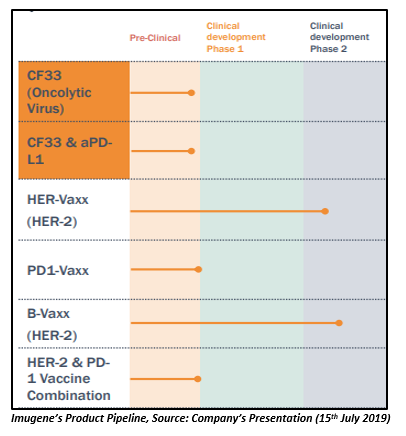 The oncolytic virotherapy (CF33) was developed by Professor Yuman Fong, chair of the City of Hope's department of surgery and an internationally recognized oncolytic virus and cancer expert. CF33 is a chimeric vaccinia poxvirus in the oncolytic virotherapy (OV) field that has shown more efficacy than most of the OVs in pre-clinical trials conducted to date.
According to Imugene's CEO, Ms Leslie Chong, the company is delighted to be able to licence oncolytic virotherapy (CF33) which is a promising next-gen oncolytic virus in a competitive marketplace where many large pharma companies are actively looking for OV technologies.
Why Oncolytic Virotherapy?
Oncolytic virotherapy is leading the field of immunotherapy and the recently heralded leading edge of cancer research. A body of clinical research suggests that oncolytic viruses when used in combination with checkpoint inhibitors can improve the efficacy of cancer treatment without increasing toxicity. Such viruses may work by activating an immunotherapy response in the body against cancer, unlike just directly killing cancer cells. The oncolytic viruses infect, replicate in and eventually kill cancer cells while leaving healthy cells unharmed.
With these added benefits, the oncolytic viruses are attracting the serious attention of big pharma companies such as Boehringer and Janssen which have made three acquisitions in 2018 alone totalling over $1.0 billion, including an acquisition of Viralytics Limited.

Imugene has experienced manano gement team with significant oncology drug development expertise. Further, ex-Viralytics members are expected to join Imugene's project team for development of the oncolytic virus.
Advantages of CF33
The preclinical data has demonstrated that the CF33 virus can shrink multiple types of cancer at a low dose (1000 PFU). The virus efficiently shrank not only the injected tumors, but also the non-injected distant tumors without adverse effects in colon cancer, ovarian cancer and human triple negative breast cancer (TNBC) xenograft models in mice at a dose that was 2 to 5 orders of magnitude less than the doses used for other oncolytic viruses under clinical testing. This outcome is known as the abscopal effect, whereby there is a reduction in the size of non-injected tumors along with injected tumors.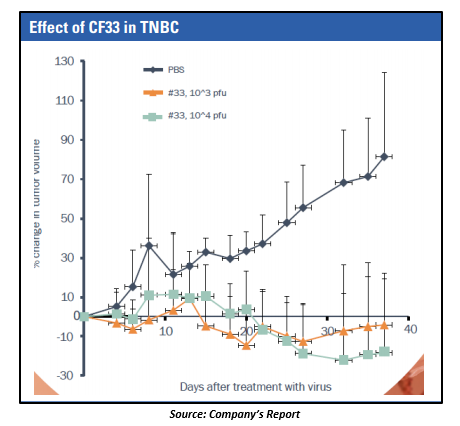 CF33 has also shown inhibition of tumor growth in nearly all NCI-60 models in TNBC, lung, pancreatic cancer etc. than all the parental and competitor viruses. CF33 demonstrated superior replication and cancer cell killing in most of the NCI-60 cell lines except for a few cell lines wherein none of the viruses displayed any effect at the low MOI of 0.01.
As part of the pre-clinical trials, CF33 has outperformed Amgen's T-VEC (FDA approved) and Genelux's GL-ONC1 (in Phase II clinical trials) products in killing the TNBC cell line. The tumor reduction abilities in non-injected tumors in CF33 was superior in comparison to T-VEC and GL-ONC1. While Amgen and Genelux viruses lowered the rate of growth in non-injected tumors relative to those mice receiving no treatment, CF33 demonstrated an apparent reduction in the size of non-injected tumors.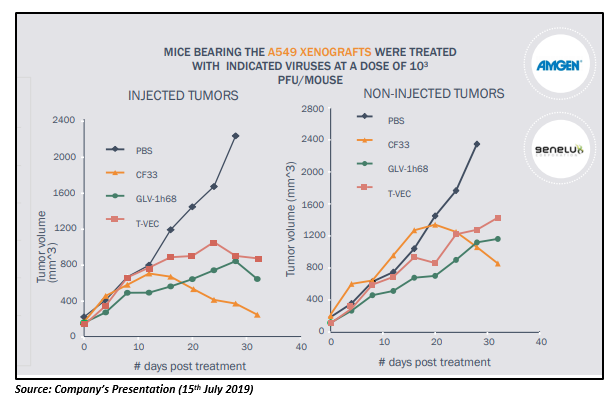 Terms of the Agreement: Under the terms of the share sale agreement, Imugene intends to acquire 100 per cent of the shares in Vaxinia by paying an upfront cash payment of $462,500 to Vaxinia shareholders and issuing $1.619m IMU's fully paid ordinary shares based on the seven-day volume weighted average price (VWAP) of the shares prior to announcing the deal (107.9 million shares based on the share price of $0.015 as at 11th July 2019).
The shareholders of Vaxinia including Imugene's Chairman Paul Hopper and Professor Yuman Fong will be eligible for additional share-based payments upon the achievement of designated milestones, including the dosing of the first patient in the Phase I clinical trial, granting of the Investigational New Drug (IND) by the FDA and the Phase I clinical trial demonstrating safety. All the shares issued as a consideration to the Vaxinia shareholders will be subject to a six-month voluntary escrow period and will rank equally with existing IMU shares.
The completion of the acquisition depends on several prior customary conditions and shareholder approval at an extraordinary general meeting of Imugene shareholders to be convened on 9th September 2019.
IMU will acquire the exclusive rights to develop and commercialise CF33 from City of Hope under the terms of the licence agreement, for which it has agreed to pay licence fees comprising annual maintenance fees that are creditable against future royalty payments, an upfront fee, performance-based consideration that is associated to the achievement of certain milestones and commercial outcomes, sublicensing fees and net sales based royalty payments.
All upfront cash payments under the licence agreement and share sale agreement will be funded through the company's existing cash reserves.
Proposed Clinical Development Timeline and Cost Linked to CF33
CF33, with robust intellectual property and long patent life, is currently in the pre-clinical phase of development with Imugene seeking to commence Phase I trials in 2020 in which it will seek to assess the safety and efficacy of oncolytic virotherapy (CF33) across a range of advanced solid cancers including triple negative breast (TNBC), melanoma, bladder, lung and gastric cancers.

Source: Company's Report
Imugene will be seeking to assess CF33's use as a single agent, and in combination with an immune checkpoint inhibitor (ICI), which is yet to be selected in Phase I trial. A total of 30 patients will be recruited under the program (15 for each program), with the therapy to be administered intratumorally. The Phase I trial is likely to cost USD$4.5m and be completed over an 18-month period. After the primary end points are met from the Phase I trial, Imugene will seek to undertake a Phase II trial (four cancer indications to be selected on Phase 1 trial completion) that is expected to cost USD$18m and be completed over an 18-month period. The company intends to look for partnership arrangement post Phase 1 trial success; alternatively, it will be raising capital for trial completion.
Stock Performance: The company's stock is currently trading at AUD 0.016, up by 6.67% on 16th July 2019 (12:06 PM AEST).
More on Imugene Limited can be read HERE
---
Disclaimer
This website is a service of Kalkine Media Pty. Ltd. A.C.N. 629 651 672. The website has been prepared for informational purposes only and is not intended to be used as a complete source of information on any particular company. The above article is sponsored but NOT a solicitation or recommendation to buy, sell or hold the stock of the company (or companies) under discussion. We are neither licensed nor qualified to provide investment advice through this platform.