Greenland is the world's largest non-continental island, known to possess rich rare earth (RE) deposits buried beneath its vast ice sheet. The region holds approximately 38.5m tonnes of RE oxides, relative to the total reserves of approximately 120m tonnes for the rest of the world.
Let us look into a renowned rare earth minerals player- Greenland Minerals Limited (ASX: GGG), striving to tap huge potential in this resource-rich lucrative region.
About Greenland Minerals Limited
Australian explorer operational in Greenland since 2007, Greenland Minerals Limited (ASX: GGG) aims to be the new cornerstone for rare earth supply, aspiring to unfold materials for an energy-efficient future. GGG is best known for owning The Kvanefjeld Rare Earth Project, lucrative technology metal project.
The Kvanefjeld Rare Earth Project
Benefitting from a unique geological setting, GGG's Kvanefjeld Project is an emerging rare earth project in the Ilimaussaq alkaline complex in southern Greenland. Once developed, it is likely to be a large-scale, long term and low-cost supplier of products, catalysing the efficient use of energy. The project has a global significance, through which GGG aims to become a major western world developer and producer of rare earths.
Interestingly, the project is centred on a multi-billion tonne outcropping ore seam possessing the only known bulk occurrence of steenstrupine globally – a unique, non? refractory rare earth mineral, that is conducive to simple, low - cost processing.
The below figure highlights the strength of the Project: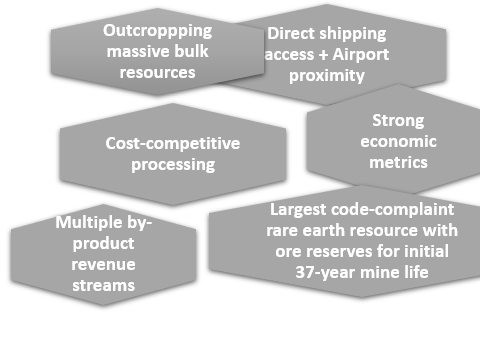 Kvanefjeld – cornerstone of future RE supply
On 26 July 2019, the company released its Investor Presentation report, notifying that Shenghe Resources Holding Co Ltd is GGG's largest shareholder and a major producer of rare earth products and supplier to international customers. GGG has been consistently working with this strategic partner and one of the largest, and fastest growing rare earth companies globally ,to develop Kvanefjeld as a cornerstone of future RE supply.
It is to be noted that a strong demand outlook is anticipated for magnet metals while the limited new supply sets the scene for future price increases. Continuing the progress at the Project, the regulatory framework has been implemented by Greenland and Danish Governments (Environmental Impact Assessment and Social Impact Assessment) to manage the project and export of uranium by?products. On environmental front, Greenland is set to provide critical minerals to facilitate key global agendas of electrification and energy efficiency.
At this point, let us acquaint ourselves to the advanced Project status:

GGG notified that Kvanefjeld's enrichment across the RE spectrum creates a strong alignment with RE market, through exposure to Nd, Pr, Dy and Tb: a complete RE project. There is a clear scope to expand capacity and extend mine life (initial 37-year mine life with simple mining with 1:1 strip ratio).
The company follows the below process flowsheet at the Project:
(Source: GGG's Investor Presentation)
Let us now look at the metallurgical and engineering optimization results, along with the optimised feasibility study: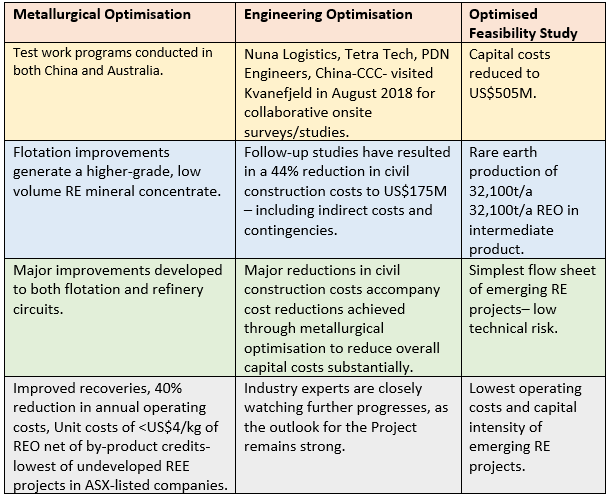 The world understands that the rare earth demand is linked to important global agendas, with the electrification movement underway. Their utilisation would be optimum in phasing out the combustion engine vehicles, with China, India, UK and France, amongst other countries striving towards the booming EV revolution. In this regard, the clean energy initiatives drive major RE demand growth. Tapping the huge market opportunity, the successful development of Kvanefjeld will see Greenland become a major contributor to global rare earth supply.
Stock Performance:
At the time of writing on 23 September 2019 at 3:42 PM AEST, GGG's stock was trading at $0.145, up by 3.57% with a market capitalization of $166.74 million and 1.19 billion outstanding shares. The YTD return of the stock is 105.88%, and in the past six months, it has generated a return of 154.55%.
ALSO READ: Greenland Minerals Continues Its Productive Stance In June Quarter; Secures $7 Million
---
Disclaimer
This website is a service of Kalkine Media Pty. Ltd. A.C.N. 629 651 672. The website has been prepared for informational purposes only and is not intended to be used as a complete source of information on any particular company. The above article is sponsored but NOT a solicitation or recommendation to buy, sell or hold the stock of the company (or companies) under discussion. We are neither licensed nor qualified to provide investment advice through this platform.