Highlights:

Haranga Resources concluded its first diamond drilling campaign at Senegal-based Saraya uranium project in the December quarter.
All drill holes indicated potential uranium mineralisation with results pending.
Numerous uranium anomalies across the northern section of the prospect have been highlighted by a regional permit-wide termite mound sampling program.
The campaign covered only 32% or 520km2 of the Saraya permit area.
On receipt of results and assays from recent drilling, the Company will focus on converting the exploration target at Saraya Uranium prospect into its first mineral resource.
Multi-commodity focused company Haranga Resources Limited (ASX:HAR; FRA:65E0) has an advanced uranium project in Senegal, a country in West Africa. Also, the company has gold interests at varied locations across the region.
HAR holds expertise in financing and developing exploration and mining projects in Africa, Australia, and several other viable regions. The company is guided by a proven and experienced leadership team that has significant mining industry experience including in Africa.

Image source: HAR PPT, March 2022
The company's seven tenements cover an area of over 2,700 km2 in West Africa. HAR has a two-year exploration and development budget mapped out for two of its key projects. These include the Senegal-located Saraya uranium project which has been subject to more than 65,000 m of historical drilling, and the Ibel South gold project located in Senegal. Both projects are serviced by the company's 40-man exploration camp.
Further, Haranga is continuously exploring options to expand its reach by assessing more acquisition targets in Africa that are complimentary to its existing portfolio of projects.
Impressive developments unlocking uranium potential at Saraya

Data source: company update
A 3,021 metre drilling program has been completed at the project, with 22 holes. HAR has said that in all drill holes, outcomes indicate that zones of potential uranium mineralisation were intersected consistent with historical drilling.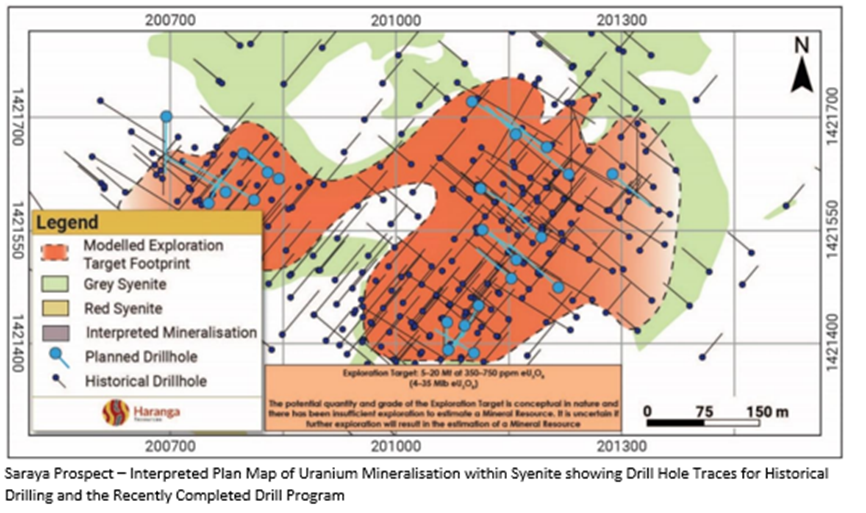 Image source: company update
At Saraya, HAR is also advancing on its regional permit-wide termite mound sampling campaign. In early February 2023, HAR reported that initial results of the sampling program have revealed numerous uranium anomalies in Saraya's northern parts. The anomalous uranium value ranges between 7 ppm or parts per million and 17 ppm with respect to 188 samples. To know more, read here.
Interestingly, this regional sampling program covers only 32% or 520km2 of the permit.
The project has seen historical drilling of more than 65,000 metres. In 2010, Areva (now Orano) undertook drilling at the Diobi prospect, nearly 5 kilometres NNE of the Saraya prospect. This Areva campaign delivered uranium mineralisation that further confirmed the uranium anomalies.
The current focus is on converting the exploration target into its first mineral resource. Given a couple of these uranium anomalies coincide with regional historical drill success to the NNE of Saraya prospect, it is already looking like further uranium discoveries will be made on this permit, highlights the company.
Haranga Resources believes that it is an exciting period for the company, which aims to prove that Saraya could potentially host significant uranium resources.
Stock price up 22% in 6 months
HAR shares traded at AU$0.195 midday on 22 February 2023. In the last six months, the stock has gained nearly 22%. The market capitalisation of the company stood at AU$12.02 million.