Highlights

Carbonxt and Kentucky Carbon Processing (KCP) have established a legally binding joint venture agreement
The agreement, titled 'NewCarbon', relates to the development of an activated carbon production facility in the US
Carbonxt asserts it has a "major addressable market opportunity" for its products in the US water and wastewater treatment industry
US-focused and Australia-listed cleantech company Carbonxt Limited (ASX: CG1) -- having expertise in the production of specialised activated carbon products -- has announced the finalisation of a legally binding joint venture agreement, titled 'NewCarbon', with Kentucky Carbon Processing, LLC. Kentucky Carbon is Carbonxt's US partner in the construction of a state-of-the-art activated carbon plant in Kentucky, USA.
Notably, while Carbonxt will contribute US$10 million under the agreement over the next two years, KCP will contribute the required Inez Power assets for the initial >10,000 tons activated carbon plant.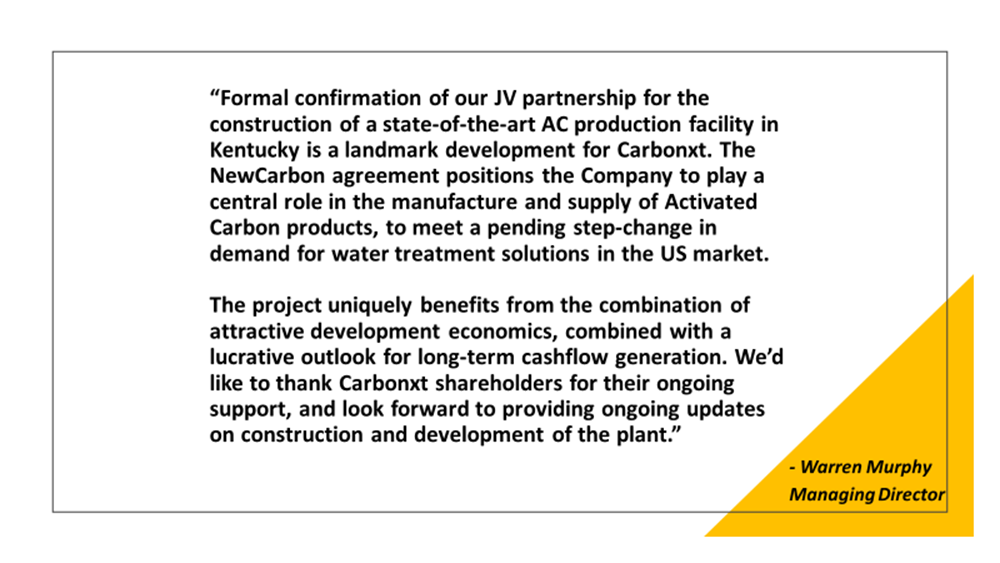 Source: Company update
More to come...