A growing multinational pharmaceutical company, AFT Pharmaceuticals Limited (ASX: AFP) is engaged in the marketing, distribution and development of an extensive portfolio of pharmaceutical products that covers a broad range of therapeutic categories. The company distributes these products to all the significant pharmaceutical distribution channels including hospitals, prescriptions and over the counter (OTC). The company's product portfolio contains branded, generic and patented drugs, along with in-licensed and proprietary products.
On 2 August 2019, the company released a presentation on its 2019 Annual Shareholders Meeting that was held in Auckland, New Zealand on 2nd August 2019. Let us take a look at the key highlights of the presentation published by the company on the Australian Stock Exchange:
AFT's Product Pipeline
The company has a broad pipeline of products that are in various stages of development as indicated below:
Maxigesic® Product Developments
The company informed that there has been a significant development in the company's Maxigesic® product over the last one year - both in tablet form and other forms.
The Maxigesic® Tablets are registered in 42 countries, including all of the European Union. The tablets are licensed in more than 125 countries and are now sold in 20 countries - that is twice the number of countries in which the tablets were sold a year ago. The Maxigesic IV® pain relief medication also got registered with the Australia's Therapeutic Goods Administration (announced on 24 July 2019) and the sale of the medication is expected to start by late 2019/2020.
The other line extensions of Maxigesic® product are in following phases of development:
Maxigesic® Oral Liquid - Regulatory filings in 23 countries; sales expected to start in 2020.
Maxigesic® Hot Drink Sachets - Regulatory filings to commence in 2019; sales expected to start in 2020.
Maxigesic® Rapid - Formulation Completed Successfully; sales anticipated to start in 2021.
Maxigesic® Cold & Flu – Development is underway; sales anticipated to start in 2022.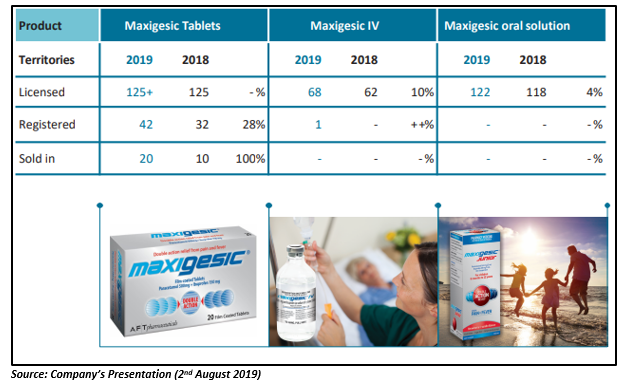 Pascomer® Product Development
Recently, the company has also entered into an agreement with the US-based Timber Pharmaceuticals for its drug, Pascomer®. It is a drug which treats Facial Angiofibromas in Tuberous Sclerosis, a disfiguring hereditary skin condition. As per the company, around 30,000 patients are suffering from this disease in the US alone, offering a US$300m market opportunity. It has been found in 12 published trials and case reports on 425 patients (using compounded rapamycin - active ingredient in Pascomer®) that Pascomer® successfully treats this skin disease.
The company is now undertaking clinical trials for Pascomer® which will be funded by its licensed partner, Timber LLC. The development of Pascomer® involves two trials, with the first trial including 120 patients to begin in eight sites around the world. The results for this trial are expected to be out in mid-2020. If the trials will be successful, the company will launch the product by late 2022 or early 2023.
AFT's Financial Highlights - FY 2019
According to Mr David Flacks, Chairman of AFT Pharmaceuticals Limited, FY19 has been a great year with the company making an operating profit and progressing to expand its pipeline of growth opportunities. The company released robust results for the year ending 31st March 2019 owing to growth in sales, tight control of operating costs and decline in research and development expenditure subsequent to the successful completion of its key clinical trials.
Operating Profit
The operating profit of the company improved substantially (by NZ$ 16.2 million) in FY19 to NZ$ 6.1 million, relative to NZ$ 10.1 million operating loss observed in the last year. The operating profit in Australia also rose from NZ$ 1.2 million to NZ$ 5.3 million. The company expects its operating profit to remain between NZ$ 9 million and NZ$ 12 million in FY20.
Revenue Growth in FY19
The company's operating revenue improved 5 per cent in FY19 to NZ$ 85.1 million relative to last year's revenue. After adjusting for the divestment to Baxter Healthcare of its lower margin hospital product, the revenue growth was 14 per cent. The company further expects strong growth in revenue internationally, considering the anticipated Maxigesic® licences and registrations which will eventually result in sales.
Let us take a look at the revenue contribution by different regions across the world:
Australia
Around 59.1 per cent of the company's total revenue came from Australia in FY19 which is the company's largest market. The sales grew 2 per cent in Australia to ~NZ$ 50.3 million in FY19. However, after adjusting for the divestment to Baxter Healthcare, the revenue growth was 13 per cent in Australia. Around 62.2 per cent revenue of the Australian region came from over-the-counter segment, followed by hospital (27.6%) and prescription (10.1%).
New Zealand
New Zealand contributed 31.5 per cent to the total revenue of the company in FY19. The revenue fell 1 per cent in New Zealand to ~NZ$ 26.7 million but after adjusting for the divestment to Baxter Healthcare, the revenue growth was 5 per cent. Around 51.9 per cent revenue of the New Zealand region came from over-the-counter segment, followed by prescription (31.7 per cent) and hospital (16.4 per cent).
Rest of the World (RoW)
About 6.9 per cent of the company's total revenue (NZ$ 5.8 million) was from the rest of the world. The revenue improved 63.4% relative to prior year's revenue. Around 94.9 per cent revenue of the RoW region came from over-the-counter segment, followed by hospital (5.1 per cent).
Southeast Asia
A significant growth of 66.5 per cent in revenue was observed in the Southeast Asia region to NZ$ 2.14 million in FY19. The region contributed 2.5 per cent to the total revenue of the company. About 71 per cent of the SE Asia's revenue was from hospital segment, followed by OTC (28.4%) and prescription (0.6%).
The company reported a loss after tax of ~NZ$ 2.42 million in FY19 which was significantly lower than the FY18's figure of ~NZ$ 12.72 million. The total assets of the company improved from NZ$ 56.6 million in last year to NZ$ 63.5 million. AFT's cash balance as on 31st March 2019 stood at ~NZ$ 6.91 million.
As per Mr Flacks, the company is well funded and is likely to return to bottom line profitability in the current financial year.
AFT's Future Outlook
The following are the company's medium-term plans:
Further drive International Sales - The company plans to accelerate the launch of its products in different countries and start the launching of new line extensions (Maxigesic IV®).
Extend International Licensing - AFT eyes to achieve licensing agreement in USA/Canada, Germany and LATAM, and explore previously unplanned territories like China and Japan.
Drive Increased Upfront Payments - AFT plans to stimulate upfront payments from Maxigesic IV® licensing agreements and larger territories such as the US, JP and CN.
Drive Local ANZ and SE Asia Sales – The company targets to improve Maxigesic® sales in AU & NZ, launch new OTC in AU & NZ and double its SE Asia sales.
Drive Improved Financials - On financial front, the company aims for break-even in SE Asia, meeting profit projections, refinancing to lower interest costs and repay debt and increasing cash position.
Stock Performance: AFP traded last on the ASX at AUD 2.960 on 1st August 2019. The stock has delivered a substantial return of 62.63 per cent on a YTD basis.
---
Disclaimer
This website is a service of Kalkine Media Pty. Ltd. A.C.N. 629 651 672. The website has been prepared for informational purposes only and is not intended to be used as a complete source of information on any particular company. Kalkine Media does not in any way endorse or recommend individuals, products or services that may be discussed on this site. Our publications are NOT a solicitation or recommendation to buy, sell or hold. We are neither licensed nor qualified to provide investment advice.
There is no investor left unperturbed with the ongoing trade conflicts between US-China and the devastating bushfire in Australia.
Are you wondering if the year 2020 might not have taken the right start? Dividend stocks could be the answer to that question.
As interest rates in Australia are already at record low levels, find out which dividend stocks are viewed as the most attractive investment opportunity in the current scenario in our report.
CLICK HERE FOR YOUR FREE REPORT!