In line with non-metallic and metallic raw materials, Heavy Mineral Sands (HMS) are of crucial economic importance in today's globalised economy. Increasing demand from construction and industrial sector, vital components for nuclear reactors, essential in electronics, computers, robots, medicine, ceramics and chemistry industries, the HMS industry is a massive employer.
Tapping this lucrative opportunity is MRG Metals Limited (ASX:MRQ), that leverages from having secured an attractive project portfolio of the Corridor Projects HMS in Mozambique, where it believes lies a chance to add value through less expensive exploration in parts of known HMS mineralisation to uncover high grade areas with high unit value resources and huge tonnage.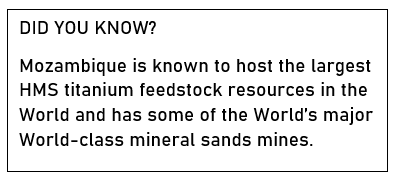 MRQ on its Corridor South and Corridor Central projects has an impressive portfolio of thirteen high calibre targets. The Company has been making substantial discovery of high grade Total Heavy Mineral (THM) over a huge area from surface.
Recently, it delivered promising results of a Mineral Resource Estimation (MRE) from its first target area, Koko Massava, of 1,423 billion tonnes at 5.2% THM. Results confirmed massive high-grade discovery with several zones demonstrating sub-sets of higher valuable heavy mineral assemblage that hint towards further potential for optimisation.
To know more about the Koko Massava MRE, READ HERE- Significant Outcomes from Koko Massava MRE Well Place MRQ in Global Titanium Feedstock Industry
Recently, the Company intimated that it has begun the process of metallurgical testwork on a bulk sample of mineralised material, following the delivery of the significant Koko Massava MRE.
MRQ's Latest Metallurgical Testwork Essence
IHC Robbins in Brisbane has been commissioned to undertake the process of metallurgical testwork on a bulk sample of mineralised material. The geometallurgical test work will be conducted to characterise the process performance of the HMS, including conceptual process flow sheet development, production of products and determination of mineral recoveries.
The successful MRE has propelled the Company to proceed with the testwork by providing access to extensive drill sample database. This places MRQ in a good position to continue the iterative process of advancing the exploration by beginning this next phase of test work.
Certain aspects identified in the MRE that pertain to mineral assemblage mix like maximizing separation (scalping) of ilmenite from the transitional lowtitanium/titano-magnetite fraction (7% of THM) to enhance overall ilmenite yield, development of a titano-magnetite concentrate for investigation of possible vanadium content, will also be addressed in the testwork.
The testwork is expected to take approximately 4-6 weeks to complete.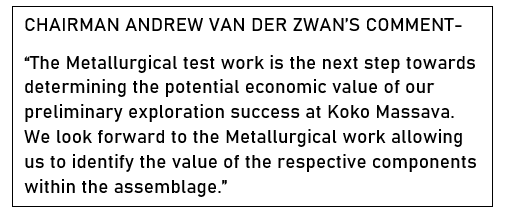 Metallurgical Testwork Specifics
The testwork is expected to provide results for ilmenite, rutile, zircon, leucoxene and monazite recovery and quality. Moreover, investigation of the titanomagnetite mineral fraction will also be undertaken to ascertain if it holds potential as a Vanadium source.
Sample of approximately 100kg derived from Aircore samples is already available in Perth and the geometallurgical sample composed from zones of representative high valuable mineral assemblage within the Koko Massava Mineral Resource is presently in the process of preparation.
With this sample being the representative of mineralised zones of high valuable heavy mineral within the mineral resource, the scoping level test work is likely to establish the below-
Develop a conceptual process methodology for the Koko Massava material
Derive the material processes, using typical process equipment and methodologies
Produce potential typical mineral sands products
Provide metallurgical recoveries for various potential products
Identify potential risks and/or critical flaws related to the mineralised material or potential products
Bottomline
Significant tonnages within the Koko Massava mineral resource have shown THM grades in excess of 8%. The metallurgical work will help in finding further exploration opportunities to augment the potential to optimize early mine life evaluation. This is an add on to MRQ's on-going exploration strategy wherein it aims to add high grade/high value tonnage to the mix.
With developments fostering well and timely, 2020 shapes as a transformational year for MRG Metals.
The stock quoted $0.006 as on 7 May 2020 (AEST:12:05 pm).