Scottish Gas has been announced as the title sponsor of both the men's and women's Scottish Cup.
A five-year contract has been agreed with the Scottish Football Association which will benefit grassroots football.
The men's competition will be known as the Scottish Gas Scottish Cup from next season, its 150th anniversary, and the funding will also benefit the Scottish Gas Women's Scottish Cup, the final of which was staged at Hampden this year for the first time.
The deal will help fund 120 new week-long holiday camps which will provide 6,000 opportunities for children to play football and receive free lunches.
SFA chief executive Ian Maxwell, chief executive of Centrica Chris O'Shea and pupils from North Kelvinside Primary School (SFA/handout)
The investment will also help Scottish Para-Football's disability community initiatives by working with six clubs each year to set up the required infrastructure and playing conditions.
Scottish Gas will also work with the SFA to explore ways of making Hampden more sustainable and design a programme for clubs to help "reduce their carbon footprint and create more sustainable communities".
SFA chief executive Ian Maxwell said: "I am absolutely delighted to welcome Scottish Gas on board as a committed multi-level partner and supporter of the Power of Football.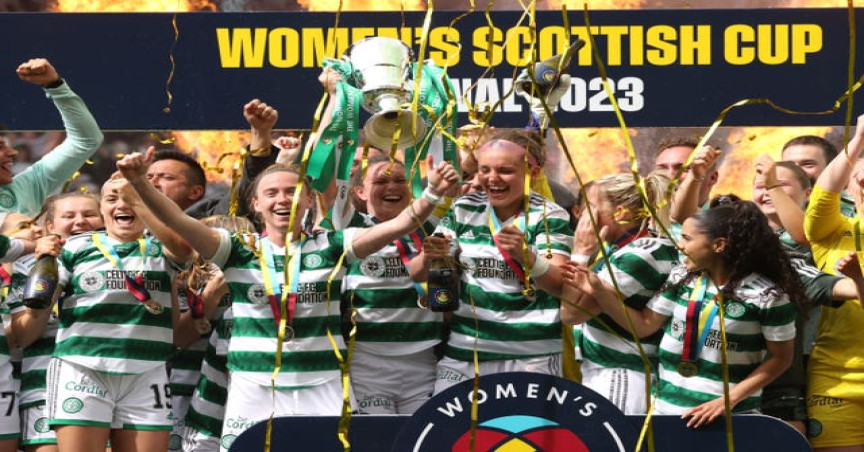 Celtic won the Women's Scottish Cup final at Hampden Park (Steve Welsh/PA)
"As part of our 150th anniversary celebrations, they will help us activate the oldest and youngest cup trophies in world football, bringing new and existing fans on that famous road to Hampden.
"Through this agreement, Scottish Gas will also help reinforce the impact our national game has at grassroots level, especially among those whose need is greatest. We look forward to bringing the partnership to life and highlighting the ways in which, together, we can inspire the nation and transform lives."
Chris O'Shea, chief executive of Centrica, the owner of Scottish Gas said: "Our partnership with the Scottish FA is the perfect match of energy and passion for Scottish Gas as we team up to support the nation.
"We're delighted to be investing in our customers' communities, and I'm particularly excited about the work we will be doing to support holiday camps, Para-Football and the women's game across Scotland."