Scottish Gas has filled the void for Scottish Cup sponsorship in a deal understood to be worth about £5million a year.
A five-year contract has been agreed with the Scottish Football Association which will see the energy firm become the title sponsor of both the men's and women's competitions. The deal will also provide a major boost to grassroots football projects.
The deal was announced just before the SFA annual general meeting, which saw Alloa owner Mike Mulraney confirmed as president following the end of Rod Petrie's four-year term. Hamilton's Les Gray replaces Mulraney as vice-president.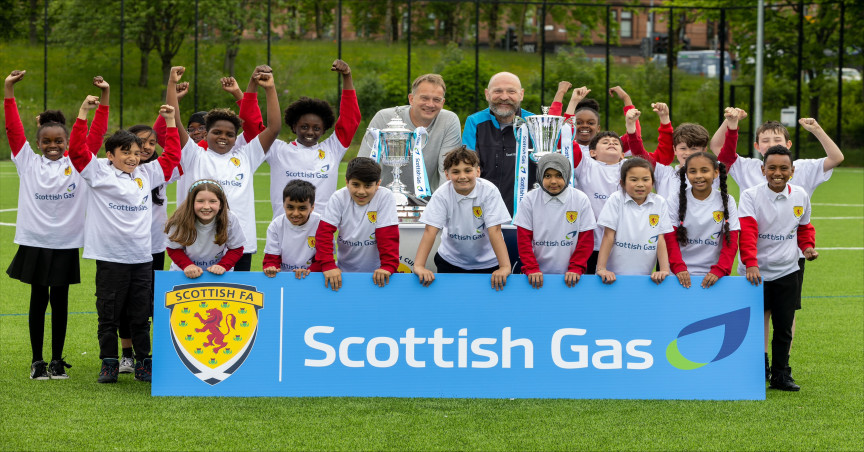 SFA chief executive Ian Maxwell, chief executive of Centrica Chris O'Shea and pupils from North Kelvinside Primary School (SFA handout/PA)
Scottish Gas will become the first title sponsor of the Scottish Cup since William Hill's nine-year partnership ended in 2020.
The men's competition will be known as the Scottish Gas Scottish Cup from next season, its 150th anniversary, and the funding will also benefit the Scottish Gas Women's Scottish Cup, the final of which was staged at Hampden this year for the first time.
The deal will help fund 120 new week-long holiday camps which will provide 6,000 opportunities for children to play football and receive free lunches.
The investment will also help Scottish Para-Football's disability community initiatives by working with six clubs each year to set up the required infrastructure and playing conditions.
Scottish Gas will also work with the SFA to explore ways of making Hampden more sustainable and design a programme for clubs to help "reduce their carbon footprint and create more sustainable communities".
Ian Maxwell welcomed the deal (Aaron Chown/PA)
SFA chief executive Ian Maxwell said: "I am absolutely delighted to welcome Scottish Gas on board as a committed multi-level partner and supporter of the Power of Football.
"As part of our 150th anniversary celebrations, they will help us activate the oldest and youngest cup trophies in world football, bringing new and existing fans on that famous road to Hampden.
"Through this agreement, Scottish Gas will also help reinforce the impact our national game has at grassroots level, especially among those whose need is greatest. We look forward to bringing the partnership to life and highlighting the ways in which, together, we can inspire the nation and transform lives."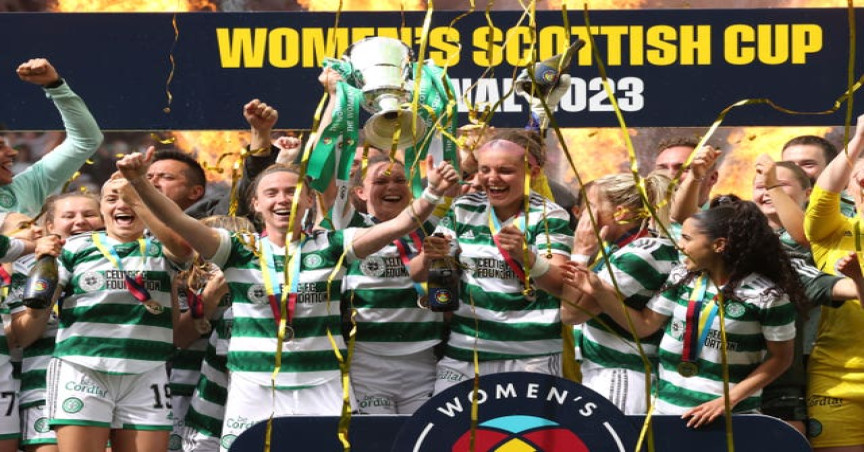 Celtic won the Women's Scottish Cup final at Hampden Park (Steve Welsh/PA)
Chris O'Shea, chief executive of Centrica, the owner of Scottish Gas said: "We're delighted to be investing in our customers' communities and I'm particularly excited about the work we will be doing to support holiday camps, Para-Football and the women's game across Scotland."
Mulraney welcomed the deal and promised "100 per cent commitment and focus" on his new role.
"The Scottish FA is committed to inspiring the nation and transforming lives," the Alloa chairman added.
"We made an impassioned plea at Holyrood only last week urging government and politicians to see us as allies in improving the health and wellbeing of the country and that is something I am determined to facilitate in a practical sense.
"The national association is primarily responsible for the development of the game, the grassroots and it is imperative we work with governments both national and local, philanthropists, commercial and charitable partners, to improve the fundamental infrastructure of our game – facilities.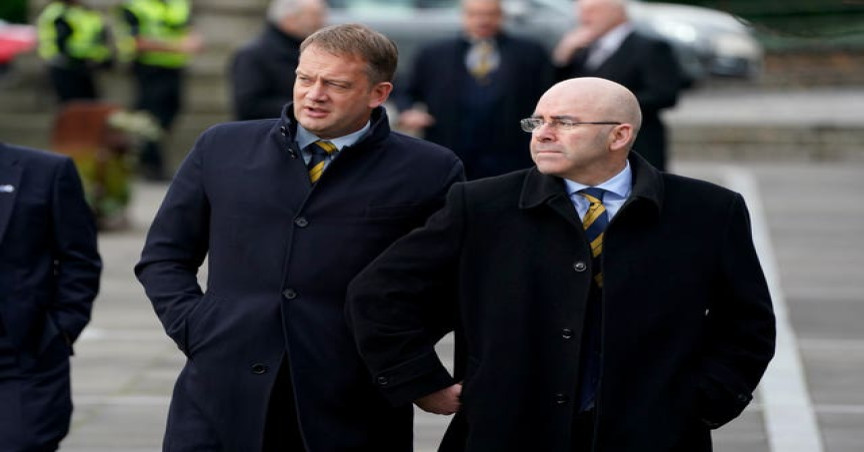 Mike Mulraney (right) welcomed the deal (Andrew Milligan/PA)
"We have already agreed a £20m fund with the Department of Culture, Media and Sport and need more investment.
"We need to retain and upgrade the pitches we currently have, attain new funding for new facilities, especially to meet the growth of girls' and women's football, and ensure we contribute to sustainable clubs and communities, both from a financial and an environmental perspective.
"This will be a key priority for me as president and I look forward to working with partners to improve our infrastructure."