Last season's MVP Joel Embiid produced a dominant performance in the Philadelphia 76ers 114-107 win over the Toronto Raptors as he came close to a triple-double.
Embiid scored 34 points with nine rebounds and eight assists alongside point guard Tyrese Maxey, who scored 34 points.
Toronto jumped out of the blocks, scoring 36 points in the first quarter, but the 76ers chased them down to secure their first win of the season.
Despite missing all-star duo Bradley Beal and Devin Booker, the Phoenix Suns got their second win of the season with a 126-104 win over the Utah Jazz.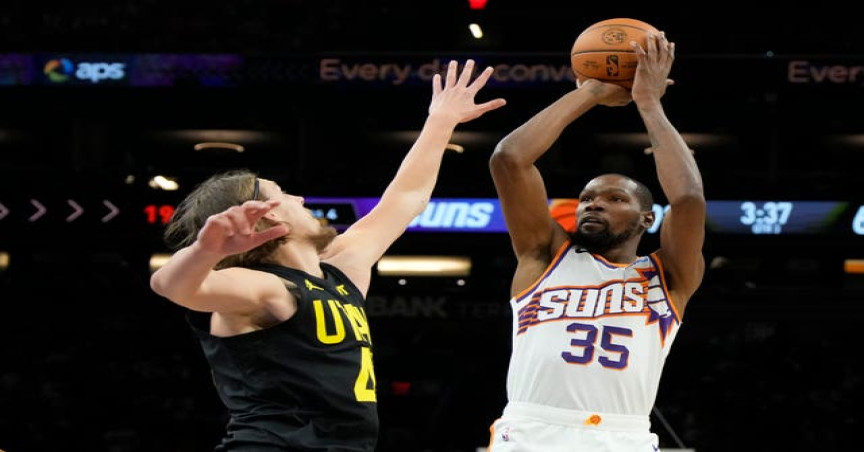 Phoenix Suns forward Kevin Durant (35) shoots over Utah Jazz forward Kelly Olynyk (Rick Scuteri, AP)
Kevin Durant led the Suns in scoring with 26 points, while strong contributions came from Eric Gordon and Grayson Allen.
The New Orleans Pelicans continued their unbeaten start to the season with a 96-87 victory over the New York Knicks.
Zion Williamson and Brandon Ingram, who had 24 and 26 points respectively, steered the way to a win over a lacklustre Knicks side.
RJ Barrett was the top scorer for the Knicks with 18 points.
New Orleans Pelicans forward Zion Williamson drives to the basket against New York Knicks forward Julius Randle (Gerald Herbert, AP)
The Indiana Pacers had a comprehensive 12-point win over the Cleveland Cavaliers with guard Tyrese Haliburton providing 13 assists while scoring 21 points of his own.
Cleveland's Caris LeVert scored 31 points while centre Evan Mobley provided 33 points with 14 rebounds in the 125-113 loss.
New Washington Wizard's recruit Jordan Poole proved his worth with 27 points in DC's win over the Memphis Grizzlies, who are yet to win a game this season.
And a team performance from the Minnesota Timberwolves proved too good for the Miami Heat, while the Detroit Pistons got the better of the Chicago Bulls.