Mineral Explorer, Element 25 Limited (ASX: E25), advancing its wholly-owned world-class Butcherbird Manganese Project in Western Australia's southern Pilbara Region, a Tier-1 mining jurisdiction, announced a new update related to its business operations amidst the Coronavirus (Covid-19) pandemic.
Covid-19 Update
The Company informed that all its staff and contractors have been observing social distancing measures and working from home where possible to minimise contact. Going forth, the Company's idea was to take a cautious approach to resuming normal operations, however, in light of the much more rapid recovery than expected, Element 25 expects to begin the process of re-opening the office to normal operations in coming weeks, conditional to the rules and advice provided by the Government and Health Authorities.
The Board is continuously monitoring the situation and taking all necessary measures to maintain safe working conditions while moving towards the resumption of normal business operations as and when it is safe to do so.
Overall, Australia has been one of the fortunate countries with less than 100 coronavirus deaths recorded and around 6,900 COVID-19 infected cases confirmed. In some jurisdictions, not even a single new case has been reported over consecutive days owing to the country's geographical location and strong leadership, and Australia is now preparing to slowly bring people back to work.
Various financial stimulus packages to support the businesses and people were released by the government including $ 130 billion JobKeeper Payment, a wage subsidy program for Australians working in the most impacted sectors; another financial injection of $ 17.6 billion; and the Government's entire support for the economy totalled ~$ 320 billion across the forward estimates, depicting ~16.4 % of the annual GDP, according to the Treasury.
Particularly in Western Australia, the restrictions have been easing more quickly than anticipated. In light of this, the Element 25's Board has reviewed and reversed its decision, announced on 27 April 2020, regarding director fee reductions and the proposed issue of options.
At the same time, the Company has continued to make excellent progress on its activities related to development of the Butcherbird Manganese Project and looking forward to further advancing its plans for the same.
The Butcherbird High Purity Manganese Project – Overview
It is a world class manganese deposit with over 263 Mt of manganese ore (JORC compliant), straddling the Great Northern Highway and the Goldfields Gas Pipeline, both offering turnkey logistics and energy solutions.
A Scoping Study confirmed the project potential for production of High Purity Manganese Sulphate (HPMS) for lithium-ion battery (LIB) cathodes and Electrolytic Manganese Metal (EMM) for application in certain specialty steels. Currently, Element 25 is undertaking a Pre-Feasibility Study (PFS) to further confirm the commercial potential of the Project and in optimising the beneficiation circuit for the plant design. It's an opportunity to bring forward production via a low capital cost ore concentrate option has been identified, which would be the first stage of a staged ramp up for the project to achieve early cashflow for a stronger balance sheet and funds to develop the larger-scale high purity manganese production hub.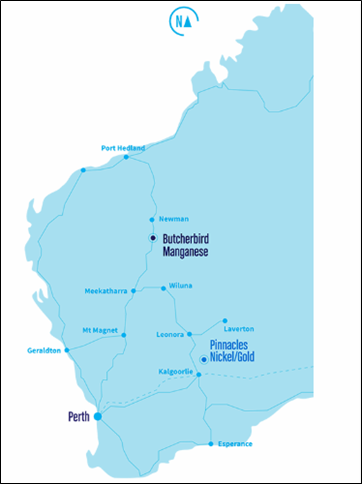 Source: Company's Website
To assess and demonstrate the potential economics of a staged start up plan, Element 25 is conducting a PFSCON for the same while is also considering integration of renewable energy into the power solution to lower energy costs and maintain a minimum carbon footprint. A cleaner and lower carbon flowsheet through utilisation of high-penetration renewable energy is sure to place the Butcherbird Project at the forefront of sustainable metal production worldwide.
Read: Manganese Focussed Element 25 Achieves Excellent Progress Across All Work Streams In Q3FY20
Stock Information: The E25 stock settled the day's trade on 15 May 2020 at AU$ 0.200, with a market capitalisation of ~ AU$ 18.41 million.