Summary

Health insurance companies have increased the private health insurance premiums from 1 October 2020 with further revisions likely in April 2021.
Bupa disclosed that it had started reopening its Victorian Health Insurance stores, implementing strict hygiene and physical distancing procedures.
HBF Health is the only major health fund to keep its premiums constant for all policy members.
HCF was amongst the first insurers to cover members with a hospital policy for COVID-19-related claims.
From 1 October 2020, health insurance companies have raised private health insurance premiums. The COVID-19 pandemic had delayed the increase for six months. Experts believe that we might be looking at another increase in April 2021, the usual time for revision of premium prices.
The private health insurance industry has faced significant challenges with the biggest one being the decline in the number of young people buying private health coverage due to affordability concerns. Premium hikes within a gap of six months could add to the ongoing concerns.
The Australian government is playing its part with ongoing reforms to help lower the costs for both customers and insurers, improve the transparency of costs, and broaden patient choice. The government has set funds worth A$23.6 billion for 2020-2021 to support private health insurance reforms, among other initiatives.
The Australian health insurer market comprises of multiple players but is dominated by five insurers. According to the data from APRA, the top five players accounted for ~79.5% share of the health insurers market in 2018-2019. The leading five players include BUPA, Medibank, HCF, NIB and HBF.
GOOD READ: How does health insurance work?
In this article, we will discuss three of the biggest private health insurance providers – Bupa, HCF and HBF Health.
Bupa Health & Care Reopens Victorian Health Insurance stores
Bupa Health & Care is a 'health and care' player dedicated to helping customers live a long, healthy and a happy life. The Company offers a wide range of services, including health insurance, aged care, and retirement, optical, dental, and community wellbeing initiatives for improving the health of Australians.
On 28 October 2020, Bupa disclosed that it had started reopening its Victorian Health Insurance stores implementing proper hygiene and physical distancing procedures to safeguard its customers and staff. The Company disclosed that all of its retail stores in Australia would open for business from 5 November 2020.
Acting Director of Customer Growth, Mr Adrian Kemp stated that it was good to see the employees back to their usual work and interact face-to-face with customers in the stores. Mr Kemp also added-
All the health services of Bupa including optometry, dental along with audiology are currently open with additional safety measure in place.
ALSO READ: How does age impact the cost of health insurance plans?
HBF - the only health fund not to increase the premium for its policy members
HBF Health Limited provides insurance services including a wide range of insurance products, such as health, travel, home, car, personal valuables, trailer, caravan, life, and boat. The Company offers its services across Western Australia.
Unlike several other private health insurers that raised the premium for their policies, starting 1 October 2020, HBF has refrained from following suit. In fact, HBF is the only major health fund that did not raise the premium for its members.
Moreover, HBF had implemented several measures that allowed its members to apply for a premium relief for up to nine months or shelve their coverage without any penalty.
The CEO of HBF, John Van Der Wielen, stated that he was pleased with the fund's response to one of the biggest financial and medical crises of this generation. The response focussed on offering legitimate support to members and keeping health coverage affordable to the extent possible.
Mr Van Der Wielen also added-
HBF's COVID-19 support measures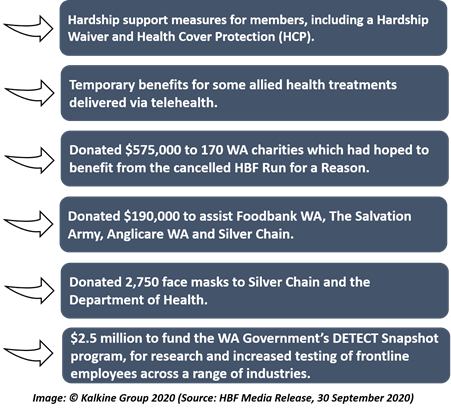 HCF– Australia's most-trusted health fund
One of the largest not-for-profit health funds, HCF covers more than 1.6 million members with health and life insurance, travel as well as pet insurance. HCF Health also covers COVID-19-related hospital claims for members with a hospital cover.
HCF's health and lifestyle services
The Company provides a range of health and lifestyle services to inspire its members to prioritise health. The services include its mobile Victor Chang Heart Health Checks, Healthy Weight for Life programs, Thank You rewards program as well as preparing for online hospital tool.
The national network of HCF for retail outlets along with call centres based in Australia have earned multi-award winning status. Moreover, HCF members also have access to high quality, low-cost services at HCF Eyecare Centres and HCF Dental Centres.
Having contributed almost A$50 million for providing support to the health services research funded by the HCF Research Foundation, HCF is dedicated to investing in the future of Australia's health.
With the ongoing situation, HCF understands that many members may be feeling overwhelmed by the information. The Company has given clarity around how its private health insurance policy can offer some reassurance-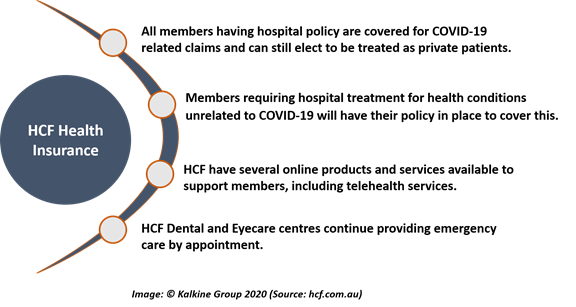 INTERESTING READ: What factors can impact your health insurance premiums?