Equity markets have recovered since bottoming in March. Governments and Central Banks have announced substantial stimulus plans, while China is on the way of recovery as economic activities have resumed in the country.
Unemployment rates are jumping across the countries. Consumer sentiment is hitting lower levels, and spending is expected to witness a contraction over the near term, which will likely impact production plans of manufacturers. Interest rates are going to be lower for longer at least until inflation is under the range and unemployment is high.
Economic data
According to the latest figures of the Australian Bureau of Statistics (ABS) for April 2020, unemployment increased by 1 ppts in April to 6.2% from 5.2% in March. In April, the number of employed Australians decreased by 594k compared to the previous year on a seasonally adjusted basis.
Across all jobs, the number of monthly hours worked was lower by 9.2% or 163.9 million hours, and average hours worked by employed people was down to around 30 hours in April from 32 hours in March.
Around 104k people were added to the unemployed workforce, taking the total number of unemployed persons to 823.3k. Underemployment rate reached 13.7% - highest on record – after a 4.9 pts gain.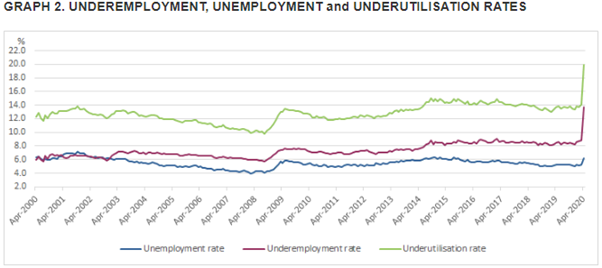 Source: ABS
In April, the number of underemployed people in the country was up by ~603k to around 1.81 million compared to March 2020. And, it increased by around 666k people over the year.
Australian labour forces, which includes employed and unemployed people, declined by 3.6% between March and April. It now stands at around 13.24 million, which is down by 2.1% over the past year.
On a month-on-month basis, the participation rate fell to 63.5% or by 2.4 pts and was down by 2.3 pts against April 2020. It fell to 62.9% or 2.7 pts in the youth group (15-24 years old), and employment in the category was down by 213.5k or 10.8% while unemployment rate reached 13.8%.
The economic survey body noted that approximately 2.7 million Australians were impacted by job loss and reduced working hours between March and April. Workforce that is being under the JobKeeper Scheme is classified as employed.
Recently, ABS has also released annual wage growth data for March quarter 2020. Seasonally adjusted Wage Price Index improved by 0.5% in March quarter and 2.1% over the previous year.
The yearly increase in the wage was back to the levels witnessed during June 2018. The reference period used for March quarter was prior to 21 February 2020, which was before COVID-19 being declared as a pandemic.
The survey had also conducted a household survey for a period from starting March to first week of April. It was understood that majority of Australians were adhering to the social distancing norms implemented by the Government.
Many Australians were avoiding public places, events and get togethers. In the first week of April, around one third of people aged over 18 had jobs, of these people, 26% worked less hours than usual.
For people over 18 years having a job in the first week of April, 12% were working extra, 24% were working fewer hours due to COVID-19, and 61% were working for same hours. Close to 70% of respondents were concerned about personal health due to the pandemic.
Around 90% of the households were practicing hygiene measures like frequent hand washing. Half of the respondents reported change in travelling plans in March due to the pandemic.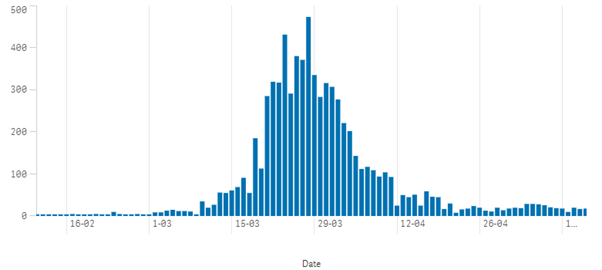 Source: health.gov.au as of 14 May 2020
On 14 May 2020, Australia reported 14 new cases of COVID-19. Since most of the Australians have shown a proactive behaviour towards the pandemic, it might be one of the reasons why the country has flattened the COVID-19 curve successfully and is implementing softer restrictions.
Related: Economic Recovery - Australia's Action-Packed Plan for July
Economic Recovery
An economic recovery not only depends upon Australia coming back online, but the whole world as well since one country cannot flourish efficiently when a large part of the countries across the world are contracting.
Resumption of economic activity in China is a great positive sign for Australia, but China is also an export-based economy and when export demand could be lower, the implication to Chinese production does not appear constructive.
It is also important to note that Australia entered the crisis from a position of strength from a fiscal perspective, and the country has maintained fiscal discipline unlike others in the Western world.
AAA rating on the Australian sovereign paper reflects the strong fiscal position of the country. As Australian bonds are hitting markets increasingly in an effort to secure funding for the large fiscal stimulus launched by the Government, the bond investors had depicted great enthusiasm for the Australian bonds.
Chances of V shaped recovery are promising as Australia is opening up gradually, which will drive some demand in the economy. However, a second outbreak or second wave rules out the possibilities of a V shaped recovery as it will likely force to introduce lockdowns.
People will return back to work soon as the policymakers ease more restrictions. At the same time, it is highly constructive when a large part of the world eases restrictions on people movement and there is some activity in the real economy.
Moreover, the global economic recovery will be crucial for Australia to recover rapidly. Considering a vaccine is ready by 2021, it clears a lot of air and could repeal the psychological damage caused by the pandemic on global households.
Delays in vaccination and possibilities of second wave of the outbreak may cause additional damages to the economy, consequently hurting the economic recovery. Unemployment is already picking up higher, there needs to be more emphasis by the Government on measures that could induce multiplier impacts on the economy.