Unveiling the Business Story Highlighting Immense Opportunities
Ocean Grown Abalone Limited (ASX: OGA) has developed the world's first commercial greenlip abalone ocean ranching business in the pristine waters of Flinders Bay, Western Australia. OGA is engaged in supplying commercial quantities of premium abalone.
Using its highly researched and validated sea-ranching technology, the company has developed its own custom-built proprietary artificial abalone reefs called abitats. Hatchery reared juvenile abalone are placed on these abitats, where they grow in the wild, feeding on drifting seaweed and algae in the ocean, as wild abalone do, producing a premium wild-harvested product.
With the self-sustaining ranches, the abalone feed and survive in the ocean until they reach a marketable size, approximately 2-3 years. Divers tend the ranches protecting the abalone from predators, monitoring growth, abalone density and seeding new juvenile abalone on the ranches as mature abalone are harvested.
OGA is capable of supplying abalone year-round to cater to the market demands based on its sustainable business involving the sea ranching technology, and at sizes/product specifications not otherwise offered in the current domestic abalone market. This sets a significant growth story in the space. OGA supplies global markets including China, Hong Kong, Japan, Singapore and Malaysia.

The Company's abalone sea ranching is situated in a protected marine park where the greenlip abalone are grow with a very small environmental footprint without feed and power inputs.
OGA chooses ideal areas for the ranching technology to ensure optimum abalone growth and survival . These areas are defined by:
Suitability for locating the reefs - (sand/seagrass),
Proximity to a marina, hatchery and export supply chains,
Having protection from large swells,
Having abundant natural feed,
Having suitable water temperatures and pristine oceanic water.
The company produces a superior product offering compared to other international and domestic abalone producers.
For this kind of a sustainable business, OGA has put in place the following Corporate Structure: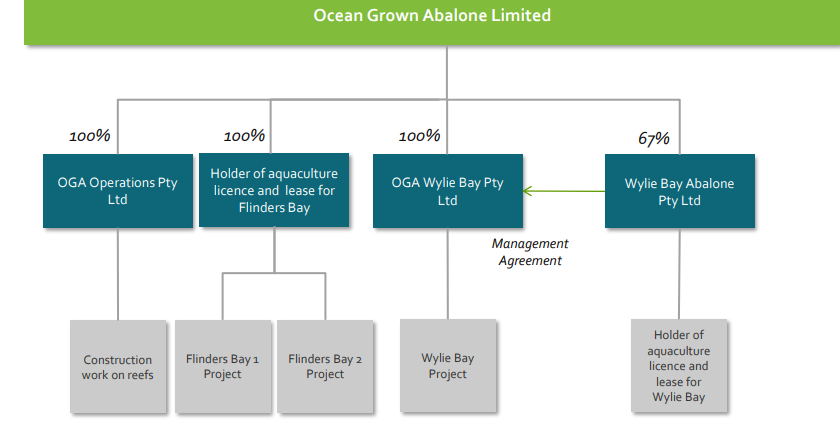 Source: Company's Presentation
OGA Tasted Profit in FY19 – Unique Offerings & Great Demand Serving as Key Growth Drivers
The financial year 2019 (12 months ended 30 June 2019) was a successful year for OGA with robust sales for abalone products. Below is a snippet of the financial performance:
Total of 55.0 tonnes of abalone were harvested and the BIOMASS increased by a further 73 tonnes to 234.6 tonnes.
During the last quarter of FY19, the company witnessed strong demand for its range of products with 99.1% of the stock sold to Asian markets.
The company's sales revenue generated from production was $3.06 million in FY19, marking an uptake of 49% on the previous corresponding year. Notably, in the last quarter of FY19, the company reported sales of 52.9 tonnes which was 48% higher than the previous corresponding period.
In FY19, the company witnessed profit turnaround with the net profit after income tax of $1.03 million, compared to a loss of $3.31million in FY18.
At the end of FY19, the company had current assets of $9.04 million and current liabilities of $0.95 million. During the year, the company spent $1.63 million on operating activities, $3.14 million on investing activities and $0.73 million on financing activities. Cash and cash equivalents at the end of FY19 stood at $2.57 million.
Review of FY19 Operations
Major activities undertaken by OGA during FY19 include:
Construction of an abalone processing facility in the Augusta Marina was completed, which increases abalone processing capacity, enables further value-adding to abalone products and provides increased efficiencies across operating activities with the consolidation of processing and diving activities into one location.
Following the construction-stage of the processing facility at the Augusta Marina, the fit-out of the processing facility is expected to be completed by the end of Q1FY20, an essential requirement for the processing of increasing abalone harvest volumes and live abalone export, with live tanks being installed as part of the fit-out.
Construction of Flinders Bay 2 was completed in Q2FY19, positioning the company for further increases in production in subsequent years. 10,000 abitats were installed over Flinders Bay 1 and Flinders Bay 2 ranches at the end of the period and has received approval for another 5,000 abitats to be installed in Flinders Bay.
Significant insights gained from the Flinders Bay 1 project were applied in the Flinders Bay 2 development. The ongoing assessment of the Flinders Bay projects provides OGA with further yield increasing and optimisation opportunities as it works towards achieving full-scale commercial production.
OGA Abalone Hatchery and Grow-out Facility - Esperance
The company executed land agreements with the Shire of Esperance (Shire), securing the rights to approximately 34 hectares of land (Land) located about 10 kilometres from the town of Esperance. Under this transaction, the company will lease the Land from the Shire for a period of 12 months for $10,000, with a further right to extend the lease period for an additional 12 months for a further $10,000.
As stated by Mr. Brad Adams, OGA Managing Director, "An OGA abalone hatchery and grow-out facility will enable the Company more control over the selection of juvenile abalone for seeding on the sea ranches and it'll provide the ability to expand marketing opportunities and product lines."
OGA's Forward Plan
OGA intends to carry on its business plan by continuing to manage its research and development activities in Augusta and developing its export supply chains into Asia.
Further, the company is planning to expand the current Augusta operations and continue other trial and research programs at other sites around Australia, including Esperance.
The information and experience collected from topographical, tide patterns, etc., shall be used by the company to further optimise existing ranches as well as to increase growth and production yields.
Planned activities for Q1FY20
Harvest – will continue into and beyond Q1FY20;
Export Processing Facility – fit-out completed in Q1FY20 and operating out of the new facility;
Juvenile Seeding –plans to seed 535,000 juvenile abalone in the next quarter;
Esperance – Continue with feasibility study to assess the viability of an onshore abalone hatchery and grow-out facility in Esperance.
OGA traded at a price of $0.155 with a market cap of ~$27.04 million on 5 November 2019 (2:15 PM AEST).
To know more about OGA, Click Here.
---
Disclaimer
This website is a service of Kalkine Media Pty. Ltd. A.C.N. 629 651 672. The website has been prepared for informational purposes only and is not intended to be used as a complete source of information on any particular company. The above article is sponsored but NOT a solicitation or recommendation to buy, sell or hold the stock of the company (or companies) under discussion. We are neither licensed nor qualified to provide investment advice through this platform.