Highlights:

Advent Technologies Holdings, Inc. (NASDAQ: ADN) manufactures fuel cell systems.
Its current market capitalization is US$70 million.
On Monday, Advent announced receiving EU approval for its Green HiPo project.
Shares of Advent Technologies Holdings, Inc. (NASDAQ: ADN) jumped nearly 25% after receiving approval from the European Commission for its Green HiPo project.
ADN shares were up 24.71% to US$3.28 at 9:55 am ET on Monday after the announcement.
The Boston-based hydrogen fuel-cell company will execute its Green HiPo project, which comprises 42 European projects, following its selection.
Advent is one of the eight companies ratified by the top EU executive for various tasks.
During project execution, these companies will seek collaboration from external partners, including universities and research organizations.
European Union will provide up to 5.4 billion euros in public funding with the potential to unlock an additional 8.8 billion euros in private investments.
The IPCEI, or the Important Projects of Common European Interest, has greenlighted several big-ticket green fuel projects to meet the energy challenges in Europe.
These projects aim to create a hydrogen technology value chain combining hydrogen generation, fuel-cell production, hydrogen storage and transportation systems, and end-user application. Advent will participate in hydrogen fuel-cell generation activities.
Advent Chairman and CEO Vasilis Gregoriou said the company aims to implement the project quickly and efficiently, given the urgency of the climate change issue. He praised the European Commission for approving the project funding that will help reduce carbon energy at scale.


The company will develop, design, and manufacture fuel-cell and electrolyzer systems in the Western Macedonia region of Greece.
Advent's fuel-cell systems are already used in power, aviation, and automotive industries. Its revenue comes from selling fuel-cell and energy storage systems, membranes, electrodes, etc.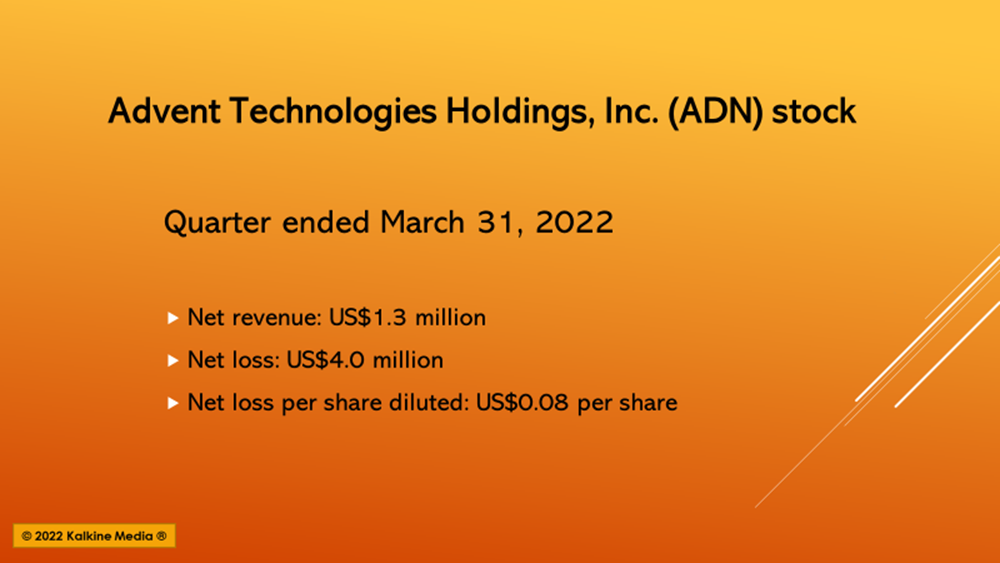 Financials:
Its current market capitalization is US$70 million. The stock's one-year price moved between US$10.04 and US$1.13.
The Boston, Massachusetts-based company generated revenue of US$1.3 million in the quarter ended March 31, 2022, compared to US$1.5 million in the same period the previous year.
It posted a net loss of US$4.0 million or US$0.08 per share diluted compared to a net income of US$2.9 million or US$0.07 per share diluted in the previous year's quarter.
Bottom line:



Green energy is the need of the hour. The rapid industrialization, unplanned development, and the reckless use of fossil fuels over the past decades have accelerated global warming. Besides, rising air pollution because of vehicular emissions is causing serious health problems. However, investors should carefully analyze the stock fundamentals before investing in shares.