Highlights

SoFi Technologies, Inc. (SOFI) stock rose after analysts gave an "overweight" rating.


SoFi Technologies will release its third-quarter fiscal 2021 results on Nov 10.


Alibaba Group Holding Ltd.'s (NYSE: BABA) revenue grew 34% YoY in the June quarter.
Stocks of SoFi Technologies, Inc. (NASDAQ: SOFI) and Alibaba Group Holding Limited (NYSE: BABA) gained considerable investors' attention on the first day of the trading week, rising by more than 3 percent and 5 percent, respectively, in the premarket session on Monday.
SOFI stocks were priced at US$16.81, up 3.70 percent, while BABA traded at US$169.93, up 5.21 percent at around 8:24 am ET from their previous closing prices.
Let's look at some of the recent developments of the two stocks.
Also Read: Are you an ETF fan? Here're five rising retail ETFs to explore in Q4
SoFi Technologies, Inc. (NASDAQ: SOFI)
SoFi Technologies is a digital financial services company based in San Francisco, California. It offers loans, saving accounts, investment, and other related services.
The stock rallied after Morgan Stanley analysts gave an "overweight" rating, describing it as a 'powerful revenue growth story'. The bullish rating came after the company improved its market share in the consumer finance sector.
Also Read: Five oil and gas stocks under US$35 with over 370% YTD return
SoFi has a market cap of US$13.14 billion and a forward P/E one year of -19.52. Its 52-week highest and lowest stock prices were US$28.26 and US$10.10, respectively. Its trading volume was 11,054,410 on Oct 8. In the last five sessions, the stock rose 0.75 percent. The company plans to release its third-quarter results of fiscal 2021 on Nov 10 after the markets close.
On a GAAP basis, SoFi's net revenue was US$231.27 million in Q2 FY21, representing an increase of 101 percent from the same quarter of the previous year. However, it reported a net loss of US$165.31 million against an income of US$7.80 million in Q2 FY20.
Also Read: General Motors (GM), Avis Budget (CAR) stocks rise on upbeat business outlook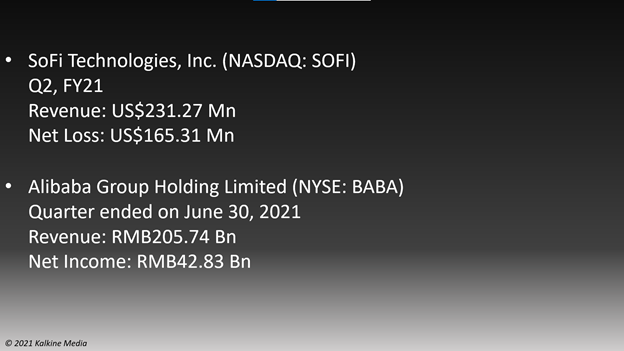 Also Read: ChemoCentryx (CCXI), Vaxart (VXRT) stocks rally on upbeat drug news
Alibaba Group Holding Limited (NYSE: BABA)
Alibaba Group is a Chinese technology giant with interests in e-commerce, retail, and other sectors. It is headquartered in Hangzhou, China.
BABA stock has been rallying after news of President Joe Biden and his Chinese counterpart Xi Jinping's likely meeting later this year. Other Chinese stocks also have been in the green territory after the news that came after China's Golden Week holidays.
Investors also expected an end to the Chinese crackdown on tech companies after the probe into Meituan concluded. BABA's market cap is US$437.86 billion, the P/E ratio is 19.7, and the forward P/E one year is 20.29. Its EPS is US$8.20.
Also Read: Why are Ford (F), Plug Power (PLUG) stocks gaining traction today?
BABA's 52-week highest and lowest stock prices were US$319.32 and US$138.43, respectively. Its share volume on Oct 8 was 33,499,200. The stock surged 15.68 percent in the last five days.
Alibaba's revenue surged 34 percent YoY to RMB205.74 billion in the quarter ended June 30. Its net income was RMB42.83 billion against RMB46.43 billion in the prior year's same quarter.
Also Read: Is Affirm (AFRM) on course to become the next PayPal?
Bottomline


The technology sector, including fintech companies, has seen significant growth this year. The technology segment of the S&P 500 grew by 16.46 percent YTD, highlighting this remarkable growth story. Analysts expect the pace of growth to continue in the coming months. Investors, however, should analyze the companies carefully before investing in the stock market.