Highlights:

The VRAX stock rose more than 42 per cent in morning trading on Tuesday, September 20.
The biotechnology company Virax Biolabs went public in July 2022.
It touched its lowest price since its IPO on Monday, September 19.
The stocks of Virax Biolabs Group Limited (NASDAQ: VRAX) seem to be gaining traders' attention on Tuesday, September 20, as seen by the jump in its price. Subsequently, the VRAX stock added more than 42 per cent in the morning trading on September 20.
So, why is the stock soaring in the morning trading on Tuesday? Let's take a look at the recent developments of the company that might have trigerred the recent rally of the stock:
Why is it rising?
Virax Biolabs is a biotechnology and disruptive medical technology firm that debuted in the US market in July this year. The company, which primarily focuses on viral diseases, concluded its IPO on July 21 and started trading on Nasdaq under the stock symbol VRAX.
Among its recent developments, the company announced to start distributing Monkeypox Virus Antigen Rapid Test Kits on September 20. The kit was already launched in some markets, including the European Union, with the CE mark.
The biotech firm claims that the test kits could aid healthcare professionals in "accurately" detecting the monkeypox infection in patients who are suspected to be infected. Notably, the results can be achieved within 15 minutes through the test kit, the company said.
In addition to that, it could also help in testing individuals who got in contact with the patients infected with the monkeypox virus.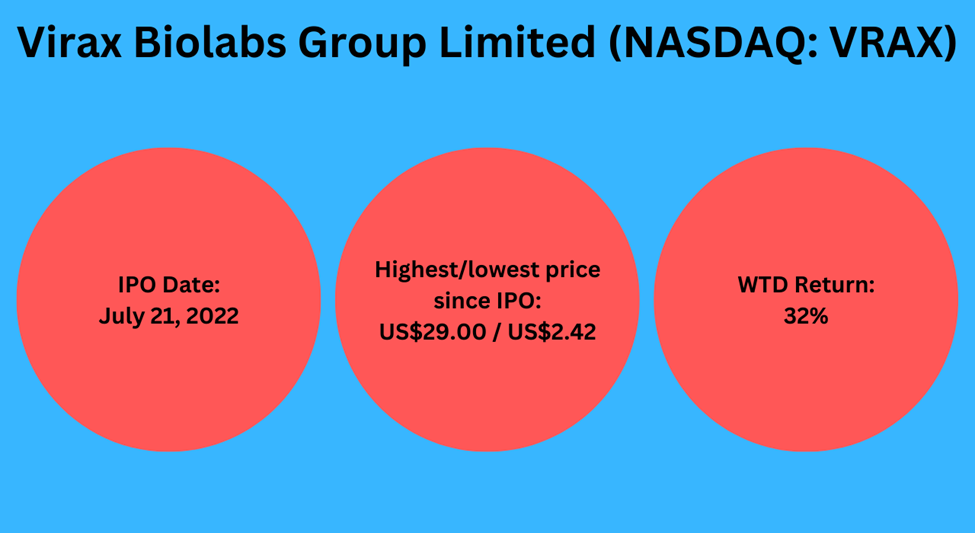 Source: ©Kalkine Media®; © Canva Creative Studio via Canva.com
Bottom line:
The price of the VRAX stock was US$ 3.5293 at 9:55 am ET on September 20, noting a jump of 42.89 per cent from its previous close of US$ 2.47. During writing, the trading volume of the stock was more than 27.56 million on Tuesday morning.
The biotech company had a market cap of US$ 40.27 million at its current trading price. The stock of Virax Biolabs saw its highest price of US$ 29.00 on July 29, 2022, and lowest price of US$ 2.42 on September 19, since it went public in the US market.
However, the fluctuations in the stock price of the biotech firm suggest the volatile trading it witnessed so far after its debut in the public market. Hence, investors should closely evaluate the risk factors before making any decision.