Highlights:

The CTXR stock surged over 16% in the pre-market session on Wednesday.
The price of the Citius stock increased by more than 10% YTD.
Citius expects to file a biologics license application (BLA) for I/ONTAK with FDA.
The Citius Pharmaceuticals, Inc. (CTXR) stock jumped on Wednesday after it announced the progress of its Phase 3 trial for oncology drug I/ONTAK (E7777).
The CTXR stock surged over 16% at 8:13 am ET on April 6.
The Cranford, New Jersey-based biopharmaceutical firm develops first-in-class critical care products for oncology, such as anti-infectives in adjunct cancer care and other diseases.
Why is CTXR rising?
On Wednesday, the company reported the topline results from its Phase 3 trial of I/ONTAK (E7777), an engineered IL-2-diphtheria toxin fusion protein primarily used to treat patients with persistent or recurrent symptoms of cutaneous T-cell lymphoma (CTCL).
Also Read: Why is Synapse (SYN) crypto gaining attention?
The I/ONTAK (denileukin diftitox) is a purified, enhanced bioactive formulation of the previously formulated ONTAK.
The company said in a press release that the latest results appear to remain consistent with the previous formulation. Furthermore, the results haven't identified any new safety signals.
The company now plans to file a biologics license application (BLA) with the US Food and Drug Administration (FDA) in the second half of the current year.
The positive news may have pushed the CTXR price higher.
Also Read: What is EarthFund (1EARTH) crypto and why is gaining attention?
Stock performance and financial highlights of the company:
The CTXR shares were up 16.85% to US$2.1501 at 8:13 am ET on April 6. The stock returned 10.18% gains YTD as of April 5. CTXR has a market capitalization of US$268.69 million, and its forward one-year P/E ratio is -6.57. The 52-week highest and lowest stock prices were US$4.56 and US$1.31, respectively. Its EPS is US$-0.18.
In the first quarter of fiscal 2022, the company's total operating expenses were US$9.25 million, but it earned no revenue in the quarter. Its net loss came in at US$9.22 million, or US$0.06 per share, compared to a loss of US$8.14 million, or US$0.15 per share in the year-ago quarter.
Also Read: Westrock Coffee SPAC: When is the coffee company going public in US?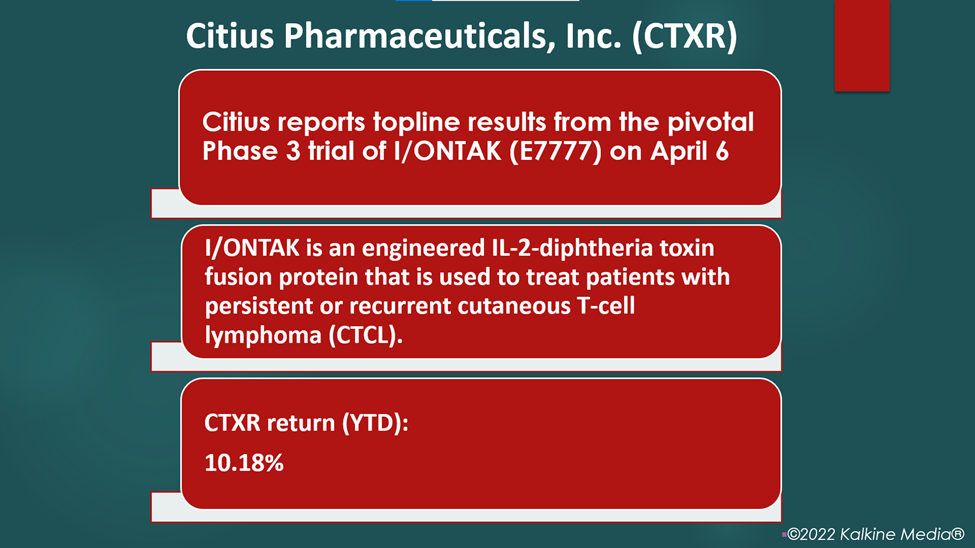 Bottom line:
Citius Pharmaceuticals CEO Myron Holubiak said the Phase 3 results for I/ONTAK were clinically meaningful. He said it would be an important treatment option for patients with CTCL.
Also Read: Why is Dogecoin (DOGE) gaining attention?
He added that it marks a significant milestone for the firm to launch its first commercial product in 2023, provided the FDA gives its nod.