Highlights:

Israel-based NeuroSense Therapeutics develops drugs for neurodegenerative diseases.
The company was founded in 2017 and listed on Nasdaq in December 2021.
Its current market capitalization is US$42.3 million.
NeuroSense Therapeutics Ltd. (NASDAQ: NRSN) stock soared on Thursday after announcing the results of its biomarker study for treating Alzheimer's disease.
The stock traded at US$3.7106, up 35.42%, at 10:43 am ET. The company carried out a biomarker study to evaluate the potential of its drug CogniC for treating Alzheimer's.
The study could identify biomarkers suggesting that CogniC might be effective against the disease. It targets pathways, such as miRNA dysregulation, impaired autophagy, and lysosomal dysfunction, leading to Alzheimer's.
The study also detected Alzheimer's traits, including increased levels of amyloid-β and intracellular tau protein aggregates.
NeuroSense CEO Alon Ben-Noon said the company plans to conduct a clinical proof-of-concept study after identifying the biomarkers. He added that the study could start in 2023.
The study used the Neuron-Derived Exosomes (NDE) technology that helps observe biomarkers alterations in the central nervous system through blood samples in a non-invasive manner.
Israel-based NeuroSense, which develops treatments for neurodegenerative diseases, was founded in 2017 before its listing on Nasdaq in December 2021.
After further analysis, the company plans to share the detailed results on novel biomarkers in scientific conferences and peer-reviewed publications.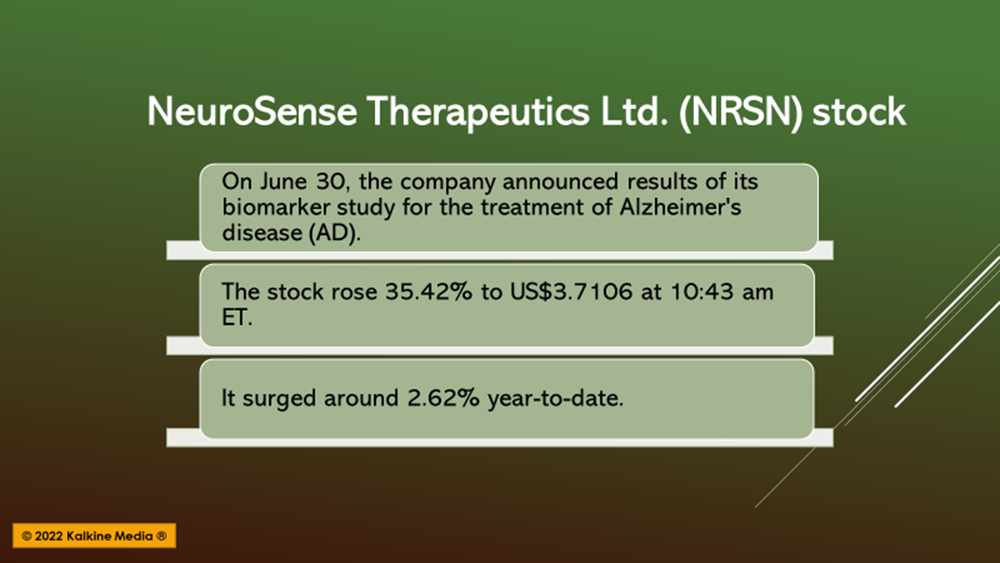 Financials:
Its current market capitalization is US$42.3 million.
The stock touched the highest price of US$8.18 and the lowest of US$1.23 in the last 52 weeks.
The company reported zero revenue for the quarter ended March 31, 2022. Its net loss was US$2.71 million or US$0.24 per diluted share compared to a net loss of US$2.12 million or US$0.38 per share diluted in the same quarter prior year, reflecting an increase of US$0.59 million. The increase was due to higher general and administrative expenses.
Its cash and short-term deposits were US$13.74 million as of March 31, 2022, compared to US$11.06 million as of December 31, 2021.
Bottom line:
Alzheimer's is a brain disorder where patients suffer memory loss and gradual cognitive decline. It could lead to a more serious brain disease called dementia. The company said in a statement that 60-80% of dementia cases first suffer from Alzheimer's. It expects the market for Alzheimer's treatment to grow to US$5 billion in 2022.